MOTORNUUS - Popularity is an excellent measure when choosing which car to buy. "If a car is popular, it will have good resale value and will likely have a good reputation for durability and quality.
Most of us won't keep a car for longer than five years, which is why it is so important to keep resale in mind," says Nunben Dixon, head of Gumtree Auto.
Here they are:
Toyota Corolla - 44,1 million sold
Over fifty years and eleven generations later, Corolla remains exceedingly popular. It is estimated that a Corolla is sold every 36 seconds.
Locally, we've already produced more than a million units.
As a reliable but sporty family car, it should be no surprise that it makes up close to a quarter of Toyota's global sales.
The Toyota Corolla was introduced to Japan in 1966 as a two-door saloon. Photo: blog.toyota.co.uk
The new generation Toyota Corolla has very little in common with its first ancestor.Photo: Toyota
Ford F-Series - 40 million sold
Last year South Africans were delighted to hear that the Ford F-150 with Shelby conversions would be coming to our shores. This is not your ordinary bakkie - it's a proper American pickup truck.
When the first generation went on sale in the forties, it was pitched to farmers, but today it is one of the most popular urban vehicles in the States. Currently in its 13th generation, it's one of the most luxurious and innovative trucks on the market.
The 1948 F-Series line was Ford's first post-war truck. Photo: joecottonford.net
The new Ford-F 150 truck is no longer just a farmer's workhorse. These days, many city slickers own one. Photo: ford.com
Volkswagen Golf - 33 million sold
The Golf is one of the most enduring crowdpleasers on the market. It's light on fuel, spacious, affordable and attractive - with an array of optional add-ons. The eighth generation Golf is due to go on sale in Europe before the end of the year, but spy pics have shown that the design is leaning towards a retro Mk II style.
Golf 1 - many new drivers' first car. Photos: volkswagen-newsroom.com
The new Golf 8 is still in camo wear, but is sure to be a real eye-catcher. It will be fully revealed this month.
Honda Civic - 24 million sold
The Honda Civic is a real success story. By the 1970s, Honda was about to give up on auto manufacturing altogether when the Civic came along. Its economy, reliability and low cost made it a surefire winner in an era with higher fuel costs and more stringent emission standards than ever before.
The Civic saved the Honda brand. Photo: howardsgroup.co.uk
The stunning 2019 Honda Civic. Photo: automobiles.honda.com
Volkswagen Passat - 23 million sold
Another winner from the VW stable is the popular Passat, a large family car that debuted in the 1970s but really took off in the 90s. Early 4th generation comparisons likened the Passat to the Audi 80 or A4 - not surprisingly as Ferdinand Piech, the designer, had left Audi to join the Volkswagen group.
The Passat might have fallen slightly out of vogue, but it did a lot to position Volkswagen as an upmarket, desirable brand at a decent price. The determining factor for bestsellers seems to be value for money. While not in the top five, a surprising contender in the top ten is the Model T Ford, which made its appearance more than a century ago.
Nunben says it was the first time the average man on the street could afford an automobile. "You could say that sales were unprecedented - there was no precedent!" says Dixon. "Judging by the direction manufacturers are taking, whoever creates the first truly affordable electric car, will create an instant bestseller."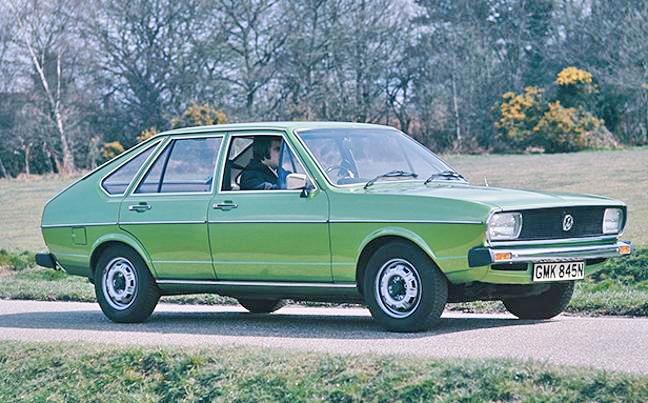 The original VW Passat.
You've come a long way baby. The VW Passat is an impressive car.
'We bring you the latest Garden Route, Hessequa, Karoo news'