MOTORING NEWS - X-rated is so yesterday. Last Friday I had a raging R-rated experience with the new kid on the block, the Golf R, and she is so streetwise.
With an interior dressed in the finest leather and body-hugging seats, you immediately realise that this is going to be a completely new experience.
First impression
One glance is enough to tell that you are looking at quality. The Golf R oozes strength and sophistication. The sharp lines of the LED headlights give the vehicle an aggressive look.
The new Golf R had been upgraded and now boasts more horses under the bonnet, as well as a list of options you can add onto this vehicle. It also has park sensors with park assist.
The 2019 Volkswagen Golf R is the perfect blend of practicality and performance. After driving the Golf R, I am convinced that it's up there with the best.
The Golf R has enough boot space to keep the family happy.
Driving
Driving the Golf R is an experience out of this world. With its all-wheel drive and more powerful engine, the vehicle will undoubtedly have a huge following - myself included. In Race mode the horses galloping in the engine reverberated through me.
It revs with an unworldly growl that extends its tentacles into your tummy, making you want more and more.
The Golf R is available in seven-speed dual-clutch automatic transmission. It boasts adaptive cruise control and the suspension can be adapted to the driver's specific needs.
This lady also has different driving settings. You can choose between Eco, Comfort, Normal, Race and Individual.
Click here to view a photo gallery
When you commute, Eco or Normal mode will be the best bet, but if you feel adventurous you can put it in Race mode - and I assure you, if you go Race, you will never look back.
The R has a dexterous chassis that is comfortable and composed. This makes commuting enjoyable and cornering fun. Its firm suspension suits the sportier car. The power steering is electronically assisted, making steering direct and precise with a lot of feedback.
It also has brake-based traction control.
Engine
The all-wheel drive Golf R has a turbocharged 2.0-litre engine with an output of 228kW and 400Nm. This combination definitely puts a smile on your face - well, actually a shout of joy. It can go from 0 to 100km/h in only 4,6 seconds. It is a mystery how so much performance can be enticed from a vehicle with a fuel consumption of only 7,2 litres per 100km.
Watch a video below.
The Golf R has a variety of high-tech features.
Interior
This hot lady is dressed in leather. The interior looks modern and the finish is of outstanding quality. It also has ample boot space. The dual climate control can give cool relief after any hot session in the R-rated Golf.
The vehicle is fitted with a host of infotainment features and its interface and controls are straightforward and easy to understand. It also comes with heated front sport seats with a 12-way manual-adjustable driver's seat.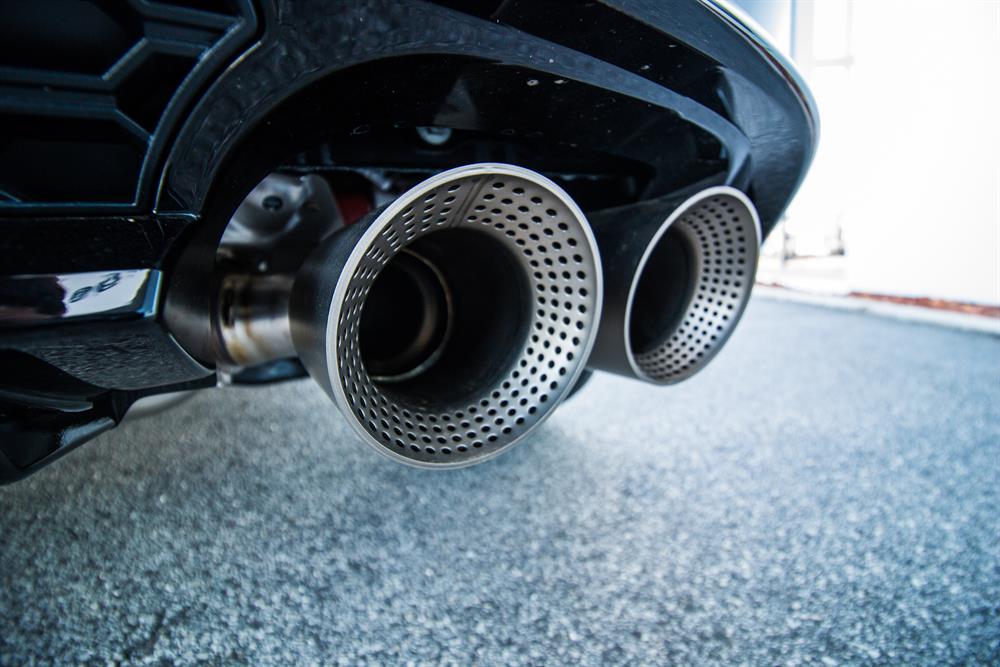 Cool cat... With its beautifully designed Akrapovic exhausts, the Golf R gives a purring roar which will make other cats run for cover.
Safety
Although she is R-rated, she puts safety first. Her impressive safety features include standard forward-collision warning and automated emergency braking. Standard on the vehicle are also lane-departure warning and lane-keeping assistance with blind-spot monitor and rear cross-traffic alert.
Add-ons
There are a few add-ons for the Golf R. The exciting Akrapovic Titanium exhaust gives the vehicle that extra thundering sound and the R Performance brake system enables you to brake fast - indispensable for a fast car like this.
The Golf R is fully dressed in high quality leather.
Warranty and service plan
The Golf R comes with a 3-year / 120 000km warranty or a 5-year / 90 000km service plan.
Contact information
To check out this beauty, contact Deon Uys at Tavcor Motor Group on 044 874 4193 or 083 291 7015. Consider yourself warned: driving the Golf R is an adult rated experience.
With the press of a button, this vehicle can change from a commuter's dream to a daredevil's ultimate thrill. The Golf R comes with a price tag of around R800 000.
She does not come cheap, but then again, she's not just there for a fling. The R will be your companion for a long time to come.
'We bring you the latest Garden Route, Hessequa, Karoo news'