MOTORING NEWS - Many petrolheads find modifying an older model vehicle far more gratifying than purchasing a new one. So-called "pimping of rides" has become an art, an expensive one, in which owners compete to see whose modification is a notch above the other.
The range of modifications seems to be endless, but it follows a specific trend. Some are made to enhance the performance of the car whilst others are purely for showboating. If you are considering making changes to your car to ride apart from the rest, you would want to add that special feature that no one else has.
Local petrolheads agree that the new trend has shifted heavily from speeding cars towards the appearance of vehicle that also serves practical purposes.
Pimping a ride is a very personal process and these projects are not usually for sale. If they are they come at a high price.
Appearance is everything and no cost is spared on modifications.
Hey, good lookin'
Exterior modifications can vary from small add-ons that the enthusiast can do himself to large modifications done by experts. These include features such as doors lifting vertically instead of swinging horizontally, sliding roofs and modified suspensions. Mag wheels, lights, spoilers, tinted windows, exhaust systems, artwork and emblems are only some of the features.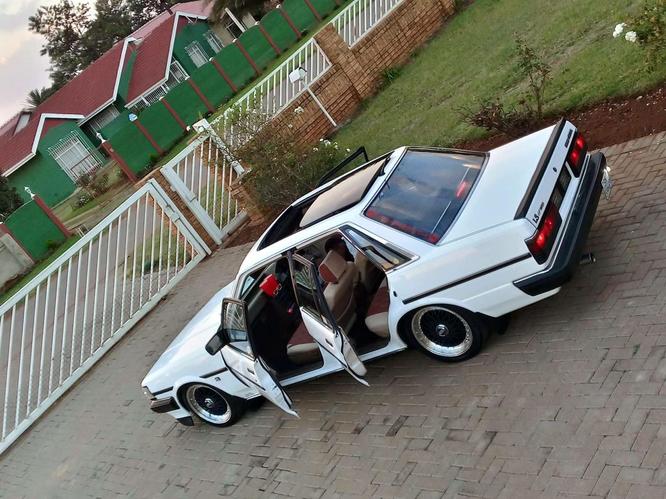 Leather interior seats and sunroof.
Interiors are enhanced by funky seats, gauges, interior lights, steering wheels, sound systems and a myriad of electronics.
A quick guide to standard modification for beginners with prices on the lower end:

Exterior
Mag wheels -R4 500 - R12 000 (each)
Roof spoilers - R900
Sun roof - R7 500

Mechanical
Lowering kit - R1 700
Free-flow exhaust systems - R1 400
Branch manifolds - R2 000
Cone filter -R400
Coil overs - R5 000 to R7 000
Suspensions - R25 000 - R70 000
Air suspension with remote - R32 000

Interior
Gauges - R250 each
Customised racing seats - R10 000
Customised pedals and gear knobs - R300
Sound systems - R10 000
Modified steering wheel - R900
Legal and safety aspects
Unfortunately most mechanical modifications change the safety specifications of the manufacturer and are therefore not legal.
• Roll cages are being incorporated inside vehicles to protect occupants in a case of a roll-over. This is especially done when speed is a major part of the modification.
• According to local traffic officers, most modifications to vehicles are illegal because of safety reasons.
• The word "modify" in itself explains that the vehicle manufacturer did not intend the car to be altered in a manner that compromises the lives of the drivers and the public.
• Moderate modifications will be tolerated by authorities, but be prepared to be pulled over if you exceed safety measures.
• Fortunately there are annual motor shows across the country where car enthusiasts can show their vehicles.
• Modifying certain aspects of your car will also impact your car insurance. Make sure to check with your insurer to establish which modifications might void your cover.
'We bring you the latest Garden Route, Karoo, Hessequa news'