MOTORING NEWS - The Go George bus service rolled out to Parkdene, Ballotsview, Conville, Borcherds and Lawaaikamp on Sunday 22 March with three additional main routes and one community route connecting these areas with one another and the rest of town.
Most trips on the first day were made to work and to church, since non-essential travel is currently discouraged in the light of the Covid-19 virus pandemic. The three-day promotion of free trips for Smart Card holders to celebrate the milestone roll-out had also been postponed to curb unnecessary travel.
According to James Robb, Go George manager, the Go George team keep their ears to the ground for feedback from the community, which helps them make necessary improvements wherever possible.
The very first passenger on the newly rolled out bus routes was Magdalena Crowley, who boarded the community bus close to home to get to work on Sunday morning. She then transferred to Route 15 Parkdene - CBD. With her is the driver of the bus, Stuurman Williams.
"As replacing an informal method of public transport with a more formal, scheduled public transport system has its own unique challenges in every community, the first few days, and sometimes even weeks, often pose challenges," he said. "Due to residents' patterns of use, some route and timetable changes might be implemented during the first weeks to service our passengers' needs. As people start to use the system more frequently, these patterns of use can demand change. We acknowledge this and try to make improvements wherever possible until such time as the patterns stabilise. Peak-time demand, that is between 05:30 and 08:30, and 15:30 and 18:30, is also taken into account.
Western Cape Minister of Transport Bonginkosi Madikizela (second from left) and George Acting Mayor Charlotte Clarke at the Go George depot on Monday. Madikizela wanted to personally check on the roll-out of Go George Phase 4B and to view measures taken regarding the Covid-19 virus. Photo: Eugene Gunning
"Go George thanks the community for their patience, understanding and continued enthusiasm while we were addressing the issues that kept us from rolling out earlier. We are honoured and privileged to finally be able to serve the community," he said.
Western Cape Minster of Transport Bonginkosi Madikizela did a tour of the Go George bus depot on Monday afternoon and also took a ride on one of the new buses. He seemed impressed with the measures implemented to prevent the spread of Covid-19.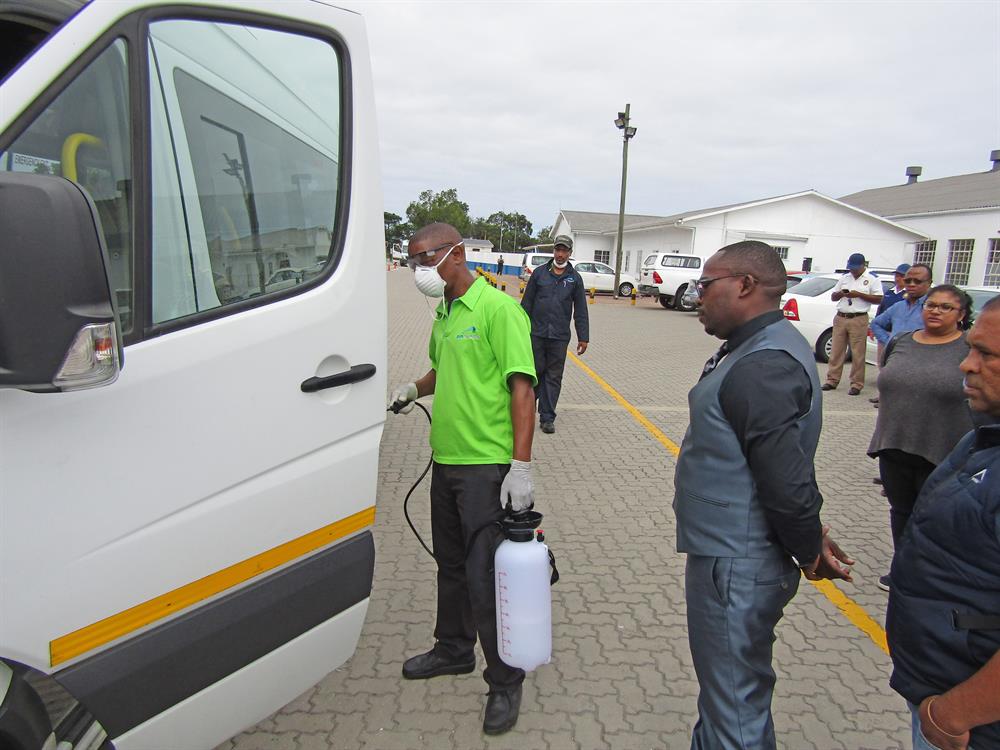 Madikizela watches as a bus is cleaned and sanitised as a preventative measure in curbing the spread of Covid-19. Photo: Eugene Gunning
More information can be obtained by phoning the Go George Call Centre
0800 044 044, visiting www.gogeorge.org.za or via Facebook or Twitter.
'We bring you the latest Garden Route, Karoo, Hessequa news'