Instead, the overall leaderboard after Kyalami featured competitors that were fourth, sixth and seventh on the national championship scoreboard. With one round left, the top two championship contenders are now separated by just a single point!
Race one saw Christopher Shorter (33 – Payen / Turn 1) make a move from a fourth place start on the grid to win the eight lap race. Shorter started fourth due to his top six grid draw position, but posted a qualifying time second only to Keagan Masters (18 – Champion). Shorter used that pace to full effect on race day and race two was equally impressive, where he turned a fifth place start into a second place finish.
That second place in race two was behind his brother, Matthew Shorter (11 – Champion), who's first Engen Volkswagen Cup race victory shows he clearly has plans on making big changes to his seventh place in the championship standings. Matthew won the second race with a little help from a pole position grid draw from the start. He wasn't giving in to any pressure from his rivals as they chased for the flag in the eight lap race.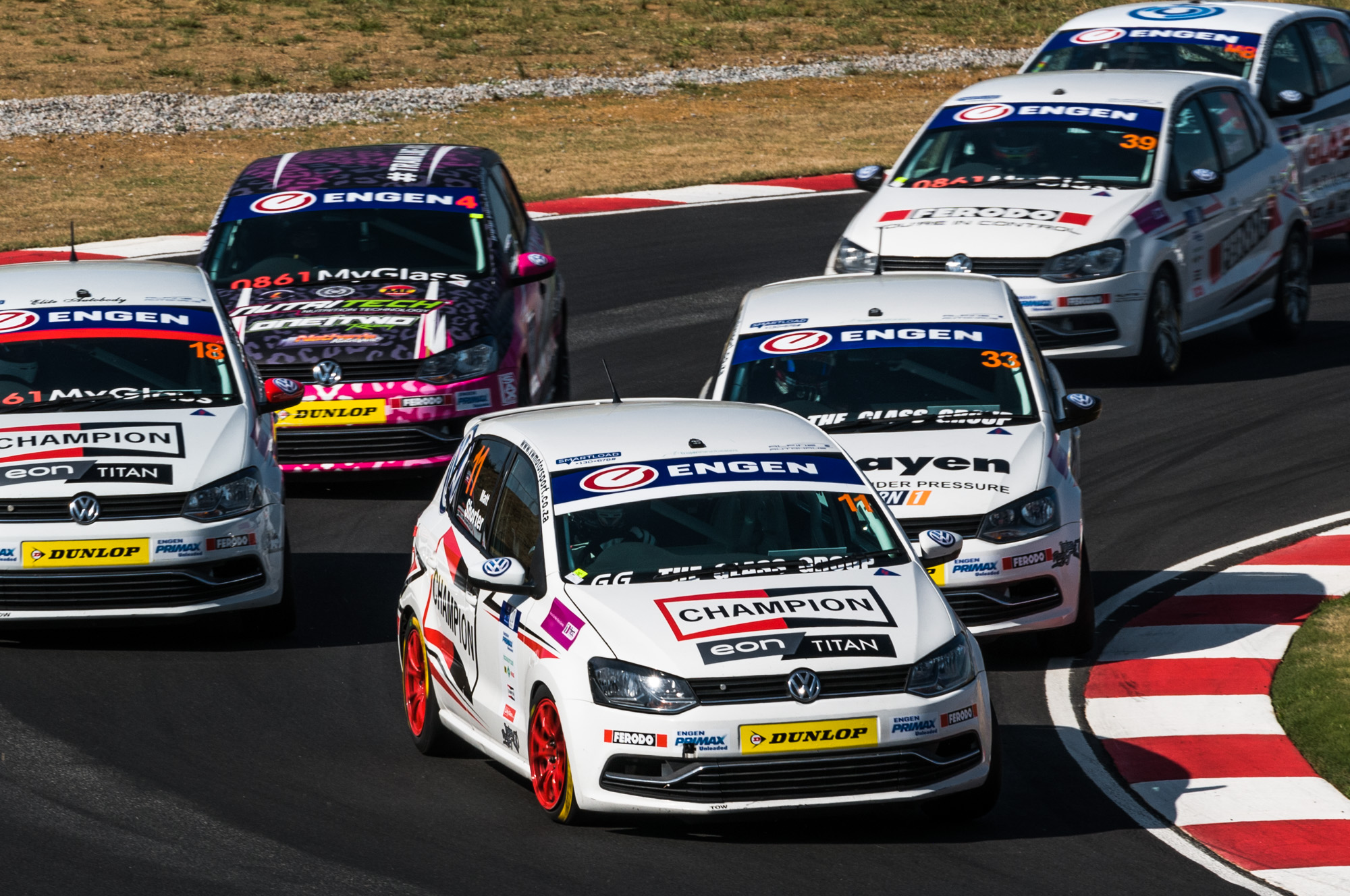 These results saw the Shorter brothers sew up first and second overall for the day with Masters competitor Juan Gerber (M8 – Glasfit / Ctrack) finishing third overall after the two races. Gerber drew a sixth place start for race one but finished ninth. In race two though, he wasn't even in the draw, starting outside of the top six and fighting his way up to a third place finish.
This not only provided him with a very handy third overall for the day, but also gave him the Masters victory for the Kyalami event. With just four points between Gerber and the Masters leader Shaun La Réservée going into the Kyalami event, things are set for a titanic battle at the final round – where the gap will start at three points. When Trevor Bland's (M2 – Universal Health Care/Phoenix) four point gap from third place is factored into the equation, all three will be fighting for the Masters title at the Zwartkops final.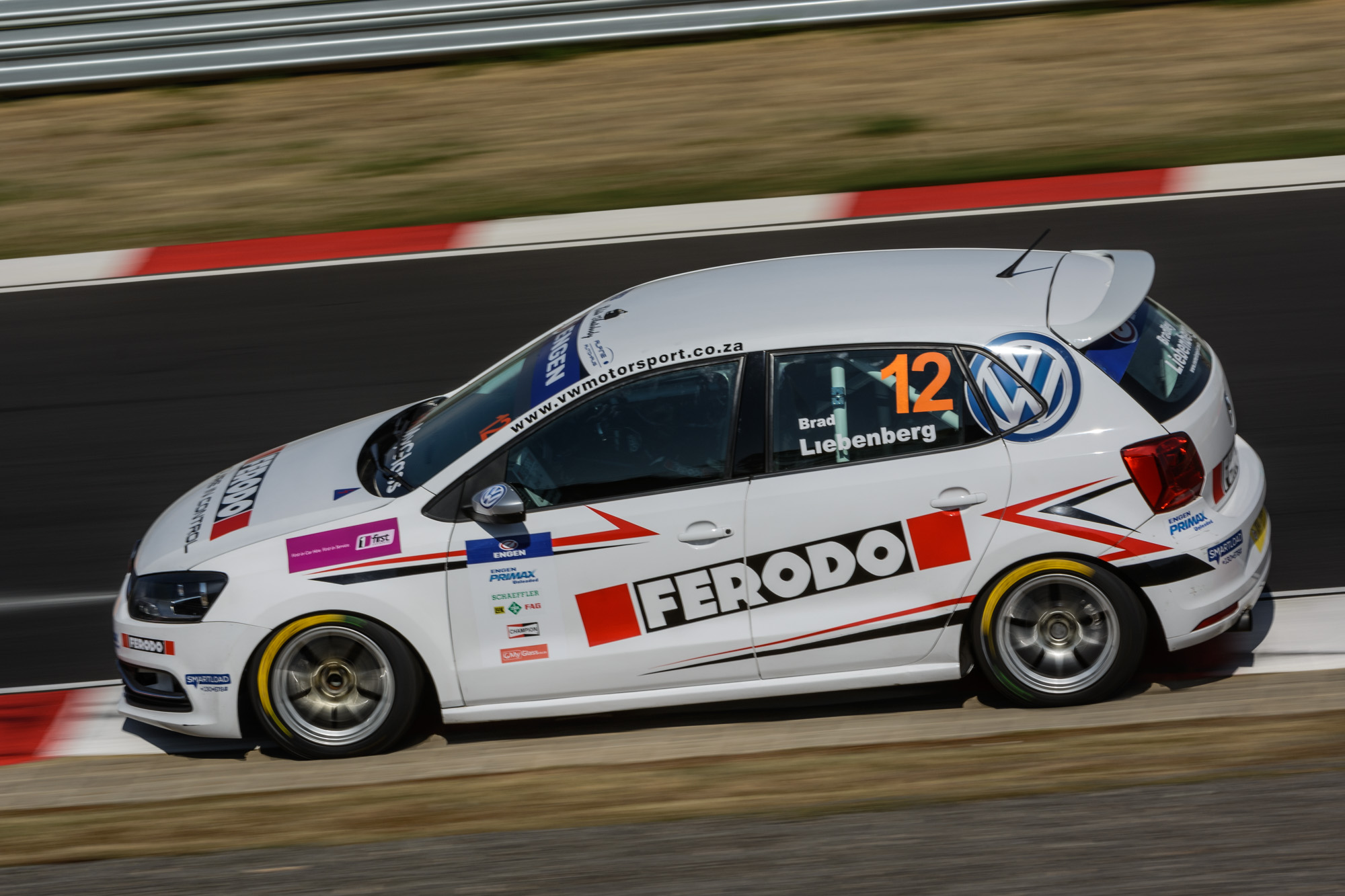 For Keagan Masters, his second place in the championship is now a third, with Christopher Shorter overtaking him at the Kyalami round. Contact with another competitor in race two resulted in a damaged engine and no points for Masters, so he relies on his second place finish in race one to stay in contention for the Zwartkops finale.
In addition to the Engen Volkswagen Cup races, Volkswagen Motorsport also staged two special races at Kyalami. One was a celebrity race with invited guests Sasha Martinengo, Ntando Kunene, Garth Collins, John Smit, Jacob Moshokoa, Graeme Richards, Naas Botha and Jack Parow.
The second was a media race, featuring some of South Africa's motoring media. This list was Dennis Droppa, Janine van der Post, Lindsay Smyth, Andrew Leopold, Mark Smyth, Michele Lupini, Mark Jones and Sean Nurse. Both fields competed at the wheel of Volkswagen Polos sponsored by Cell C, Oracle Graphics, Engen Primax, Volkswagen Financial Services, Volkswagen Genuine Parts, Dunlop, ATS Motorsport Supplies / OMP and Sapphire Logistics.
At the end of the celebrity race it was Parow that claimed the chequered flag, followed by Botha and then Richards. The media race victory went to Nurse, with Jones second and Lupini rounding out the podium.
The final round of the Engen Volkswagen Cup championship takes place at Zwartkops Raceway on Saturday, November 26. With such small points differences in the field, this is really going to be a tense event, where every single point will count.
RACE ONE
Chris Shorter (33 – Payen / Turn 1)
Keagan Masters (18 – Champion)
Matt Shorter (11 – Champion)
RACE TWO
Matt Shorter (11 – Champion)
Chris Shorter (33 – Payen / Turn 1)
Juan Gerber (M8 – Glasfit / Ctrack)
OVERALL
Matt Shorter (11 – Champion)
Chris Shorter (33 – Payen / Turn 1)
Juan Gerber (M8 – Glasfit / Ctrack)
MASTERS OVERALL
Juan Gerber (M8 – Glasfit / Ctrack)
Trevor Bland (M2 – Universal Health Care/Phoenix)
Simon Need (M6 – Photonics)
CHAMPIONSHIP POINTS
Bradley Liebenberg (12 – Ferodo) - 168
Chris Shorter (33 – Payen/Hollard/Turn1) – 167
Keagan Masters (18 – Champion) - 156
Shaun La Reservee (M3 – Alpine Motors / Compendium Insurance) – 144
Trevor Bland (M2 – Universal Health Care/Phoenix) – 128