GEORGE NEWS - Small acts of kindness can change communities. This was the conclusion reached at a networking event for business women from George and surrounding towns on Friday 21 February to discuss how they can make an impact on communities in the Western Cape.
"The SACBW's values are to empower, embrace, educate, equip and unite all women," said Hester du Bruyn, SACBW's Western Cape regional leader.
"Since we regard women as the pillars of society, it is also our mission to ensure that every woman and girl should be able to find her place in the business environment and community at large.
"For this reason, we are grateful to partner with MoonTime Community, a local non-profit organisation in the Western Cape, to encourage and educate girls to respect their menstruation cycle. We want to support them with a healthier, greener and more cost-effective alternative to disposable pads."
The council is embarking on a project for Mandela Day where members are going to distribute 67 buckets of reusable cloth pads.
There is an opportunity for all women to contribute by means of donations or sponsorship opportunities.
More information is available here. The SACBW's next networking session is on Thursday 19 March at 08:00 at Upstairs@Harry's.
For more information on SACBW, contact Hester du Bruyn at wc@sacbw.org or 082 332 9438.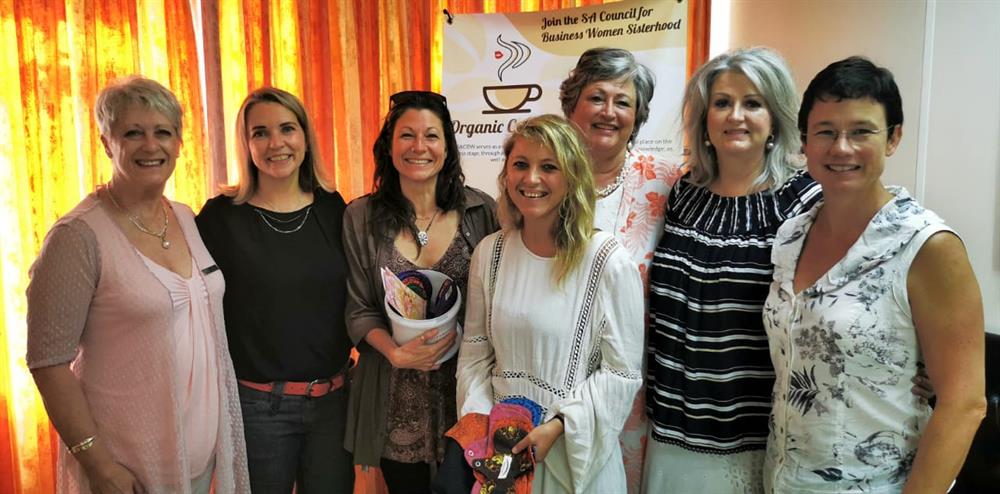 Women at Friday morning's SABCW meeting at Upstairs @ Harry's, from left: Nadia Harding, Stephanie Young-Watkins, Kirsten Ruhnke, Anja Bock, Hester du Bruyn, Liana van Niekerk and Lidia de Waal.
'We bring you the latest George, Garden Route news'