GARDEN ROUTE NEWS - The George Hospital is participating in an international art project in which patients in hospitals around the world will unite in painting six murals that depict the coming together of people during the Covid-19 pandemic.
The multi-panel design is based on real life stories of people bringing joy to their neighbours.
The design will be painted on six continents in the cities where the stories took place, according to Scott Feight, executive director of the Foundation for Hospital Art, the organisation behind the initiative.
Patients and the medical staff will paint inside the hospitals. Once complete, the paintings will be donated as gifts to the participating hospitals.
The other hospitals taking part are the University of Illinois Hospital and Health Sciences System in Chicago, the Duhok Department of Health System in Iraq, Mario Gotti Hospital in Campinas, Brazil, the Agostino Gemelli Hospital in Rome, Italy, and the Gold Coast University Hospital in Southport, Australia.
"This project will serve to bring comfort and joy to those suffering in hospitals, both through the act of creating the art and as a long-term reminder of the strength of the human spirit. Scientific studies have proven that art aids in the healing process for those recovering in hospitals," Feight. "What is often lost in the constant flow of news about the pandemic, is the great work that healthcare workers are doing around the world and the overcoming spirit of the patient. This project celebrates that spirit around the world."
The Foundation for Hospital Art is an international non-profit organisation founded headquartered in Woodstock, Georgia. It has involved over one million volunteers and patients to donate over 49 000 paintings to over 7 500 hospitals across 195 countries.
For more information, visit its web site at www.hospitalart.org or contact them via email: info@hospitalart.org.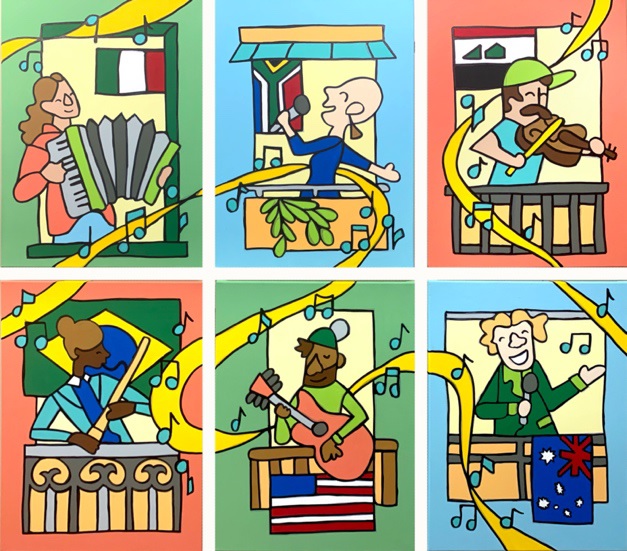 Six canvases come together to create one painting.
'We bring you the latest Garden Route, Hessequa, Karoo news'