INTERNATIONAL NEWS -
A year after moving into the White House with her young son to rejoin her husband, Melania Trump - this most enigmatic of presidential wives - demonstrated once more this week she is anything but the typical US first lady.
As the United States grapples with a political crisis sparked by the forcible separation of migrant children from their parents, the 48-year-old ex-model and Slovenian immigrant flew to Texas in a bid to quell the firestorm.
Except her stated desire for children to reunite with their parents as quickly as possible was overshadowed by her choice of plane-boarding attire - a jacket emblazoned with the words "I really don't care. Do U?"
Instead of feting the rare frugal choice by the wife of a billionaire - a $39 off-the-peg number from Zara - the internet was convulsed with outrage over the choice and speculation as to why she wore it.
Was it a pointed message to President Donald Trump, accused of sleeping with a porn star soon after their son Barron was born? Could it have been aimed at the press, as her husband later tweeted, a rebuke to the "fake news media"?
At worst it was callous to the children stranded without parents, at best a distraction from a well-intentioned visit, critics complained.
"I thought at first it might have been fake and no way could this have been real," said Claire Thomas, New York Law School professor who has defended undocumented children in US immigration courts. "Why would anyone do that?"
"It's a jacket. There was no hidden message," hit back spokeswoman Stephanie Grisham. Indeed, nothing hidden about graffiti-style capital letters scrawled across her back, scoffed critics.
Upon her return to Joint Base Andrews, the mother-of-one deplaned wearing the same jacket, defiant in the face of the internet uproar.
It was a week that saw Melania make a rare foray into politics, saying that she hated to see families separated. Stopping short of criticizing her husband's policies, she called for bipartisan immigration reform to fix the issue.
Democrats were incensed at her implication that they were in any way responsible for a "zero tolerance" policy unveiled by Trump's attorney general.
'Marie Antoinette-ish'
"It was incredibly brave of her," said Jeanne Zaino, professor of political science at Iona College. "She is establishing her own voice on these issues and it is a voice that is not echoing her husband's voice or the Republicans."
She then reportedly lobbied her husband to reverse his policy, culminating in Wednesday's executive order banning the separation of children, but with no guidance on how to reunite the 2,300 already split from their relatives.Melania Trump, pictured in Washington earlier this year, appears more rarely in public than other US first ladies have done -- which experts says tends to magnify her missteps
"Melania is almost closer to the first lady in some of the TV shows... like 'House of Cards'... where the first lady is a lot different from the traditional first lady," mused Zaino. "She is a fascinating figure."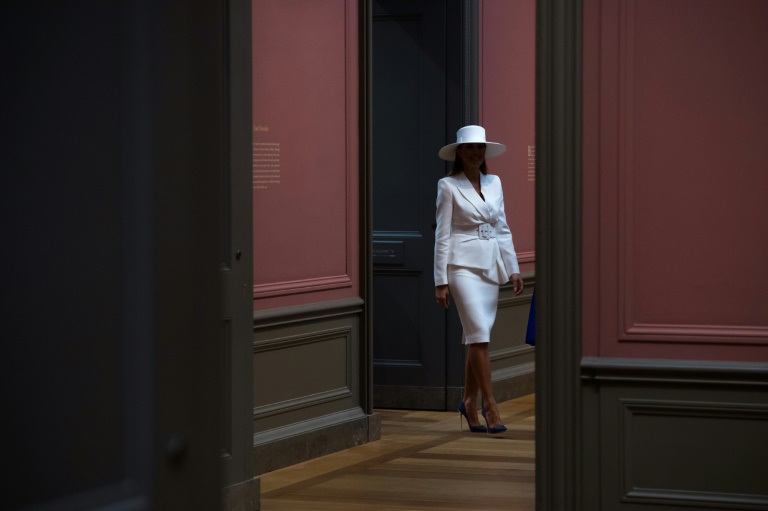 Melania Trump, pictured in Washington earlier this year, appears more rarely in public than other US first ladies have done -- which experts says tends to magnify her missteps.
On Tuesday, she sparked another backlash for tweeting about her tea with Spain's Queen Letizia and their "time together focusing on the ways we can positively impact children" as the crisis was unfolding in Texas.
A New York Times op-ed branded it a "tone-deaf, Marie Antoinette-ish statement." The latest CNN poll put her favorability rating at 51 percent, down from 57 percent in a survey for the US network conducted last month.
Her dive into immigration, one of the most inflamed US debates, follows a long public absence after treatment on May 14 for what aides called a "benign" kidney condition, her absence sparking wild speculation and conspiracy theories.
"By and large I don't think the American people know her," says Myra Gutin, a Rider University, New Jersey professor and author of "The President's Partner: The First Lady in the Twentieth Century".
"Her advocacy on the part of children separated from their families is not controversial, it is a human response to an inhuman situation," she said.
Plenty of first ladies in the past have courted controversy - Hillary Clinton, Betty Ford, and at times Barbara Bush and Michelle Obama.
"If the public saw her everyday over the course of the last six months and there were two or three faux pas, may be they wouldn't stand out so much," says Katherine Jellison, Ohio University history professor.
"But the fact that she is seen less than other first ladies makes every appearance a story in and of itself, then these missteps are magnified," added Jellison, an expert on first ladies.