GEORGE NEWS - Mediclinic George could report today, Friday 26 February, that there are no Covid-19 patients in the hospital.
"We admitted the last seriously ill Covid patient on 25 January, but apart from him we have had to treat only milder cases. We are all relieved that we are over the second wave, but wish to urge everyone not to slacken adherence to the necessary hygiene measures and to wear their masks," said the manager, Kassie Karstens.
Visiting hours to the hospital have been extended and are now 10:00-12:00 and 15:00-20:00.
As at 23 February, the Garden Route had 22 hospitalised Covid-19 patients in private and public hospitals, which is the lowest since early November last year, according to the head of the district's disaster management section, Gerhard Otto.
Peter Dros, director of sales and marketing at Fancourt, one of the establishments hit hard by the restrictions, welcomed the declining numbers.
"This is indeed fantastic news and we are delighted not only for George, but the entire Garden Route. The tourism industry is on its knees and we need to spread this positive news far and wide. This will go a long way in providing confidence for future travellers intending to visit our region and particularly with the Easter holidays around the corner, and hope for the tourism suppliers who are really desperate for their patronage."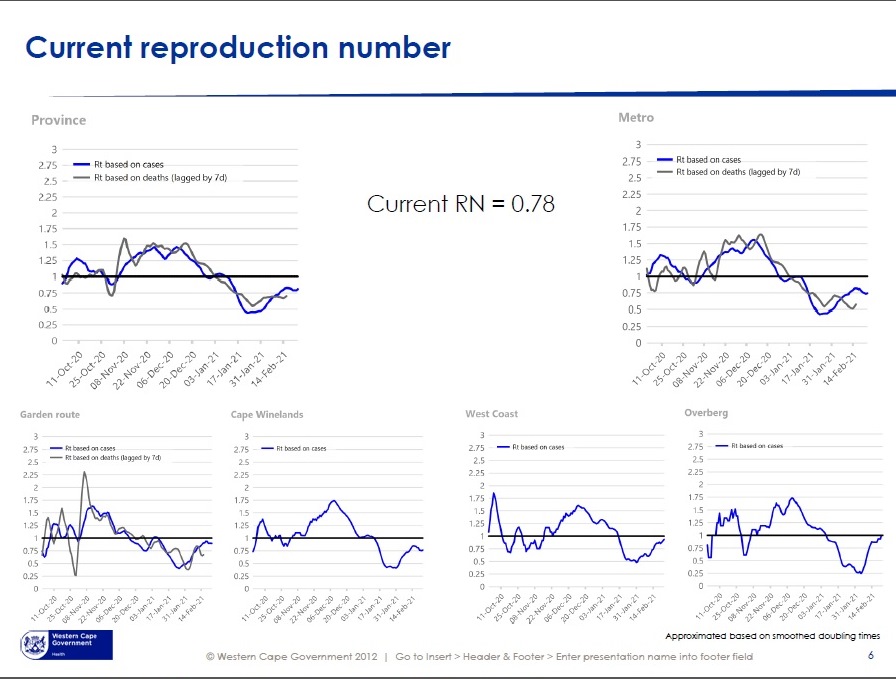 The Covid-19 reproduction number in the Western Cape is at a welcome low of 0,78.
During Premier Alan Winde's weekly digital conference on Wednesday 24 February, Western Cape COO of Health Dr Saadiq Kariem said that the occupancy of Covid beds in public hospitals in the George drainage area stood at 14%.
Covid-19 cases across the Western Cape have declined for the sixth consecutive week. "Using seven-day moving averages, confirmed cases have declined a further 16%, while (hospital) admissions and deaths have dropped by 11% and 40% respectively," said Kariem.
Cases in the Garden Route showed a 10% drop in cases in the seven days prior to 24 February. As at 23 February there were 380 recorded active cases in the district.
The number of active cases per 100 000 of the population is now 65, compared to 78 a week ago.
'We bring you the latest Garden Route, Hessequa, Karoo news'