WESTERN CAPE NEWS - As of 13:00 today, Thursday 23 July, the Western Cape province has 11 991 active cases of COVID-19.

* Total confirmed COVID-19 cases - 87474
* Total recoveries - 72695
* Total deaths - 2788
* Total active cases (currently infected patients) - 11991
* Tests conducted - 388251
* Hospitalisations - 1621 with 357 in ICU or high care
See the breakdowns below.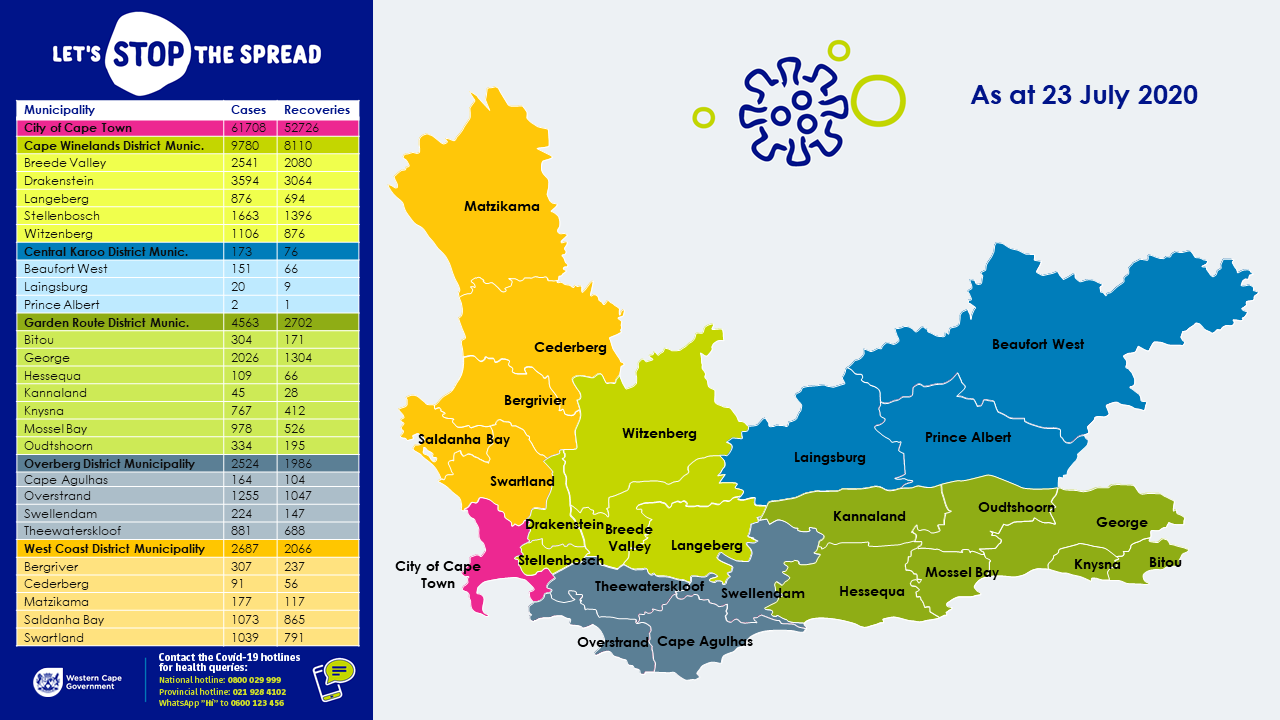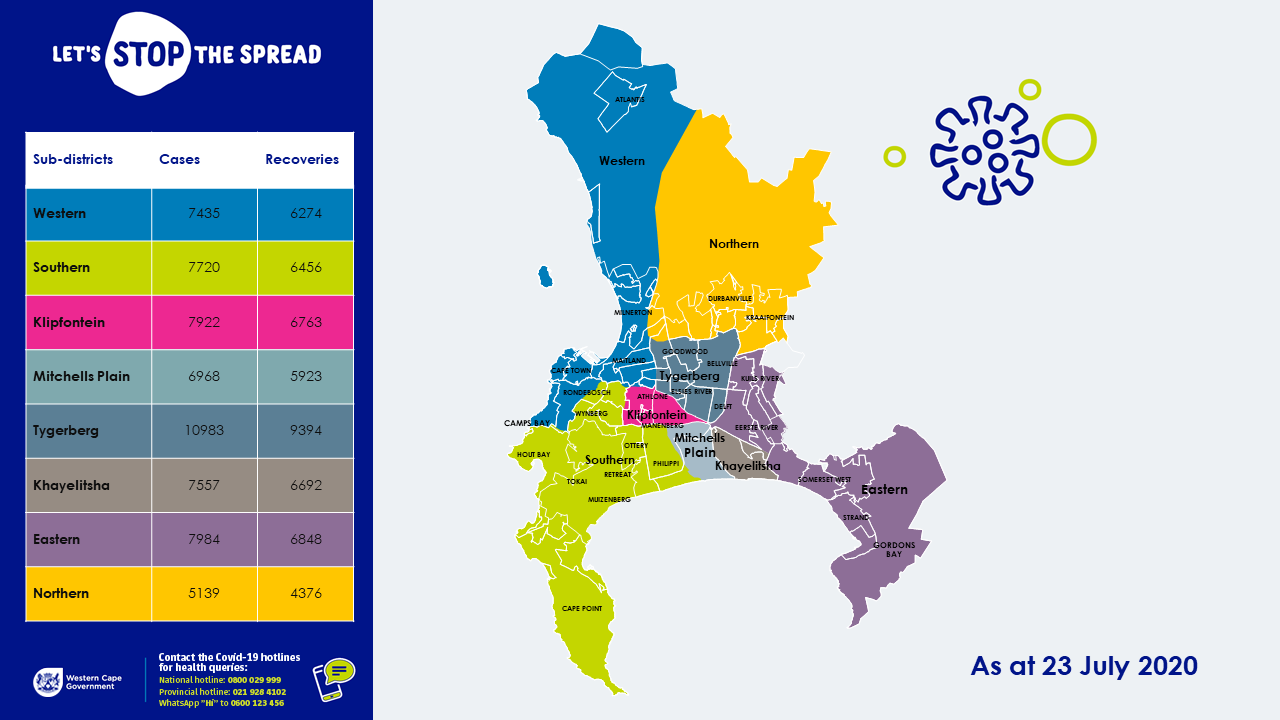 Read Premier Alan Winde's latest statement below.
Hotspot strategy focused on changing behaviour to slow the spread:
The hotspot strategy was implemented to reduce the numbers of infections in places where they were highest. This strategy has involved an all of government approach, with assistance from local municipalities, businesses, civil society and individuals. We know that when we work together as partners we can achieve much more in slowing the spread Covid-19 and saving lives.
Case management:
Community healthcare workers continue to be an important part of the strategy, conducting home screenings and paying special attention to high risk groups and diabetics.
In the Cape Winelands hotspot for example, screening and testing has been conducted in homes for the elderly and protocols and guidelines, and other support have been provided. While in Klipfontein and Mitchell's Plain, the hotspot teams have conducted compliance checks at old age homes and SASSA paypoints, and provided protocols and support to homes for the elderly and the disabled.
Our tracking and tracing has been bolstered by bringing on board the Western Cape Government call centre and by the roll out of the national government's COVID Connect digital system, which was piloted in the province. So far we have made over 11 700 direct calls to people using our call-centre.
We continue to focus on the importance of quarantine and isolation facilities in each hotspot, and have been communicating extensively in all of our hotspot areas.
These facilities have supported 4514 people since the start of the pandemic. There are currently there were a total of 411 people in isolation and 195 in quarantine in sites in both the metro and rural facilities.
Civil compliance and behaviour change:
The coronavirus will still be with us for a number of months to come and our focus has been on shifting behaviours to ensure that we are able to slow the spread of the virus and protect residents. We need to learn to live with this "new normal". This focuses on all aspects of life- from individual actions like mask wearing and social distancing to business compliance, transport options and communications campaigns.
One of the major behaviours emerging in many of our hotspots is the issue of mask wearing. In some cases, masks are not being worn. We have also seen masks being worn incorrectly.
We have therefore now focusing on massive mask drives across our hotspots.
Mask donations will be shared in these hotspots to ensure that more people have access.
Minister of Cultural Affairs and Sport, Anroux Marais this week launched the mask activation for the Tygerberg and Northern districts, which will take place weekly in these areas. She received 1500 masks donated by Old Mutual which will be distributed through the Department's Treasure Box @home learning packs so that parents and care givers can also have access to masks.
In the Klipfontein and Mitchells Plain hotspots, 1623 masks were donated by Agriculture, to be distributed to urban farmers and farm workers in the City of Cape Town.
We are also focused on the management of crowds and people in public spaces.
In the Overberg, Overstrand law enforcement have conducted over 100 inspections at taxi ranks, conducted over 200 shop compliance checks, and conducted social distancing checks at municipal buildings.
In Khayelitsha, the Chrysalis graduates deployed earlier have been bolstered by neighbourhood watch groups. Earlier this month, 15 neighbourhood watch groups received training and kits, which include sanitisers, masks and tape, to mark out social distancing lines, to help them enforce compliance in their neighbourhoods.
In the Eastern region, eight neighbourhood watches will be deployed in Mfuleni.
In Klipfontein and Mitchells Plain, metro police are conducting compliance checks at schools, shops and malls, clinics, churches and civic centres.
EPWP workers have also been deployed for queue management at clinics in these areas and in Atlantis in the Western sub-district.
Also in the Western sub-district, 16 barbershops and 91 spaza shops were surveyed for COVID-19 compliance in DuNoon, and inspections were conducted in 10 Langa schools.
In the Southern sub-district, 32 hairdressers and barber shops were inspected for compliance, and educational materials shared with them.
Informal traders and spaza shops are being supplied with business safety kits by the City of Cape Town and the Western Cape Government, which contain sanitisers, masks, and posters and pamphlets to display in store and share with their customers.
In Overstrand, taxi ranks, the main shopping centre and the sidewalks are regularly disinfected, while in Theewaterskloof, open areas like taxi ranks and public toilets are disinfected each Friday.
New communications methods are being used in addition to our radio, print, social media and street pole campaigns. These include branding of taxis, loud hailing in communities, and the use of trailer billboards.
The Department of Community Safety has recently started a weekly radio show on Radio Zibonele , with shows focusing on COVID-19 safety, isolation and quarantine and other important messages.
These are just some of the strategies that are being employed in our hotspots to ensure that we can slow the spread and protect our most vulnerable.
This plan is a whole of society plan and we need everyone to do their part to help.
The Coronavirus is going to be with us for a long time still and in order to ensure that the province does not experience new spikes in infection, we must all play our part. You can keep yourself and your loved ones safe by staying home as much as possible, and wearing a mask correctly, and keeping a distance of 1.5 metres between yourself and any other person when you do go out. Washing your hands, not touching your face and coughing into your arm or elbow are simple steps that we can all take to protect ourselves and others.
Brackengate discharges first patient
Tanduxolo Mkhetshane from Town 3 Khayelitsha became the first patient to leave our brand new Brackengate temporary hospital after being discharged yesterday. He was among the first group of people through the brand new hospital's doors when they opened on Monday, and by Wednesday, had recovered enough to go home.
Our temporary field hospitals offer intermediate care, and so many of the patients admitted there will be on their way to recovery. They allow us to ensure that those with COVID-19 who still need medical care are able to receive it, while at the relieving pressure on our acute care facilities so that more serious or complex cases can be treated there.
We wish Mr Mkhetshane all the best as he continues his journey to a full recovery at home.
We also thank all of the healthcare workers at the hospital for ensuring that Mr Mkhetshane was well taken care of. His stay may have been brief but the role you have played, and will continue to play for many more patients, is an important one.
'We bring you the latest Garden Route, Karoo, Hessequa news'