WESTERN CAPE NEWS - Update on the coronavirus by Premier Alan Winde:
Yesterday I announced that I had written to the Minister of Health, Dr Mkhize, to request that some restrictions, declared under the national Disaster Management Act, be relaxed in the Western Cape so that we could save jobs in our province.
This request was based on evidence and data, setting out our current Covid-19 statistics, the fact that we have exited our second wave peak, as well as details of our health platform interventions.
We also set out data on the economic and human cost of some of these restrictions, and how ultimately, they are costing jobs.
From the outset we said that we need to get the balance right in saving both lives and livelihoods, and that the restrictions announced now more than 21 days ago needed to be reviewed after 14 days, based on the evidence available.
It is clear, when analysing this data, that some restrictions can be eased in our province.
For more details, read the statement here.
Update on the coronavirus
As of 13:00 on Wednesday 20 January, the Western Cape has 29 513 active Covid-19 infections with a total of 257 625 confirmed Covid-19 cases and 218 672 recoveries.
The Western Cape has recorded 96 additional deaths, bringing the total number of COVID-19 related deaths in the province to 9440. We send our condolences to their loved ones at this time.

Additional data is available on the Western Cape Covid-19 data dashboard which also features active cases per sub-district, active cases per 100 000 and 7-day moving averages.
Access the data dashboard here.
Western Cape requests UIF TERS extension
The Western Cape Minister of Economic Opportunities, David Maynier, has written to the Minister of Employment and Labour, Thulas Nxesi, to extend the UIF Covid-19 TERS scheme for the duration of the Alert Level 3 restrictions.
Key sectors in the Western Cape are battling and many jobs are being lost. It is therefore only fair that funding be provided for the duration of these new restrictions.
Western Cape healthcare workers encourage colleagues and South Africans to get vaccinated
The Western Cape Government has not yet received the details on when the first vaccine doses, announced by the National Government, will arrive in the Western Cape. It is also not yet clear how many we will receive.
We have however planned to deliver 105 000 vaccines to healthcare workers as part of our first phase, and we are planning to rollout in the first week of February, if received by then.
As part of the process, our department of health will be engaging with a variety of stakeholders and sectors to ensure the success of the rollout.
This includes organised labour, citizens, civil society, Higher Education Institutions, the business sector, religious organisations, statutory engagement structures like hospital boards and health facility committees.
It is important that we also provide internal communication to healthcare workers that allays any concerns that they have.
Many healthcare workers have already come out in support of the vaccine and are encouraging their colleagues and fellow South Africans, when possible, to do the same.
Here are some testimonials:
"I am taking the vaccine. Scientists have provided evidence to show that this is currently our best medical defence against COVID-19," - Dr Anita Parbhoo, Acting CEO, Red Cross War Memorial Children's Hospital.
"I welcome the vaccine. It will be better than working with this fear of contracting the virus every day. By taking the vaccine we will be taking the 1st step to protect ourselves, our loved ones and our community. We are actively working together to bring this pandemic finally to an end. Smallpox, polio and measles was all brought under control by a vaccine." – Thouwybah Phillips, Operational Manager for Respiratory ICU, Groote Schuur Hospital.
"I am taking the vaccine. Being the frontline workers of this pandemic, we have a high risk of being exposed, as we play a critical role in caring for our patients." – Melody Camelo, Operation Manager for Nursing, Groote Schuur Hospital.
"One should ask yourself 'what can I do to save lives'? My simple answer would be: Vaccinate. By doing this I would not just protect myself, but also those around me. – Andre Lindoor, Social Work Supervisor, Tygerburger Hospital.
"We will be taking the vaccine as we trust the science and believe that the vaccines have sufficient efficacy and safety from the trial data." - Jackie Voget and Vanessa Mudaly, public health specialists.
"Being vaccinated will protect vaccinated individuals from severe disease but will also indirectly protect other non-vaccinated people who may be at very high risk of dying." – Dr Jantjie Taljaard, infectious diseases specialist, Tygerberg Hospital.
"The vaccine is one of the greatest advances we have to combat this terrible pandemic. So many have suffered and there has been so much loss and the vaccine can stop this." – Prof Heather Zar, Department of Paediatrics & Child Health, Red Cross War Memorial Children's Hospital.
"We are Frontliners and as Health workers we have to take the lead and try to protect not only the public but ourselves and our loved ones. Let's be fighters and fight this fight." - Vigenee Cole Davids, Porter at Tygerberg Hospital.
"I am looking forward to receiving the vaccine and have no real fears or hesitation as I fully trust the scientific and regulatory process. Like any other vaccine or new drug, there are bound to be side effects that affect a small number of recipients. The risk-benefit of the vaccine dramatically favours administration of the vaccine with the biggest risk being death." - Dr Nasief van der Schyff, Head of Department of Medicine at Victoria hospital.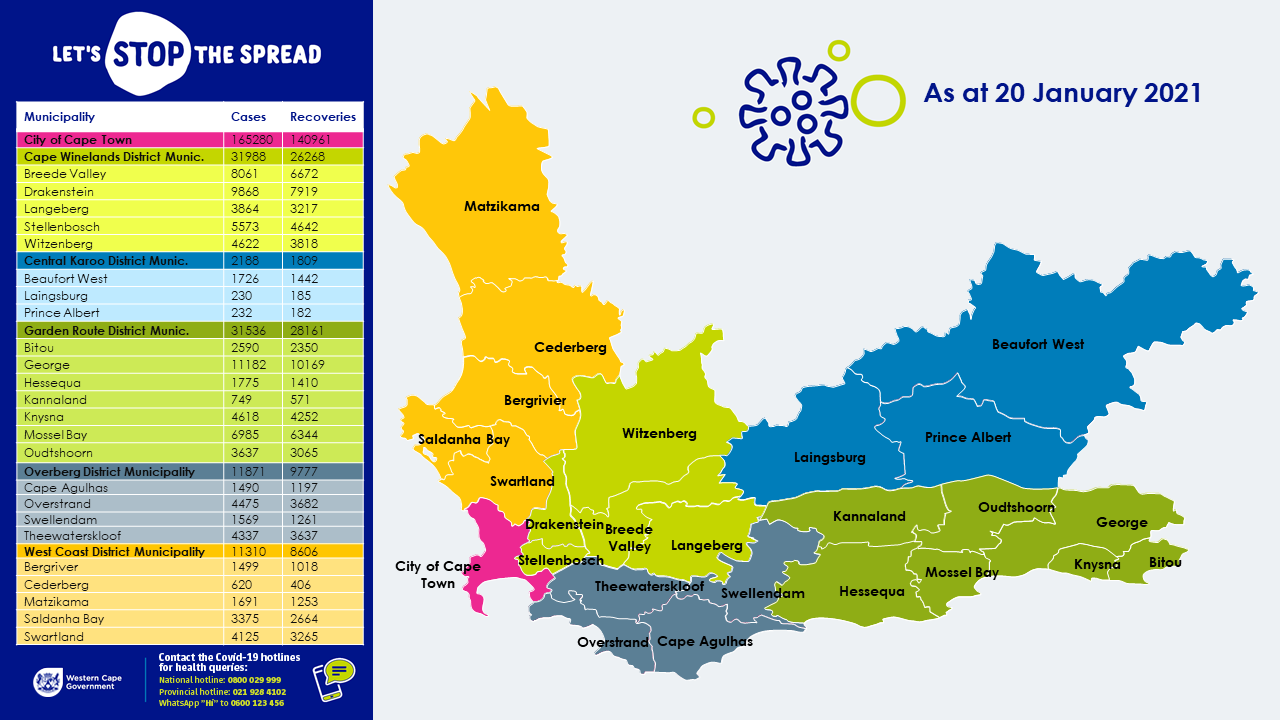 'We bring you the latest Garden Route, Hessequa, Karoo news'