WESTERN CAPE NEWS - In a media statement today, premier Alan Winde said that the Western Cape Government has identified dignity and wellness as focus areas of the recovery phase of the pandemic.
According to the statement:
Earlier today, I held my weekly digicon, where I was joined by Social Development Minister Sharna Fernandez and Agriculture Minister Ivan Meyer to detail the humanitarian response to the pandemic and the lockdown in the Western Cape, as well as our focus on dignity and wellbeing as part of our recovery plan.
The hard lockdown resulted in many people being unable to work, and as the StatsSA data released this week showed, over 300 000 people in the Western Cape lost their jobs between April and June. This required an immediate and coordinated response across the whole of government and across the whole of society.
During this time, the Western Cape Government call center received over 152 000 calls, with the majority being requests for food relief or for information on how to access the social relief of distress grant, offered by SASSA.
The following food relief was put in place:
The Western Cape Department of Education continued to feed children throughout the lockdown period. Over 8.5 million learner meals had been provided in the Western Cape by August.
The Department of Social Development and local government in the province provided food relief to those in need through the provision of food to households, those in quarantine and isolation, and meals provided at shelters and for the homeless. In total, the state provided over 277 000 food parcels and in excess of 7.3 million meals.
The workstream also worked closely with the private sector, NGOs and the religious sector. They created a dashboard which details food relief, water tanks and food gardens. Together, community based organisations and NGOs were able to distribute over 148 000 food parcels and serve over 8 million meals.
The Department of Cultural Affairs and Sport also made R5.7 million in funding available in arts and cultural relief and sports relief funding to support artists and sports federations who were hard hit by the inability to perform or play. A total of 753 applications for the arts relief funding were approved. Of these, payments totaling R 2.28 million have been disbursed for 424 applications. The sport relief fund has paid out R716 000 so far to 110 individuals and 46 sporting federations.
In addition to feeding and financial relief, the workstream also worked to ensure that people had access to psychosocial support.
During this time, over 45 000 debriefings, telephonic or one on one counseling sessions, and trauma counseling sessions were undertaken- providing residents with much needed care during a very difficult period.
Minister of Social Development, Sharna Fernandez said: "During the pandemic, we initiated a humanitarian workstream to respond to the numerous challenges that emerged, however, the impact of job losses and personal trauma require that we adapt to a dignity and well-being focus. Some of the focus areas include services for older persons, shelters for victims of abuse, psycho-social support services, child protection services, and services for people with disabilities, amongst others."
As we move into the recovery phase, the Western Cape has identified dignity and wellness as one of the three focus areas. The focus on dignity goes beyond merely providing meals or food and seeks to protect and uphold fundamental rights, while progressively working to realise socio-economic rights and to build a sense of belonging for our residents.
One way in which we aim to provide dignity is through the Sanitary Dignity Programme which was launched in the province last month. The first phase has already provided in excess of 1.9 million sanitary pads to learners at over 200 schools.
Another is through the Department of Agriculture's One Home One Garden campaign which gives people the tools to grow their own food.
Minister Ivan Meyer said: "The humanitarian stream has done a huge job in managing the humanitarian efforts especially during the Covid-19 and it has brought on board many partners but we are now seeing donor fatigue. We are therefore shifting from food relief to food security."
The programme sets households up with the seeds and tools they need to start growing their own food- increasing food security and providing access to nutritious food. They also create income or employment for those homes that produce enough food to sell and help to develop entrepreneurial skills in communities. These are all things that contribute to the wellbeing of residents and help to build their dignity.
To date, the Department has delivered 2589 of these gardens. The initiative targets people on municipal indigent registers, women, youth, people with disabilities and unemployed people with access to enough land to be able to grow food.
Around the globe, we have seen the impact of Covid-19 stretch far beyond the virus itself. For many, it has resulted in massive loss- of their loved ones, of jobs, homes, the ability to learn and of dignity.
Our initial response as a government in the Western Cape was to ensure that residents were able to stay safe and access the care they needed, while providing humanitarian relief throughout the lockdown.
As we move forward- we must work to win back what we have lost- we must save jobs, and we must restore dignity. Because these are at the heart of creating a safe society where people can life lives that they value.
Update on the coronavirus
As of 13:00 on 1 October, the Western Cape has 2115 active COVID-19 infections with a total of 110 139 confirmed cases and 103 837 recoveries.

Garden Route District
George: 3588 (3365)
Mossel Bay: 2383 (2268)
Knysna: 1534 (1463)
Oudtshoorn: 1445 (1284)
Bitou: 626 (598)
Hessequa: 326 (301)
Kannaland: 117 (110)
Data note
It is not always possible to check and verify that the address data supplied for each new recorded case is correct, within the time frames required to provide regular and timely updates. This means that in some instances, cases could be allocated to the wrong sub-districts. We are working with the sub-districts to clean and verify the data and where errors are picked up locally, cases will be re-allocated to the correct areas.
The Western Cape has recorded an additional 5 deaths, bringing the total number of COVID-19 related deaths in the province to 4187. We send our condolences to their families and friends at this time.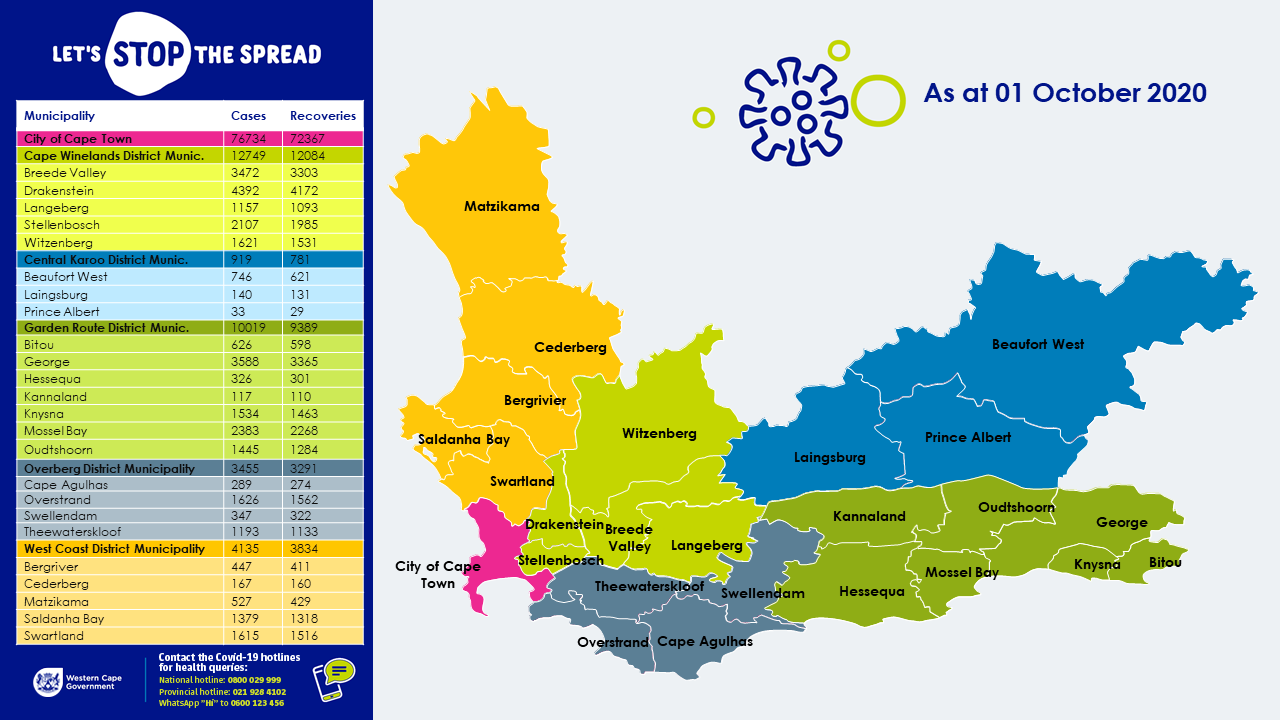 'We bring you the latest Garden Route, Hessequa, Karoo news'