WESTERN CAPE NEWS - The announcement by Health Minister Zweli Mkhize that 1.5 million vaccine doses have been secured for delivery by the end of February - ahead of the originally announced schedule – has been welcomed by Western Cape Premier Alan Winde.
"Vaccines are part of the arsenal of tools we have available to us to fight Covid-19, and the commitment that 1.25 million healthcare workers will be prioritised will help us to protect our frontline," said Winde in his statement this afternoon.
"The Western Cape Government is in the advanced stages of developing our vaccine rollout strategy, which will enable us to safely and efficiently distribute them as they become available."
Read the rest of his statement below:
We are also committed to continue working to ensure that we source the required numbers of SAPHRA approved vaccines for the Western Cape. As a province, we have identified healthcare workers and other essential services, as well as those at risk of serious illness or death because of their age or an underlying illness, as priority groups for vaccinations.
We must ensure that we are able to vaccinate all of these groupings as early as possible in order to save lives.
We anxiously await further details on exactly when in January the first 1 million vaccines will be delivered, and how they will be distributed to provinces.
This news will be a significant morale booster for our healthcare workers, who have worked tirelessly for months on the frontlines. We trust that their best interests and the best interests of all South Africans will be top of mind for those officials who are entrusted with the processes of securing and distributing vaccines in South Africa.
While we await rollout of additional doses for the general population, I appeal to residents to continue to protect themselves and their loved ones by wearing your masks, washing your hands, keeping your distance, and avoiding crowded, enclosed spaces and close contact.
Healthcare worker update:
I would like to send a warm welcome to this year's medical intern cohort, who have started work at provincial hospitals over the past week. Since 1 January, 322 of 335 medical interns have been placed.
They join the public service and the frontline at a critical period in our Covid-19 response. They will be joining experienced teams of dedicated doctors, nurses and healthcare workers who are all focused on caring for the sick in the Western Cape.
The medical interns will join the new staff who have been appointed since the start of the year, and our people management teams continue to work flat out to appoint and place additional healthcare workers as they are needed.
A total of 565 applications have been registered on our dashboard, and 495 offers have been made to date. Of these, 80 have already been appointed.
We welcome all the new staff to the frontline and thank them for their service.
Latest Covid-19 figures
As of 1pm on 7 January, the Western Cape has 37 288 active Covid-19 infections with a total of 226 908 confirmed Covid-19 cases and 181 814 recoveries.

The Western Cape has recorded 123 additional deaths, bringing the total number of COVID-19 related deaths in the province to 7 806. We send our condolences to their loved ones at this time.
Additional data is available on the Western Cape Covid-19 data dashboard which also features active cases per sub-district, active cases per 100 000 and 7-day moving averages.
Access the data dashboard here.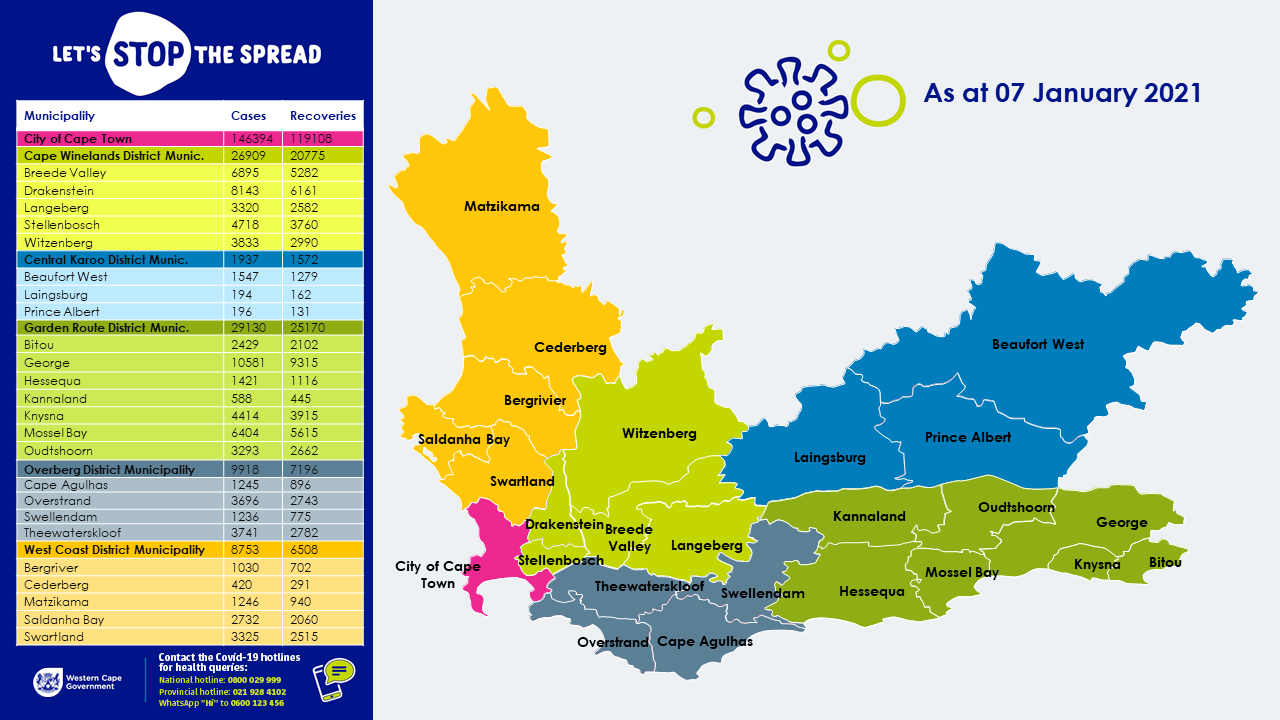 'We bring you the latest Garden Route, Hessequa, Karoo news'