WESTERN CAPE NEWS - The shortage in supply of vaccine doses is expected to prevent the Western Cape Department of Health from reaching its vaccination target next week.
Dr Keith Cloete, head of the department, said during the weekly digicon update yesterday, Thursday 3 June, that the province has ramped up vaccination capacity and is ready to vaccinate 24 000 people per day from next week.
Its target is to vaccinate at least 120 000 people next week, but with the secured supply of doses they will be able to do only 70 000, unless the expected supply of Johnson & Johnson vaccines start coming into the system. Vaccines are channelled from suppliers through the national government.
Up until last week, the province received 124 000 doses. With this week's supply of vaccines added, over 200 000 people will have been vaccinated by the end of today, Friday 4 June. This includes over 93 000 healthcare worker vaccinations during the Sisonke trial.
Cloete said in the past two weeks (the first two weeks of phase 2 of the vaccination programme), 84 988 vaccinations were done. "This demonstrates a huge upscaling of vaccination when compared with the 93 153 vaccinations completed over three months during the Sisonke trial."
"There is a supply constraint for the coming weeks because of the delays of Johnson & Johnson (J&J). By the end of May, we should have received four times as many of the J&J vaccines if we didn't have that hold-up," he said.
He explained that in the first week of phase 2, they completed 2 000 inoculations per day. This was scaled up to between 6 000 and 7 000 per day in the second week. This week, the third week, began with 10 000 on Monday and increased to 13 000 on Tuesday and 14 000 on Wednesday.
In week 1, there were 18 vaccination sites, the second week 58, and by the end of this week 114 sites will be on line. The plan is to go to 186, depending on vaccine supplies.
Mass vaccination sites - public and private, as well as workplace sites - are also in the planning. "However, before mass sites will be launched, sufficient sites in every geographic area must be available to give equal access to everyone. When we have more supply of vaccines, we will bring bigger sites on line."
Mediclinic Geneva's supply used up
The supply at Mediclinic Geneva, the only private site in the Garden Route, has run out with 1 171 inoculations completed. The hospital began vaccinating last week. Hospital manager Kassie Karstens said their supply ran out yesterday, Thursday 3 June. They hope to receive another batch next week so that they can resume vaccinations.
J&J vaccines expected to be cleared
Distribution of J&J vaccines has been halted due to possible contamination of the vaccine at an American manufacturing plant in Baltimore. According to the New York Times, workers at the plant accidentally contaminated a batch of J&J's vaccine with the harmless virus used to manufacture AstraZeneca's. Both vaccines were produced at the same site.
An announcement by the Food and Drug Administration is being expected this week. South Africa has ordered 30 million J&J doses. An Aspen Pharmacare drug-manufacturing plant in Qgeberha has been contracted to fill and package the vaccines.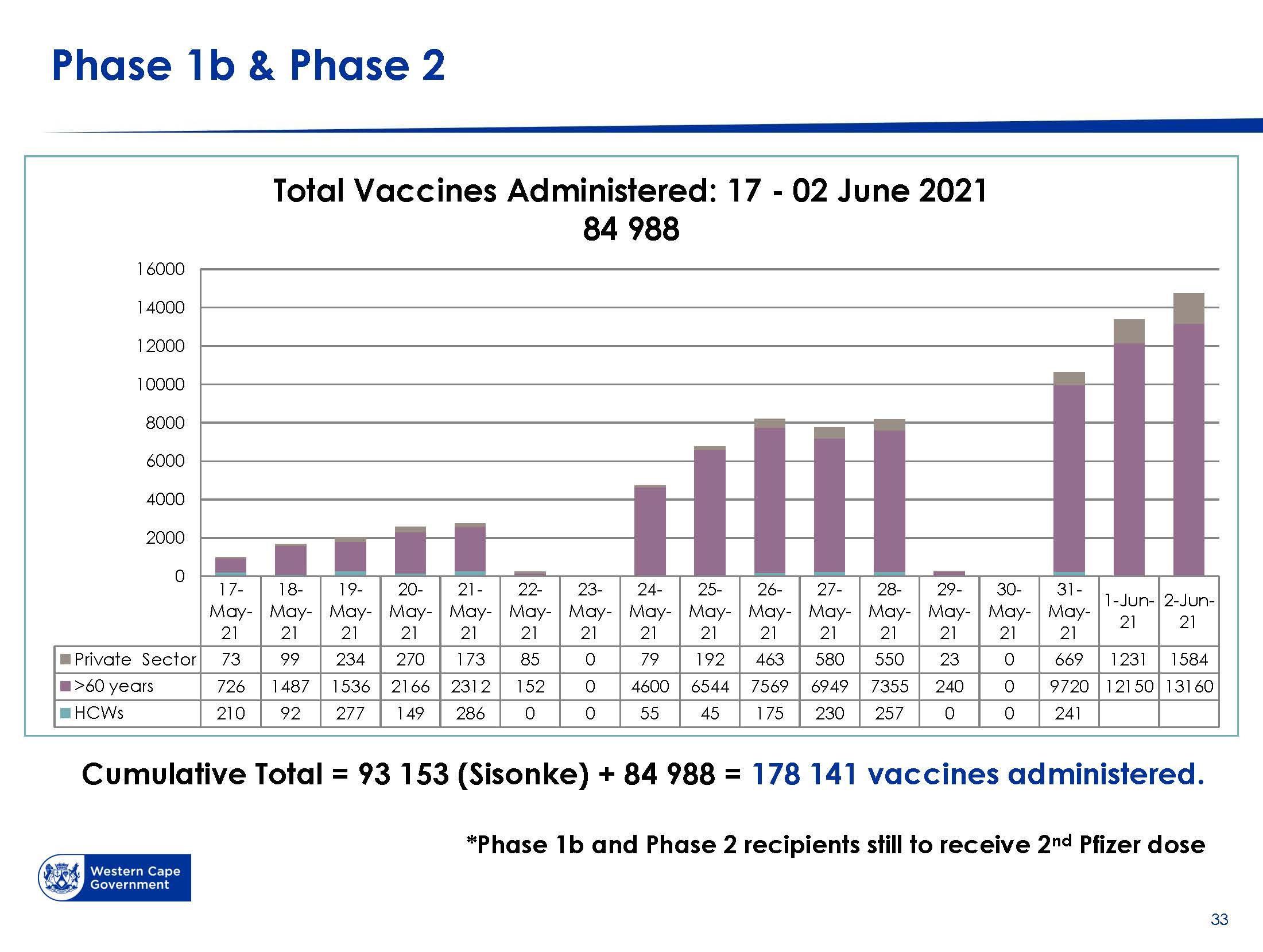 Vaccines administered up until 2 June.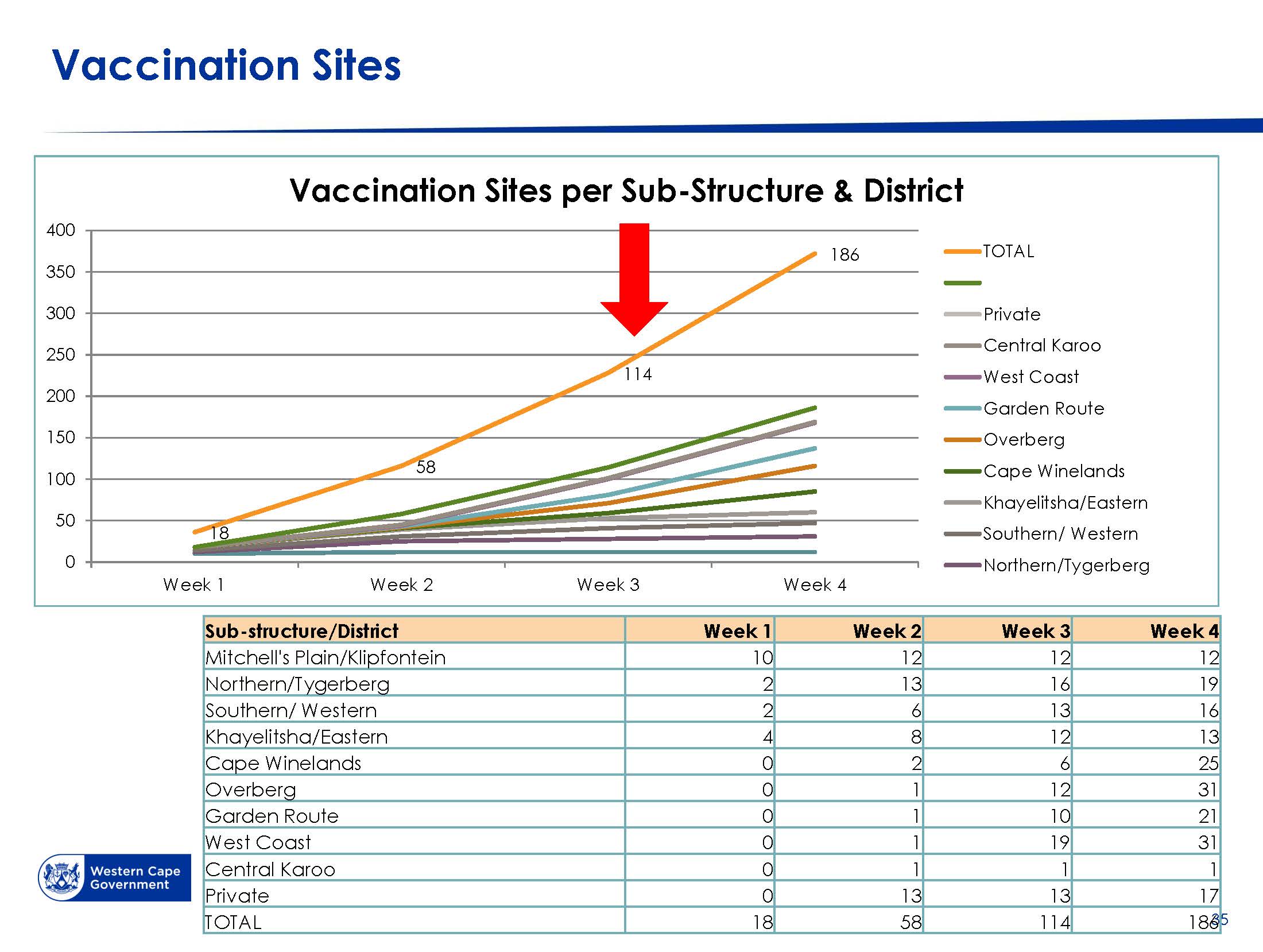 Vaccination sites up to week 4.
'We bring you the latest Garden Route, Hessequa, Karoo news'