WESTERN CAPE NEWS - The Western Cape has recorded an additional 30 deaths, bringing the total number of COVID-19 related deaths in the province to 3 454.
"We send our condolences to their family and friends at this time," said Premier Alan Winde in his latest statement this evening.
The total number of active cases of COVID-19 is 7 416, with a total of 98 868 confirmed cases and 87 998 recoveries.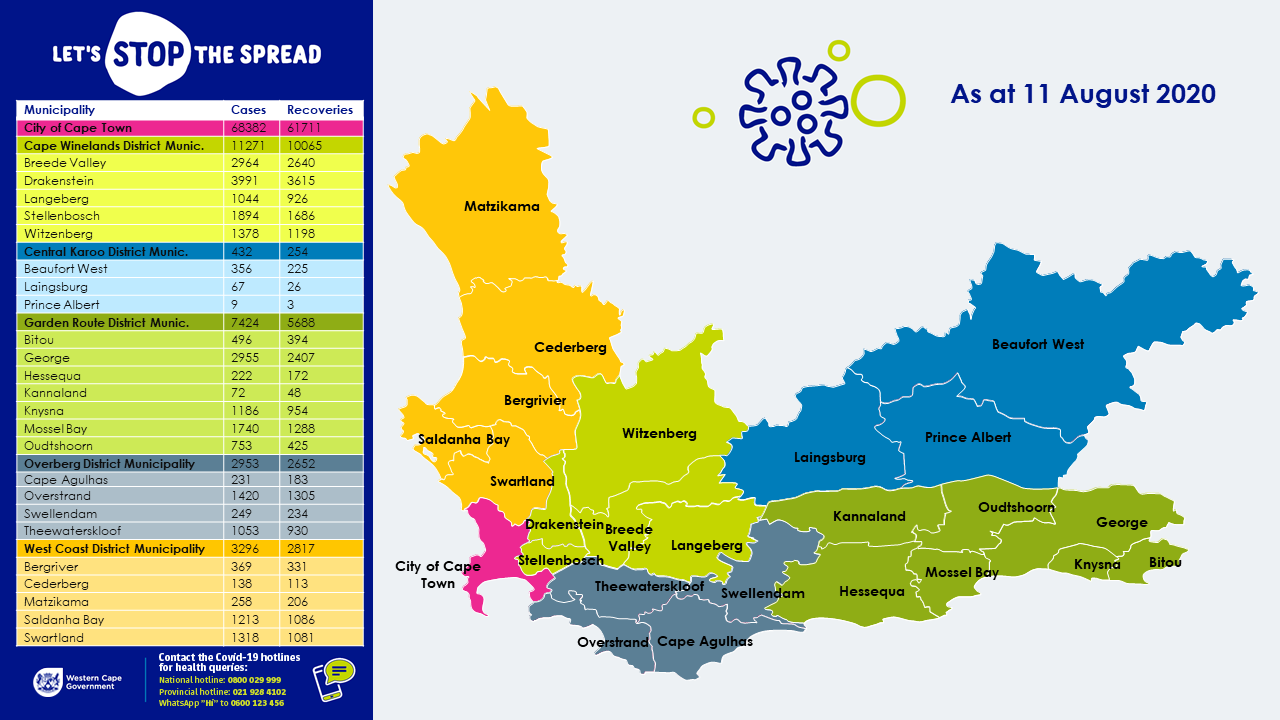 Read the rest of his statement below.
Lockdown regulations:
We note that Health Minister Zweli Mkhize published the criteria that will guide the determination of alert levels in the Government Gazette on Friday 7 August. According to the gazetted criteria which came into effect upon publication, "the Ministerial Advisory Committee must advise the Minister of Health regarding which alert level should be declared nationally, provincially, in a metropolitan area or district."
We welcome the confirmation that alert levels could be determined at a provincial, metro or district level. The Western Cape cabinet on Friday took the position that businesses which can open safely should be allowed to do so, and that the alcohol ban should be lifted, in conjunction with the implementation of smart measures aimed at reducing alcohol harms.
We have written to both Minister Mkhize and Cogta Minister Nkosazana Dlamini Zuma to request a meeting where we will put forward these positions as it is imperative that we take decisive and immediate action to prevent an unemployment pandemic and further economic calamity.
I will also be attending the President's Coordinating Council meeting on Saturday where I hope to have the opportunity to raise these issues.
StatsSA has delayed the release of its Quarterly Labour Force Survey data which was due to be released today, but we believe that these figures will give us a picture of the economic hardship wrought by the lockdown between April and June.
Statistical indicators previously released by StatsSA have shown the drastic impact of the lockdown on the food and beverage industry. The closure of our borders and the initial ban on local travel has also had a significant impact on the tourism industry. Manufacturing data released today shows a 16.3% decline in manufacturing in June when compared to June 2019. This is in addition to the 49.3% decline recorded in April and the 32.4% decline in May.
According to Minister Mkhize's gazetted criteria- alert level 3, which the Western Cape is currently classified as, indicates a moderate COVID-19 spread and a moderate health system readiness.
Alert level 2 indicates a moderate COVID-19 spread with a high health system readiness, while alert level 1 indicates low COVID-19 spread with a high health system readiness.
In the Western Cape, we have seen a steady and sustained decline in the number of hospitalisations, with current numbers sitting below 1200, the lowest we have seen since June.
Coupled with this, we have seen a greater percentage of tests come back negative, declining infections among healthcare workers and a decline in the number of daily deaths.
The Western Cape has passed its peak and currently has adequate platform capacity, to the extent that the MSF field hospital in Khayelitsha is in the process of closing and we will soon be considering whether all our field hospitals need to remain open.
We urge the Ministerial Advisory Committee to consider all of this information when making their recommendations.
I also urge all of our residents to continue to take precautions to protect themselves and their loved ones to ensure that we are able to maintain the declines we have seen in infection numbers, deaths and hospitalisations. Working together we can ensure that we balance the need to slow the spread of COVID-19 with the need to safely open our economy and protect the jobs and livelihoods of thousands of Western Cape residents.
'We bring you the latest Garden Route, Hessequa, Karoo news'