WESTERN CAPE NEWS - As of 13:00 on 1 April, the Western Cape has 2 313 active Covid-19 infections with a total of 280 226 confirmed Covid-19 cases and 266 398 recoveries.
A total of 48 641out of the 53 820 vaccines received to date as part of the Sisonke trial, had been administered by 17:00 on 31 March.
The Western Cape has recorded 6 additional deaths, bringing the total number of Covid-19 related deaths in the province to 11 464. We send our condolences to their loved ones at this time.
Additional data is available on the Western Cape Covid-19 data dashboard which also features active cases per sub-district, active cases per 100 000 and 7-day moving averages. Access the data dashboard here.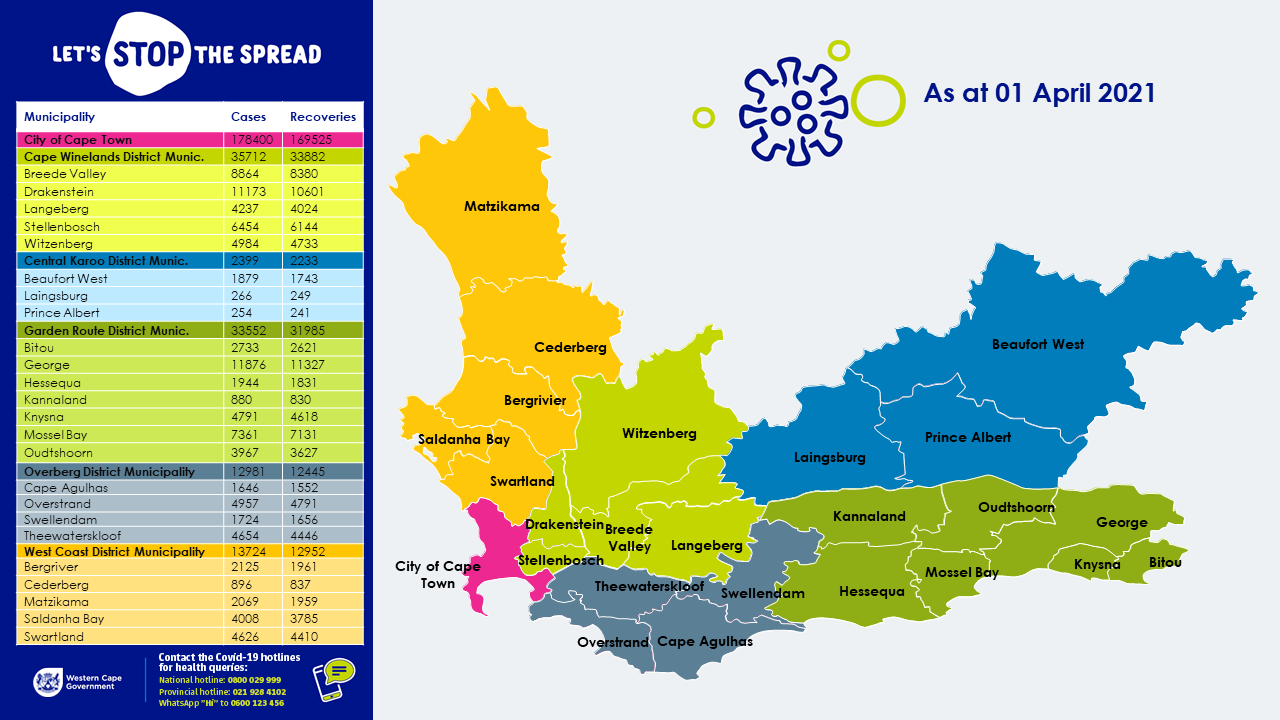 Digicon update:
This morning, I held my weekly digicon where we detailed our heightened surveillance in the Western Cape to ensure that we monitor Covid-19 cases and delay a possible third wave.
In order to do this, we must all actively practice responsibly behaviours, and urge those around us to do the same, especially as we celebrate the upcoming long weekend.
Our Covid-19 surveillance and data currently shows:
Hospital admissions and deaths continue to decline, with 22% and 62% decreases respectively over the past week.
Our wastewater data continues to show decreased or low levels of SARS CoV-2 in our treatment plants.
A total of 824 Covid-19 patients are currently hospitalized in the province, and hospitalisations for Covid-19 continue to decline.
Covid-19 hospital occupancy is currently at 10% in the Metro, 15% in the George drainage area, 22% in Paarl and 21% in Worcester.
Our Hospital of Hope at Brackengate currently has 13 patients admitted. In Mitchell's Plain, there are 2 patients admitted in Freesia and Ward 99.
The Mitchells Plain Hospital of Hope and Sonstraal Hospital in Paarl do not currently have patients in them. The Mitchell's Plain Hospital of Hope will now begin admitting non-Covid patients. The infrastructure will remain in place to be reactivated should a third wave necessitate this.
These are all positive signs. We are however concerned that in the Metro in particular, there has been a slight uptick in new infections. This has largely been driven by increases in private sector testing in the Northern, Southern and Western sub-districts however we continue to monitor and track these trends closely.
At this stage, the data does not point to signs of clusters of infections, but with the long Easter weekend, and school holidays coming up, we must remain hyper vigilant to ensure that clusters and super-spreader events do not occur.
Vaccination progress:
Almost 50 000 healthcare workers in the province have so far been vaccinated with the J& J vaccine, as part of the Sisonke implementation study. We anticipate that we will be able to cover 50% of the province's healthcare workers with the doses being received through this study.
The province is also at an advanced planning stage for the rollout of phase 2, which is targeted to begin in May. During this phase, we will scale up dramatically as we anticipate vaccinating 30 000 to 40 000 people per day, at a mixture of sites which range from extra-large sites at major hospitals to outreach sites in small communities.
The aim is to vaccinate as many high-risk individuals as possible before a potential third wave arrives in the province. This will reduce the number of hospitalisations and deaths in any subsequent wave.
Delaying the onset of a possible third wave:
In order to roll out as many vaccines as we can, we all have an important role to play in delaying a third wave as much as possible. How we act and behave during this time between waves is crucial.
The Western Cape Government, for its part, will continue its surveillance to track infections, and to intervene early to manage "bushfires" where increases are detected.
Keeping the R number, or reproduction number of the virus below 1, is key to managing Covid-19. Residents can help us do this by ensuring that safety protocols become part and parcel of their everyday lives.
This includes:
Wearing a mask whenever you are out in public places
Regularly washing or sanitizing your hands and keeping surfaces clean
Keeping your distance from others
Avoiding crowds
Avoiding confined spaces
Avoiding close contact
Staying home if you do not feel well
If you fall into a high-risk group, it is important that you take extra measures to protect yourself
It is especially important that we take these precautions very seriously over the Easter weekend as more people travel and congregate.
If you are traveling or planning on making use of any of our province's tourism or hospitality services, I urge you to ensure that you are doing so safely. When traveling, ensure all windows are open. At beaches, restaurants and events, avoid crowding. If you will be socializing at home, remember to keep these events short, small and outdoors to reduce risks.
Easter is a very important time in the Christian calendar, and I call upon all of those celebrating to ensure that this holiday remains special and does not contribute to super spreader events.
Over the weekend, attendance at faith-based events has been extended to 250 people indoors and 500 outdoors. It is imperative that religious institutions and their faithful, adhere to these regulations and ensure that there is adequate spacing, ventilation and Covid-19 safety in place to protect everyone.
I wish everyone celebrating Easter, a blessed holiday, and all residents of the Western Cape a safe and peaceful long weekend.
'We bring you the latest Garden Route, Hessequa, Karoo news'