GEORGE NEWS - The Civil Engineering Department has been battling a pipeburst since Wednesday 14 April when the bulk water mains burst near the Wilderness Water Treatment Works.
The repairs have either burst elsewhere along the pipeline or couplings failed due to the high pressure required to force the water uphill through the system.
The current repair site is located at Ebb and Flow on the bridge.
The team is working with very old steel pipelines which are no longer manufactured or kept in stock. The repair team has attempted to modify couplings and manufacture gaskets to facilitate the repair, but due to the variable high pressures and unstable ground conditions, the HDPE pipes are not holding with the couplings repeatedly failing.

A permanent solution to the repairs entails the manufacture and assembly of the full length of the failed sections in steel. The work entails the cutting and assembling of precise lengths of steel piping, including a number of specific sized bends and modified or new manufactured couplings. The manufacturing will be completed as quickly as is possible and is estimated at half a day.
Following manufacture, the new steel piping will need to be installed and tested before the system can become fully operational again.
George Municipality apologises for the inconvenience and continues with the operation of water tankers to alleviate the water outage.
Water tankers will remain in Touwsranten and Hoekwil until 21:00 tonight and return to site Monday morning by 06:00.
A 35 000 litre water tanker has been placed at the Touwsranten Superette which will be used to refill the five water tankers currently in operation in both areas.
The water tankers are stationed at
1. Mountain View Street / Begonia Street;
2. Adonis Street;
3. Jasper Street;
4. Thyz Jacobz Retirement Village (Church Street, Hoekwil);
5. Denneboom Street (roaming).
A smaller civils vehicle will be moving through the streets to ascertain where the water tankers must be moved to as the need arises.
Queries must please be directed to 044 801 6300.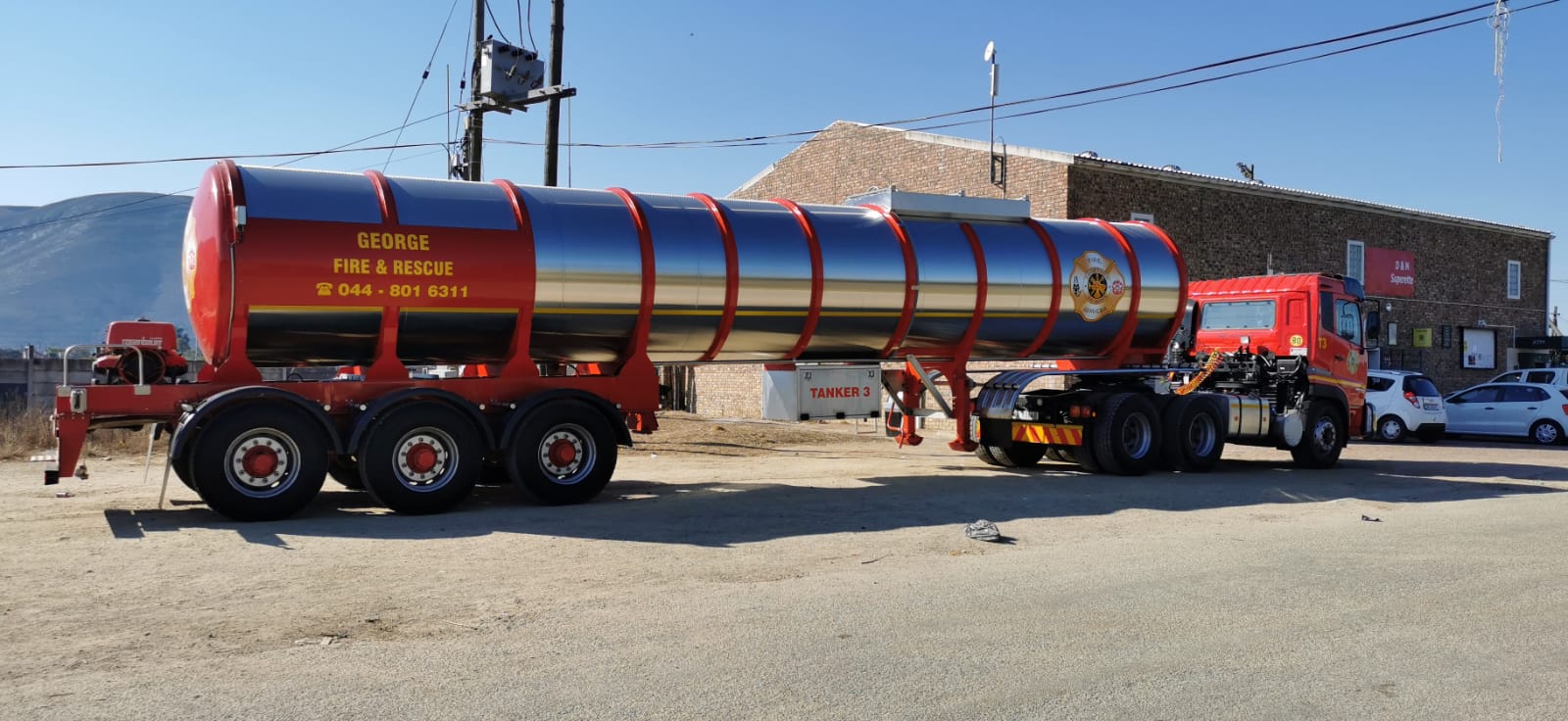 The George Municipal 35 000 litre water tanker is stationed at the Superette in Touwsranten and is being used to refill the five water tankers currently servicing Hoekwil and Touwsranten.

'We bring you the latest George, Garden Route news'