WESTERN CAPE NEWS - Today I visited two small businesses in Cape Town to see how entrepreneurs in our province are growing their businesses during this extremely challenging time.
Small businesses are a cornerstone of our economy and key creators of jobs in the Western Cape and South Africa.
Growing the economy and creating jobs remains the Western Cape Government's top priority and I was so impressed to see this passion and determination for myself today.
At Khaltsha Cycles in Khayelitsha, I was encouraged to see how these entrepreneurs transformed their passion for cycling into a small business committed to community development. They aim to provide residents with affordable bicycles so that they can commute to work in an effort to promote mobility, health and sustainable transport options.
I also had the privilege of getting my hair cut by award winning barber Adiel Salie from Gents Pride Barbershop in Bonteheuwel. Adiel is another fantastic example of a young entrepreneur who has turned his passion into a small business that employs people from the community.
I want to use this opportunity to celebrate residents who have the courage to start a business in the middle of a pandemic and who, in doing so, created job opportunities within our communities.
I also want to acknowledge how terribly difficult it has been for so many other small business who have struggled to keep their doors open during this challenging year.
So far, the Covid-19 Business Relief Fund has made R38 930 000 available to support 249 formal and informal small businesses in an effort to save at least 2 000 jobs in the Western Cape.
While this fund will not help every small businesses, we are doing everything we can to support more businesses in need. We will also continue to focus on job creation as our top priority, making sure we always get the balance right in saving both lives and livelihoods during this unprecedented pandemic.
Coronavirus in the Western Cape
As of 13:00 on 18 January, the Western Cape has 36 250 active Covid-19 infections with a total of 254 498 confirmed Covid-19 cases and 209 049 recoveries.

The Western Cape has recorded 88 additional deaths, bringing the total number of COVID-19 related deaths in the province to 9199. We send our condolences to their loved ones at this time.
Additional data is available on the Western Cape Covid-19 data dashboard which also features active cases per sub-district, active cases per 100 000 and 7-day moving averages. Access the data dashboard here.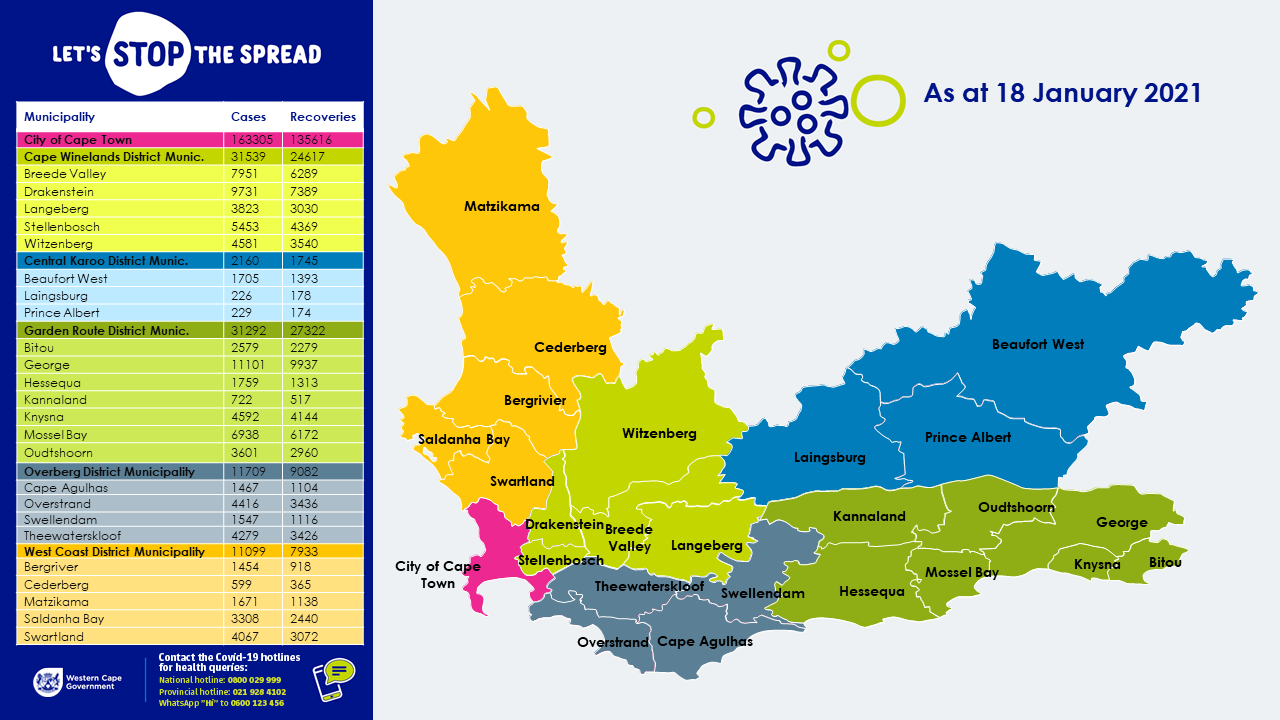 'We bring you the latest Garden Route, Hessequa, Karoo news'