Video
GEORGE NEWS & VIDEO - A young boy from a small town in the Free State has turned his fascination and passion for the world's most famous ship, the Titanic, into a career.
Gino Hart, now 36, has done what he and many other family and friends thought was an impossible task. He completed an 8m-long model of the Titanic, adding a few of his own twists and naming it Tintanic, derived from the material it is made of. He also painted the funnels gold instead of the original buff colour.
"She is a 90% replica of the Titanic which sank during her maiden voyage in 1912…," Gino says on his website.
He says there are more than 4 000 rooms inside the ship, which he hopes to finish by 2022. He is a walking, talking file of historic information about the Titanic, from the scandalous affairs on the ship to the deck-hand mopping the floors and all the South African links that make this a heart-warming story.
Gino says this is not the first model, but definitely the biggest and with the most detail. He has built 18 models before this one, which is currently on display at the Garden Route Mall.
Photo: Salette Cloete
He says George has always been on his list of places to display his Tintanic, and as there is a Titanic Museum in Knysna, the area is extra special.
"I always knew she won't stand in a museum gathering dust. I worked long hours with many stressful moments to get everything to specifications and all the arrangements to travel with her."
Watch a video below:
Gino has spent most of his life, since he was 14, buying books, gathering and buying memorabilia, doing research and travelling to satisfy his passion for this historic ship that took her maiden voyage - also her last - in 1912.
Coming to George he noticed that the Town Hall was built that same year, and it put a smile on his face.
Gino and his ship has made history, since this is the largest model of the Titanic in Africa, and the fifth largest in the world.
He tells George Herald that people always ask him if this will be his last and where he is taking it next. He says he may get inspired again to build another, bigger model. Tintanic will end her tour in the historic town of Simonstown, but is on display during mall hours for the entire month of love.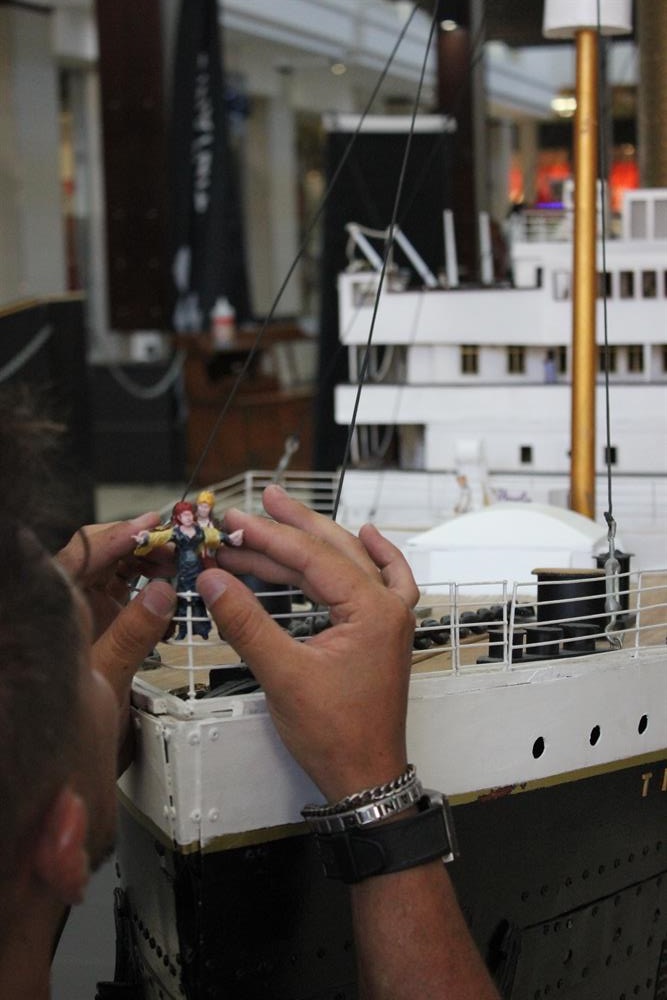 The little Rose and Jack figurines on the Tintanic, which is on display at the Garden Route Mall.
'We bring you the latest George, Garden Route news'