Update
GEORGE NEWS - Members of Codeta Disadvantage Taxi Association in George will soon meet with their leadership in Cape Town to discuss the way forward.
This follows an incident on Monday 18 January when some of their vehicles were impounded by the traffic authorities.
They blocked the entrance to the offices of the provincial traffic department in York Street, where the impound is located. The depot of Go George bus service is also situated on the same premises.
According to information George Herald received, several traffic officials were trapped for some time as the taxis blocked the entrance. The police's public order policing unit (Pops) was called out to assist with the situation.
Mawande Qhange, an executive member of Codeta Disadvantage Taxi Association, said on Monday some of their vehicles allegedly did not have permits to operate in Borcherds. The members decided to go to the bus depot where a meeting was supposed to take place at 10:00, but this was postponed.
"We want to know why our members' vehicles were impounded," said Qhange at the time.
A screenshot of a video that was taken on Monday morning.
Yesterday, Wednesday 20 January, the situation had not been resolved yet, according to Qhange. He said their vehicles had not been released and they were not happy. According to him the provincial authorities said there is money to be paid to release the impounded taxis.
Codeta is monitoring the situation.
Capt Malcolm Pojie, Southern Cape police spokesperson, confirmed that public order police responded to an incident where a group of taxi drivers blockaded the entrance to the Go George bus depot at about 10:30 on Monday and that the group was protesting about the impoundment of vehicles.
They later dispersed peacefully.
At the time of going to print, no comment had been received from the provincial authorities. When received it will be added to the online version of this article.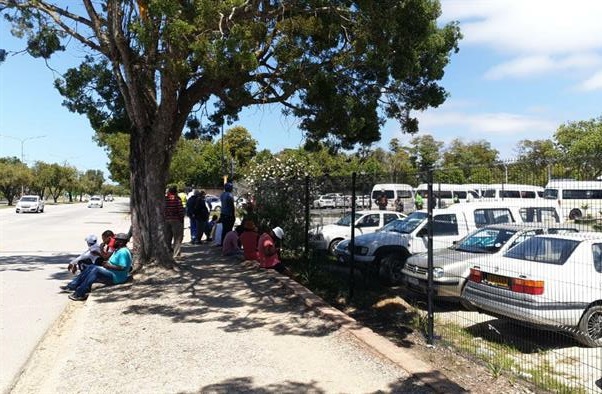 Some of the taxis at the entrance to the offices of the provincial traffic department in York Street.
Previous article: Taxi drivers up in arms over impoundments
'We bring you the latest George, Garden Route news'