GEORGE NEWS - Kaalvoet Mzansi, a foundation dedicated to motivating learners, aims to collect 400 pairs of shoes before their official handout date on 31 January 2018, in an effort to support underprivileged learners who go to school barefoot.
The eight primary schools who will benefit from this initiative are Thembalethu, Tyholorha, MM Mateza, Mzoxolo, Heidedal, Conville, Parkdene and Rosemoor.
Anele Ngoyo, Kaalvoet Mzansi chairman, says the purpose of the initiative is to support and instil a changed mindset among learners.
"We see many children who are going to school barefoot drop out of school because of being mocked by their peers and having feelings of inferiority.
"Such learners end up exploiting drugs and involve themselves with gangsterism," he says.
He hopes to reach learners who experience this predicament before they engage in activities that will hinder their education.
Ngoyo believes that "the children in whom we sow seeds of confidence and courage today, will be the same children working in specialised careers like doctors, accountants, lawyers and pastors tomorrow."
Kaalvoet Mzansi extends their sincere gratitude to York High School who donated 100 pairs of shoes towards the foundation's initiative.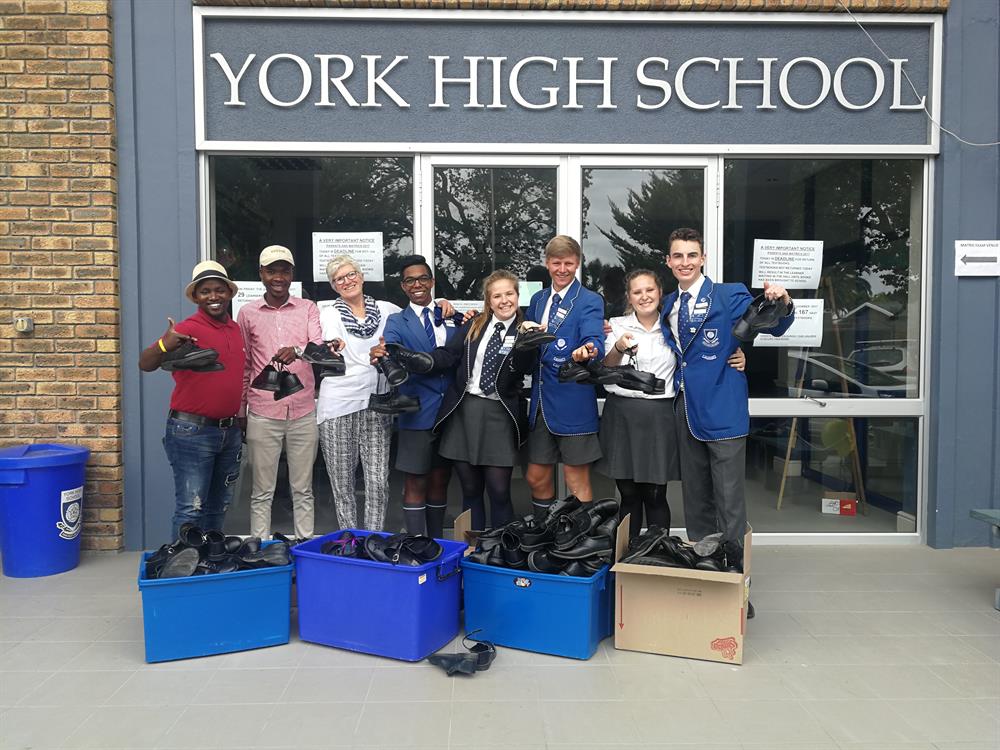 Kaalvoet Mzansi was elated by a generous donation of 100 pairs of shoes by York High School towards the initiative on Wednesday 29 November. From left: Anele Ngoyo (Kaalvoet Mzansi chairman), Sihle Vuwane (Kaalvoet Mzansi driver), Sandy Witteveen (teacher), Zaid Pillai, Nicole Moss, Luke Hartley, Chara Scholtz and Nathan Schaeffer.
Currently the organisation has no sponsors and depends on donations from friends, family members and local churches.
People who want to donate to this initiative are welcome to contact Ngoyo on 062 894 4744 or e-mail aengoyo@gmail.com.
Ngoyo gave a talk at Conville Primary on 11 September to impress on the learners the importance of staying in school.
ARTICLE & PHOTO: BRÜMILDA SWARTBOOI, GEORGE HERALD INTERN
'We bring you the latest George, Garden Route news'