GEORGE NEWS - During a sea rescue a couple of seconds could mean the difference between life or death. Every single second counts and it's for this reason that Wilderness NSRI Station 23 now has a boat and medical equipment available in a donated garage used as a boat house in Herold's Bay.
Though beaches were closed for a large part of the December holidays last year, the National Sea Rescue Institute's (NSRI) Surf 420 rescue boat, along with necessary medical emergency equipment, was stored in a container in Herold's Bay before it was moved to the new boat house on 26 January.
"This has saved us so much time, preventing the need for the boat to be stored in George and towed to Herold's Bay," said Station 23 deputy commander, Mike Vonk.
"Rescue crew are volunteers, so they will respond from various locations and response times are significantly improved as they can respond directly to Herold's Bay without first collecting the rescue boat on the way."
The location of the boat house could also not have been more perfect. "It's right next to the ramp leading down to the beach, so in case of a drowning scenario this prime location eliminates any delay for crew to launch," said Vonk.
Often there are people with a medical background on the beach who are able to use the equipment in an emergency. The medical equipment can then be made available to them even before the rescue crew arrives.
"There are a number of key holders who live in Herold's Bay and our Sea Rescue duty controller can arrange for one of the residents to open the boathouse to access the medical equipment while the crew is responding," said Vonk.
Medical equipment in the boat house includes a fully stocked medical kit bag, an automated external defibrillator (AED), oxygen cylinders with a regulator and a suction unit. Besides the boat there are also wetsuits, PPE for rescue crew as well as tow ropes.
"We need to recognise the dedication of the chairperson of the Herold's Bay ratepayers, Ken Field, without whose commitment to the community and making the beach a safer place for everyone to enjoy, this project would not have become a reality. Similarly, we are immensely grateful for the generosity of Jean Coldrey and her family for willingly donating the use of her garage to Sea Rescue," Vonk said.
Surf 420 at the container it was stored in during December.
Replacing Surf 420
Within the next year, Wilderness Sea Rescue wants to replace the current boat in Herold's Bay with a new rescue jetrib. Working with an expert design team, they have modified a traditional jet-ski by adding a specially designed rescue deck and pontoons to the craft.
"This makes an incredibly stable and yet highly responsive surf rescue platform. In the coming years this craft will forever change the way surf rescues are done," said Vonk.
The water-jet propulsion is more eco-friendly than the traditional outboard petrol engine and, by removing propellers from the water, the danger of a propeller strike to patients and rescue swimmers has been eliminated. Station 23 has taken delivery of one of the new jetribs, which is based in Wilderness, but they are now looking for sponsorship for another one to replace the rescue boat at Herold's Bay.
"Corporate sponsorship will ensure a lasting legacy as donors can name the boat for her lifespan of approximately 11 years. In all our media reports we use the name of the boat involved in each rescue. This ensures that the sponsors get recognition in terms of publicity, and our rescue boats are effectively floating billboards," Vonk said.
For more information or to make a donation, please contact Wilderness NSRI Station 23 on 082 990 5955 or send an e-mail to station23@searescue.org.za.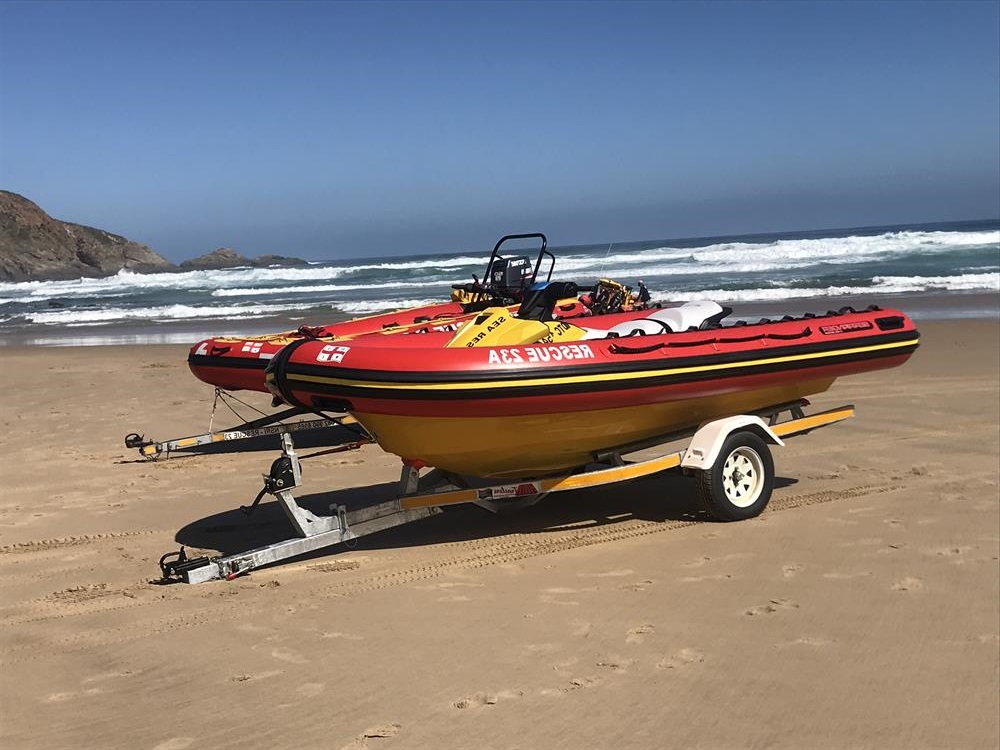 Sea Rescue's newly acquired jetrib.
'We bring you the latest George, Garden Route news'