Update
GEORGE NUUS - Roet, as en rook wat uit die gebrande huisies draai – dit is al wat oor is van vyf families se lewens. Die brand het gistermiddag in Rosedale se plakkerskamp begin, maar gelukkig is niemand beseer nie.
Die familielede het vanmiddag gestaan en kyk hoe die munisipaliteit se laaigraaf hope gebrande herinneringe oplaai en wegry.
Baie is steeds geskok en in skok, vertel Amanda Campher. Campher sê hulle kon niks red nie, en is baie dankbaar vir die mense wat sover donasies en skenkings gemaak het. "Ons het warm kos gekry, komberse en klere en het nog toiletware nodig asook doeke vir die kinders."
Carol-Anne Mingo sê sy het bo in die pad gestaan toe die brand begin het, en het gehardloop om haar driejarige dogtertjie uit haar huis te kry voor dit deur vlamme verswelg was.
Die vroue vertel alles het so gou gebeur, en as van die gemeenskapslede nie self plan gemaak het om die vlamme te blus nie, sou dit verder versprei het.
'n Buurvrou van die families sê niemand kon regtig nader gaan om te help nie.
"Dit het gevoel of die vlamme jou terugdruk," vertel die vrou. Sy sê hulle kon net staan en toekyk hoe alles vernietig word.
Die mense was gister wel dankbaar vir die munisipaliteit wat begin het om van die huisies te herbou. Met George Herald se besoek aan die toneel, is die eerste twee huisies begin bou, terwyl die res van die area skoongemaak is.
Raadslid besoek Rosedale-gesinne
Raadslid Edmund Bussack het ook vandag weer die toneel in Rosedale besoek.
Bussack sê daar is reeds gisteraand tydelike huisvesting aan twee huisgesinne in die Rosedale-gemeenskapsaal verskaf.
"Die munisipaliteit is tans besig met opruimingswerk en stelselmatige herstelwerk aan die strukture. Ons beoog om die families weer in die strukture te huisves na aanleiding van die oprigting van die nuwe strukture en herstelwerk aan die ander."
Hy sê daar is geen uitklaring rondom die ontstaan van die brand nie en wil graag die brandweer bedank vir hul vinnige optrede.
"Dank word ook uitgespreek aan die goeie samaritane in Rosedale wat die betrokke families gehelp het."
Bussack wou ook die breë gemeenskap bedank vir hul betrokkenheid, asook die maatskaplike dienste, grondbestuur en wetstoepassing van George-munisipaliteit vir hulle uitstekende diens.
Indien daar enige donasies in die vorm van huishoudelike inhoud geborg of geskenk kan word, sal dit waardeer word.
Kontak gerus die wyksraadslid, Edmund Bussack by 073 516 6216.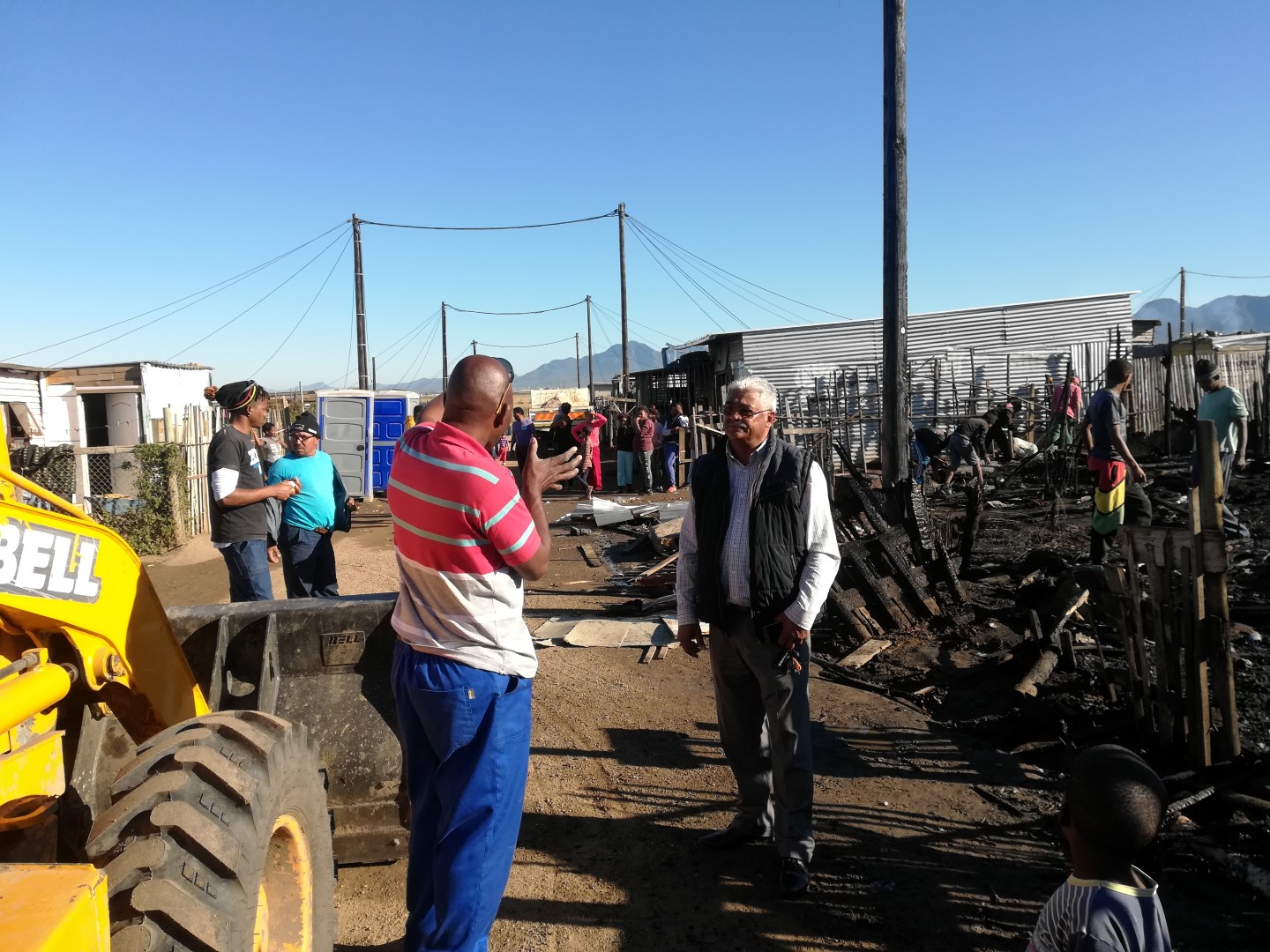 Raadslid Edmund Bussack het ook vandag weer die toneel in Rosedale besoek.
'Ons bring jou die nuutste George, Tuinroete nuus'