GEORGE NEWS - Residents of George are asked to keep their eyes open for an eight-month old deaf bull terrier puppy called Patch, that went missing on Saturday morning 30 May.
According to Southern Cape police spokesperson, Capt Malcolm Pojie, George detectives are investigating a theft case after the dog mysteriously disappeared from its yard in Denneberghof (the area between the Victoria Bay turn-off and the Kaaimans Pass) between 10:00 and 12:30.
The vulnerable dog belongs to an 89-year old man who depends greatly on his trusted K9.
"We are willing to offer a reward for information that will lead to finding Patch. My father asks for him every day," said the owner's daughter, Elizabeth Daniel.
According to Daniel the enclosed yard that Patch was in, was completely intact, which means he couldn't have escaped by himself.
"A case of theft has been opened, the SPCA has been notified and missing notices have been posted on social media," said Pojie.
Patch is white with a heart-shaped black patch over his right eye and wears a purple collar with a tag that reads 'Daddy's Boy' with his name and his owner's phone numbers on it.
Anyone with information is asked to phone the George detectives on 044 803 4715 or 044 803 4733. Crime Stop can also be contacted on 08600 10111.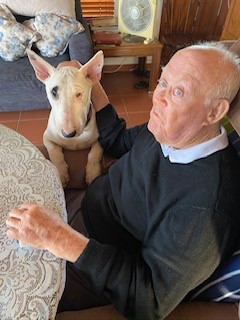 Patch with his elderly owner. They are best friends.
'We bring you the latest George, Garden Route news'