GEORGE NEWS - The stage is set for the Garden Route Investment Conference to be held at Oubaai hotel on 7 and 8 March, where the region's investment potential will be showcased.
Eden District Municipality (EDM) Executive Mayor, Memory Booysen, said yesterday at a press briefing that EDM is geared to lure investors to the region with incentives to help develop agri-processing; aviation; education and training; finance, business services and real estate; ICT; light manufacturing; timber economy and tourism.
"The conference is themed 'Vukuzenzele', which means to create an opportunity for municipalities and the private sector to engage on a one-one-basis with investors," he said.
Booysen and the municipal manager, Monde Stratu, said that the timing is excellent, as the positive change within government will provide impetus to capitalise on the renewed desire to develop our economy and bring about growth as well as job opportunities.
"We have some unique products, services and possible investment offerings."
Delegations from Sweden, China as well as the South African ambassadors to the Maldives, Sri Lanka and Bangladesh have indicated that they will attend.
"We sent an invitation months ago to President Cyril Ramaphosa before he was invested," said Booysen, "but we do understand if his schedule is simply too tight for him to attend."
He stressed that EDM is ready to do business and so are the other municipalities including Bitou, Knysna, George, Mossel Bay, Hessequa, Kannaland and Oudtshoorn."
Economic Zone
Mossel Bay has been identified as a Special Economic Zone, as its potential for expanding the town's harbour was recognised by the South African government as a means to take the pressure from our other congested harbours.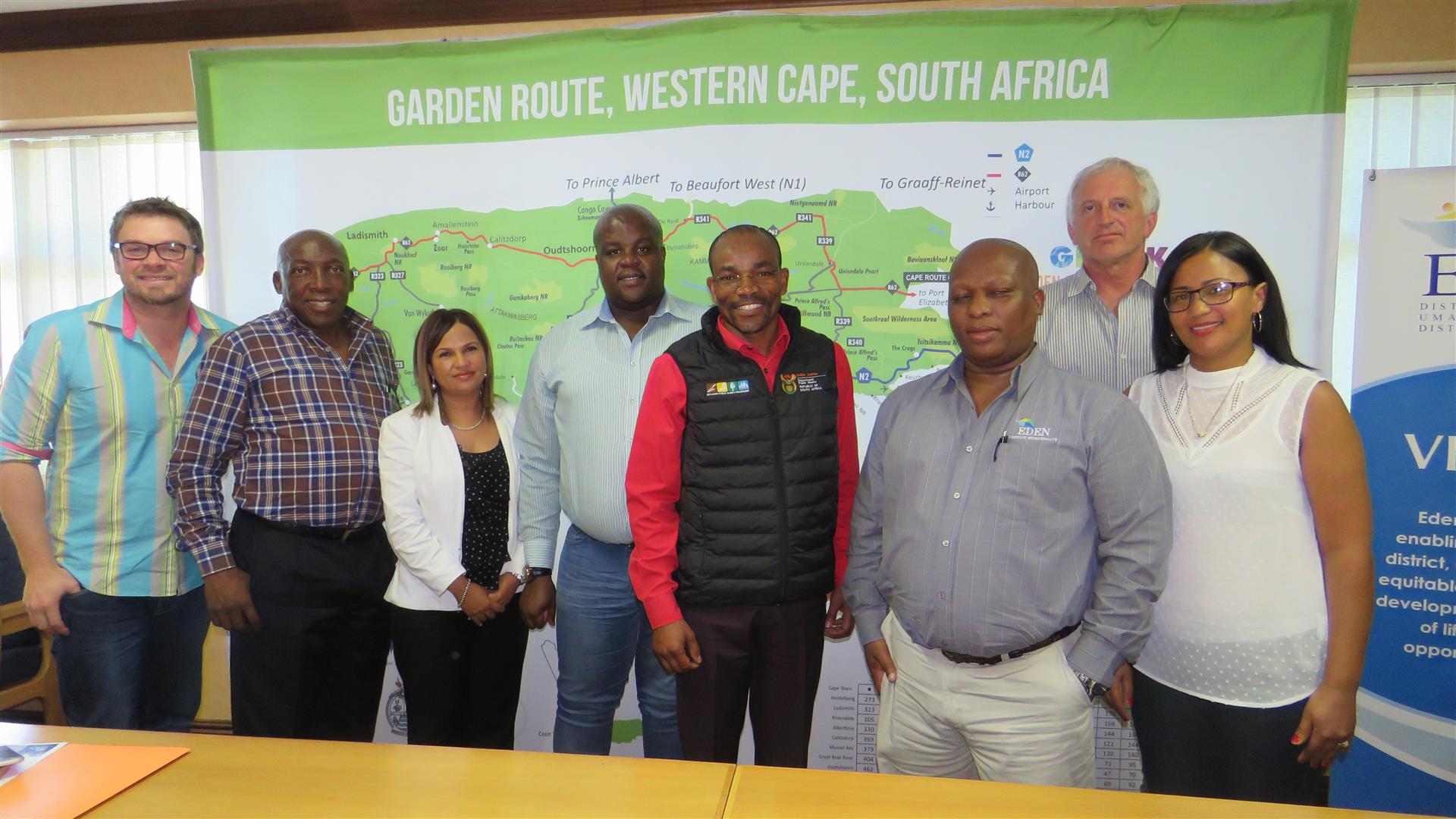 The Eden District Municipality's role players.
Swedes
Sectors that are most likely to attract investment were identified. Booysen said that during his visit to Sweden, industrialists had indicated they would be interested in investing in South Africa's renewable energy sources.
The regional (domestic) waste site which is situated next to PetroSA has the potential to be developed in such a way that biomass energy could be generated synergistically in collaboration with PetroSA.
"The technology at PetroSA is world class and investors are keen to look at getting on board."
The Swedish delegation has expressed interest in partnering with South Africa's business sector to develop waste beneficiation and clean energy.
EDM Manager of Economic Development and Tourism, Melanie Wilson, said the opportunity for local small, medium and macro enterprises (SMMEs) to develop their products to make them export ready, needs to be pursued during the course of the conference.
Desalination
Desalination plants could be developed to increase the water availability in the region. EDM foresees itself becoming the bulk water service providers and taking over the water authority position within the district. "We feel we have the capacity to do so," said Stratu.
EDM is spending R350 000 on the investment conference, which has the support of corporate sponsors like Standard Bank, Nedbank and Wesgro, as well as eight other sponsors / role players.
'We bring you the latest George, Garden Route news'