GEORGE NEWS - At around the same time that research cameras were stolen from the Botanical Garden last week, vandals and thieves were at work in the Glenbarrie and Heatherlands area.
Riaan Barnard, founder of the new pump track, Ground Zero, in the Van Riebeeck Garden on the corner of Arbour and Camphersdrift roads, had to have their sign boards repainted after they were defaced by graffiti during the night of Monday 1 July.
The pump track opened in November last year and has since been a hive of activity in the late afternoons and over weekends. Barnard, his wife and other keen community members have created a safe space for families and cyclists, bringing new life to the garden that had for years been avoided by the public because of security concerns.
"It is a pity that such distasteful behaviour should rear its head now in such a positive space where we have gone to so much trouble. We are preparing the track for the Southern Cape Spur schools cycling league series that is to be held here," said Barnard. The Barnards revamped a small building in the garden that had been closed up by the municipality to prevent ongoing vandalism. The track was developed with the help of some businesses and enthusiastic individuals.
Spate of car break-ins
The Glenbarrie area was also hit by a spate of break-ins into cars. Liana Pettifer of the Glenbarrie Community Watch said there were 12 incidents during the school holiday. "They seemed to be mostly incidents of vandalism. I suspect it was school kids and drug addicts. Power tools were stolen from two bakkies and there was an attempt to remove a radio from one of the cars. They came back twice to the same cars and also broke two windows of one oldish car."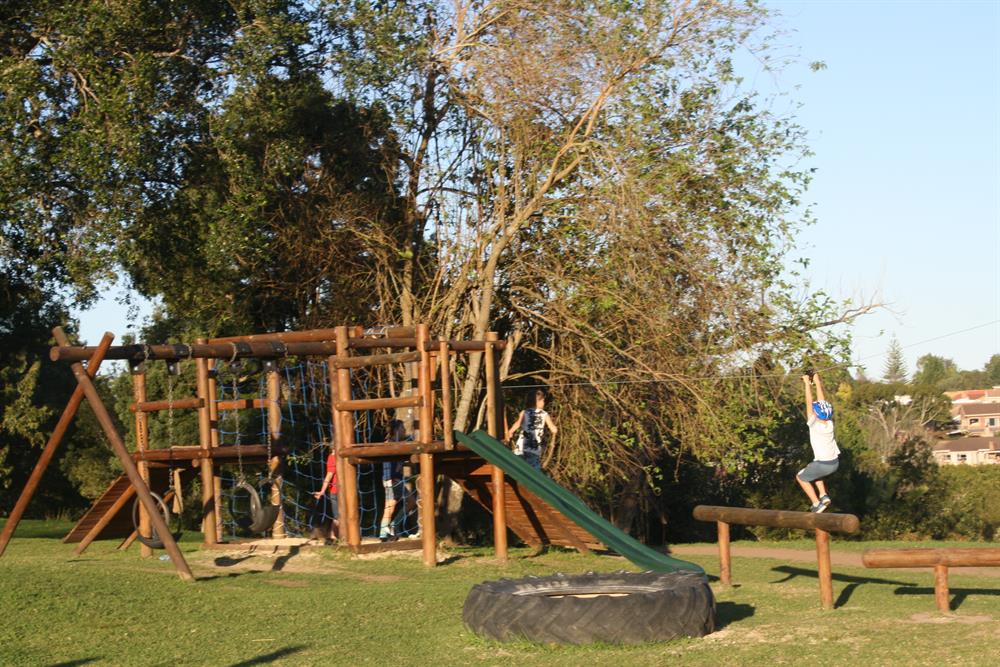 A jungle gym and zip line (foefie slide) keep children busy.
'We bring you the latest George, Garden Route news'