GEORGE NEWS - The Pacaltsdorp police had their hands full shortly after midnight on Sunday morning, 18 April, when a man (29) allegedly attempted to resist arrest and assaulted one of their officers.
According to Southern Cape police spokesperson, Capt Malcolm Pojie, Pacaltsdorp police were conducting routine crime prevention patrols in Beach Road when they came across a group of partygoers in the parking area in front of the local nightclub, Club Rush.
"They were asked to vacate the area and go home as they were in contravention of the Disaster Management Act (DMA) regulations pertaining to the curfew," he said.
However, one of them apparently had no intention of listening to authority and threatened to assault and made derogatory remarks towards an officer in the presence of other bystanders.
"When approached, the suspect allegedly hit the police sergeant in his face. Reinforcements were called to the scene where they assisted in the arrest of the suspect who had to be restrained by using pepper spray. Upon searching the suspect, members found a knife in his possession and confiscated it," said Pojie.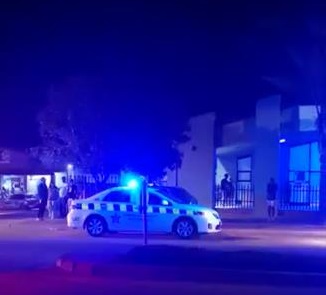 Traffic officers at the scene in front of Club Rush.
According to Pojie the suspect was then transported to the local police station to be processed where he became riotous and damaged the police vehicle as well as other state property inside the station. The damages amounted to approximately R10 000. He also again assaulted the police officer.
The suspect, who now faces charges of assault on a police officer, resisting arrest, malicious damage to property, possession of a dangerous weapon, crimen injuria and contravention of the DMA, was released on bail of R500 with a warning to appear in court on the following Monday.
However, according to Pojie, the case was not placed on the court roll and was referred back to Pacaltsdorp police station for further investigation.
"The accused has also laid a counter charge of common assault against the police members. This case had been referred to the Independent Police Investigative Directorate (Ipid) for further investigation. No one was admitted to hospital," said Pojie.
'We bring you the latest George, Garden Route news'