GARDEN ROUTE NEWS - Broken signage and elephant dung on the Outeniqua hiking trail in the Wilderness section of the Garden Route National Park could mean that the elusive Knysna elephant, Oupoot, recently visited the area.
Whether it is because there is less human movement due to the lockdown could not be confirmed, but according to the experts it might just be part of her normal range.
According to Dr Sandra Taljaard, Wilderness park manager, the evidence was found by SANParks rangers who worked in the area on Wednesday 22 April.
Oupoot is about 45 years old and moves in the indigenous forest and fynbos areas on SANParks and neighbouring private land. In February last year, research conducted by SANParks scientists confirmed the presence of a female elephant roaming the Knysna forest.
SANParks scientist Lizette Moolman then said that their latest Knysna elephant survey used camera trap technology covering the whole elephant range.
Elephant dung found along the hiking trail. Photos: SANParks
"Because elephants move along defined elephant pathways, cameras were placed on these paths and covered the elephant range evenly, with spaces between camera traps no larger than the smallest range recorded for elephants. In other words, an elephant would not reside in a gap area, between camera trap locations, for the duration of the survey.
"The cameras were all active for 15 months, and during this time the same female elephant was identified in 140 capture events, always by herself. No other elephants were photographically captured," she said.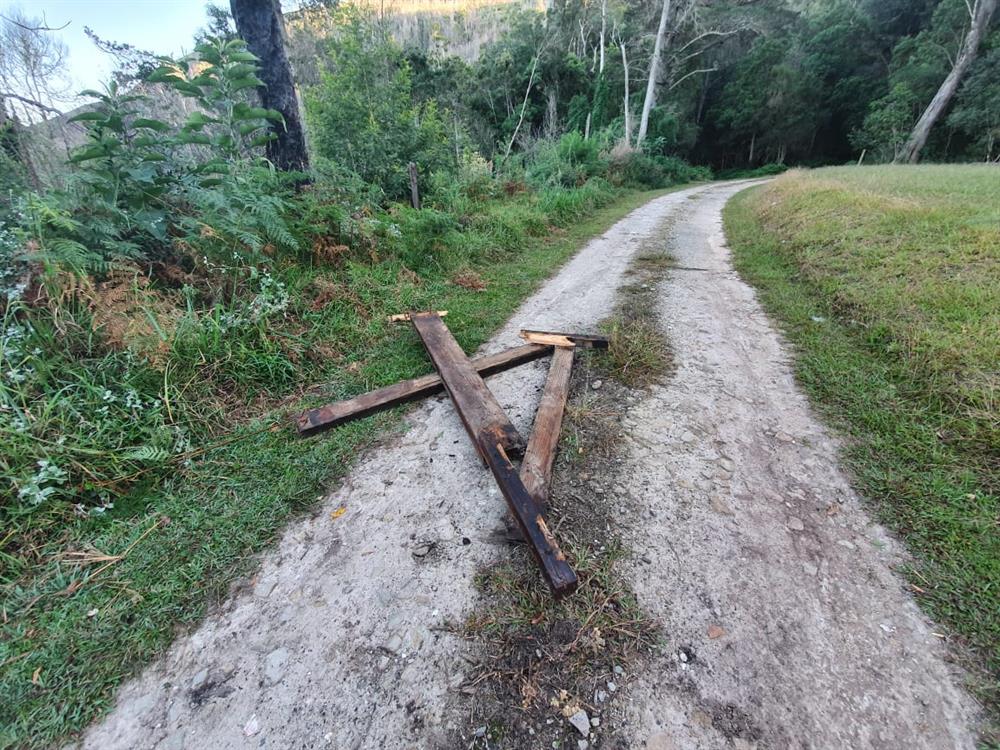 Broken signage along the Outeniqua hiking trail might be proof that Oupoot, the 45-year-old Knysna elephant, might have visited the area. INSET: Elephant dung found along the hiking trail. Photos: SANParks
'We bring you the latest Garden Route news'