GEORGE NUUS - Ná meer as drie ure se knip en skeer kon ons agterkom wat die voor- en agterkant van dié hond was. Só sê Tuinroete DBV se bestuurder, Salomé Bruyns.
'n Inwoner van Borcherds het Vrydagmiddag, 6 September, 'n Malteser-reun met erg gekoekte hare kort na 17:00 by die DBV ingedra.
"Die hond se hare was so erg gekoek en aanmekaar gekleef, dat ons nie kon onderskei watter kant voor en watter kant agter is nie. Hy was definitief die ergste wat ons nog ooit gesien het," sê Bruyns.
Die DBV se aannemingsbeampte, Dawn Meyer, het vir Christo Welman, eienaar van Urban Dog Grooming, om hulp genader.
"Hy het sonder huiwering sy hulp aangebied en dieselfde aand die hond kom was en skeer. Ons is hom [Welman] oneindig dankbaar. Hy skroom nooit om ons te help nie. Die hond was vreeslik getraumatiseer en duidelik nie menslike aanraking gewoond nie. Dit moes 'n paar jaar se verwaarlosing geneem het vir hom om so te lyk," meen Bruyns.
Sy sê hoewel die viervoet nog maar bang is, laat hy hulle deesdae toe om aan hom te vat en saam met hom te gaan stap. Indien iemand hom wil aanneem, of enige inligting rondom die hond of sy eienaar het, kan hulle die DBV by 044 878 1990 skakel.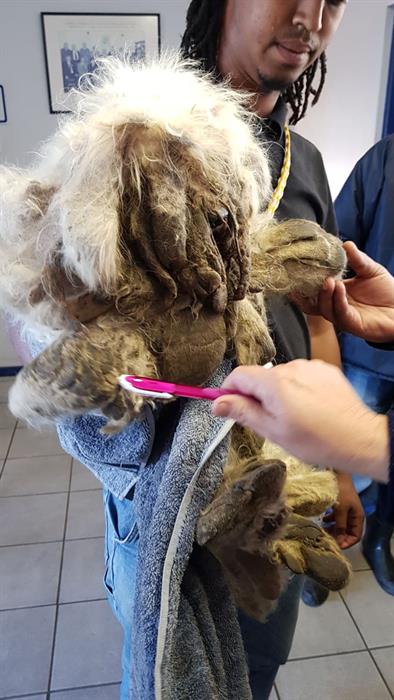 Die DBV-personeel kon nie kop of stert van die hond uitmaak nie.
It took more than three hours of grooming before they could make heads or tails of a little dog that was brought in to the Garden Route SPCA on Friday afternoon. A resident of Borcherds brought the Maltese male with severely tangled, matted hair to the SPCA. He is not the owner of the dog. "It was definitely the worst we have ever seen," said SPCA manager, Salomé Bruyns. "It must have taken years of neglect for him to look like that." Fortunately for them - and the dog - Christo Welman of Urban Dog Grooming came to the rescue and groomed the dog that same evening. The hapless little dog is recovering well from severe ear and eye infection. He was very traumatised and is still skittish around people, but he is improving and they are hopeful that he will be ready for adoption soon.
'Ons bring jou die nuutste George, Tuinroete nuus'