GEORGE NUUS - Die polisie en buurtwagte in die Pacaltsdorp-gebied het verlede naweek 'n string onwettige kragkoppelinge in die informele nedersetting, Moeggeploeg verwyder.
Hierdie koppelinge is 'n gevaar vir die gemeenskappe en veral vir jong kinders wat in die areas speel.
Volgens 'n ingeligte persoon, wat graag anoniem wil bly, is George-munisipaliteit nie haastig om sulke onwettige koppelinge te verwyder nie, en wag hulle glo vir 'n kontrakteur om die werk te doen. Waarnemende direkteur van elektrotegniese dienste, Kobus Wilken, het egter die gevaar van sulke koppelinge bevestig en gesê dat die munisipaliteit dit sterk teen staan.
"Die probleem kom regoor die munisipale gebied voor en die munisipaliteit het ongelukkig nie personeel om al die gebiede te patrolleer nie. Munisipale werkers wat dit oplet gedurende hulle rondtes help om dit aan te meld en die gemeenskap laat ons ook weet, wat baie waardeer word," het Wilken gesê.
"In meeste gebiede waar onwettige koppelinge plaasvind, is die gemeenskap wat krag onwettig gebruik gereeld baie aggresief teenoor die elektrisiëns wat die drade moet verwyder en word dan onder andere met klippe bestook, soos wat ook onlangs die geval was in informele gebiede. Wanneer werkers se lewens potensiëel in gevaar is word hulle tydelik onttrek totdat dit veilig is om terug te gaan saam met die munisipaliteit se wetstoepassingseenheid of, in sekere gevalle, die SAPS se Publieke Orde Polisiediens (POPS)."
'n Spesialisveld
Wilkens het bygevoeg dat die ontkoppeling van onwettige lyne 'n spesialisveld is wat werkers verg wat spesifiek daarvoor opgelei is: "In tye wanneer addisionele personeel benodig word, stel die munisipaliteit gekwalifiseerde diensverskaffers met die nodige bekwaamhede aan om te help om die lyne te verwyder. Die diensverskaffersproses kan die aanstellings soms vertraag sodat dit nie so vinnig afgehaal kan word soos ons graag sou word nie, maar dit word so gou moontlik hanteer.
Indien individuele op heterdaad betrap word of indien daar bewys bestaan dat hulle elektrisiteit onwettig gebruik, maak die munisipaliteit wel 'n saak van diefstal teen sulke oorteders by die polisie oop."
• Onwettige kragskakelings kan aangemeld word by 044 803 9222 or 044 801 9202 of na-ure by 044 801 6300 of by die naaste polisiestasie.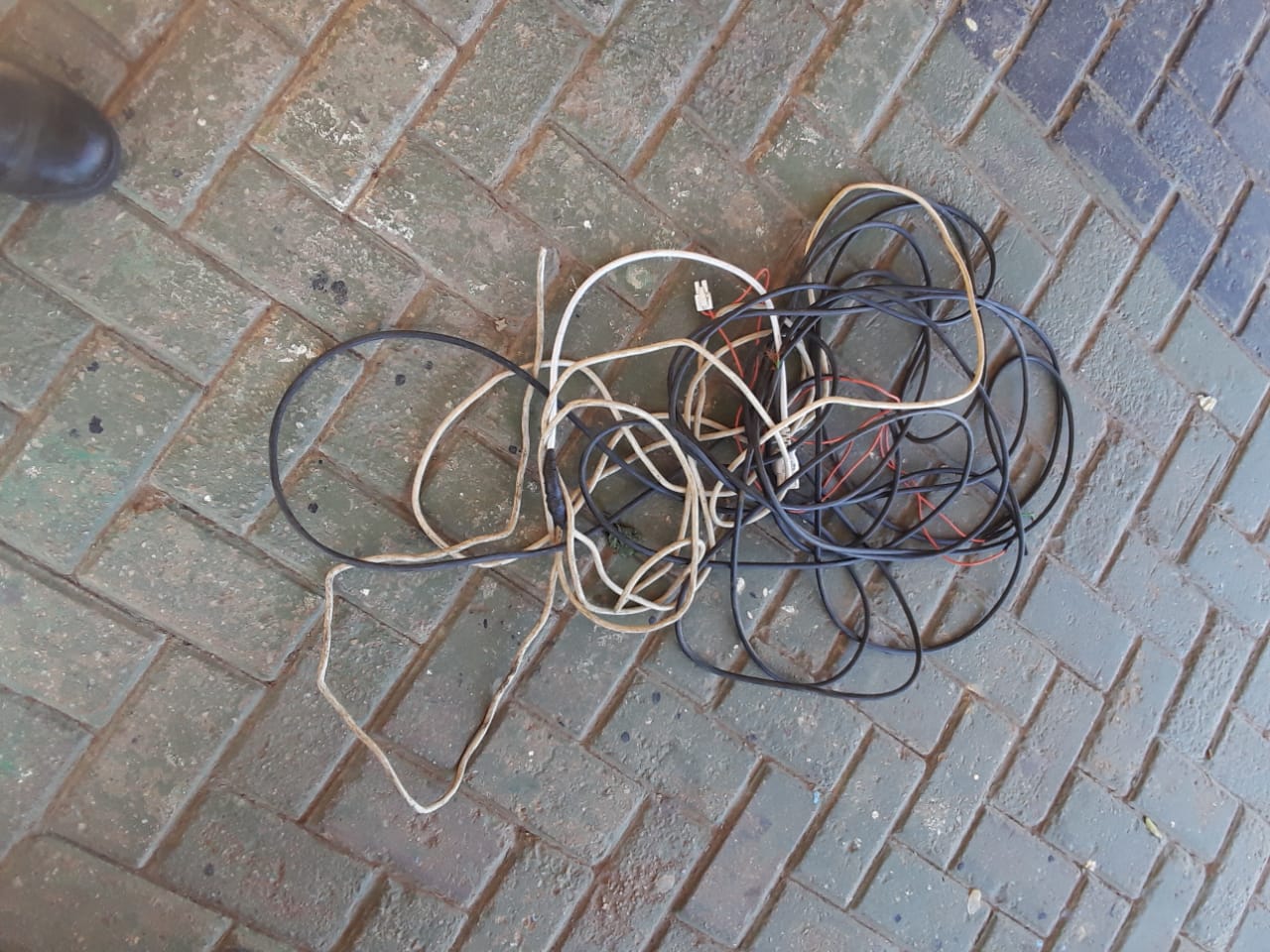 Hierdie drade, waaronder 'n koord van 'n ketel, is gebruik om onwettige kragkoppelinge in die informele nedersetting Moeggeploeg te maak.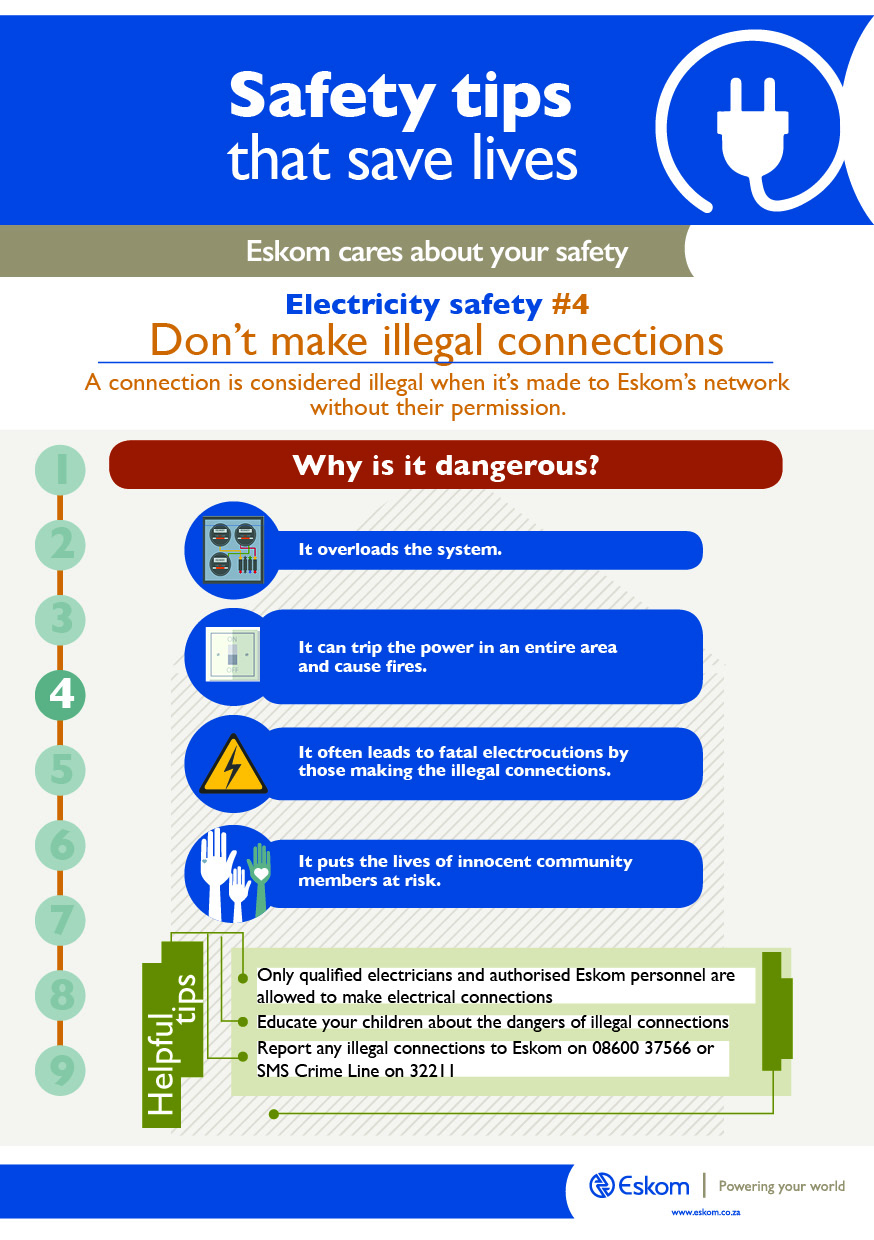 'Ons bring jou die nuutste George, Tuinroete nuus'