GEORGE NUUS - Pogings word aangewend om aanstaande jaar se Outeniqua-rolstoelwedren (OCC) 'n sterker internasionale inslag te gee. Dit het aan die lig gekom tydens 'n verslagvergadering van die reëlingskomitee wat verlede Donderdag, 27 Februarie, gehou is.
Alewijn Dippenaar, geleentheidsdirekteur, gaan binnekort besoek bring aan Nederland, België en Duitsland in 'n poging om internasionale atlete te lok.
Reëlings vir aanstaande jaar se geleentheid het reeds begin en die plan is om dit op Saterdag 20 Februarie 2021 te hou. As alles volgens plan verloop, sal dit weer by Carpe Diem-skool gehou word.
Dippenaar het tydens die vergadering gesê dinge het goed uitgewerk by die nuwe terrein. Vanjaar is 'n nuwe roete ook gebruik en daar sal aanpassings gemaak moet word om die veiligheid van deelnemers te verseker.
Beamptes sal vooraf opleiding ontvang en die weermag en polisie gaan betrek word om gevaarlike kruisings te help beman. Die polisie en weermag sal ook help met opleiding.
Alewijn Dippenaar (heel links) by die wegspringplek by vanjaar se OCC. Dippenaar is die OCC se geleentheidsdirekteur.
Dippenaar het Maandag gesê vanjaar se geleentheid was in alle opsigte 'n groot sukses. Daar word gekyk waar verbeter kan word en die organiseerders het nou meer tyd om aanstaande jaar se geleentheid te organiseer, omdat dit weer op die gewone tyd in Februarie sal plaasvind. Verlede jaar het dit in September plaasgevind.
Volgens Dippenaar sal hy tydens sy besoek aan Nederland, België en Duitsland met belanghebbendes van paraspele organisasies praat. "Ons wil probeer om groter internasionale deelname te bewerkstellig."
Altesaam R300 000 is in aanstaande jaar se begroting opsygesit vir vervoersubsidies vir plaaslike en internasionale atlete.
Daar word gehoop dat meer atlete aanstaande jaar sal deelneem. Vanjaar het 714 atlete deelgeneem en aanstaande jaar word gehoop op 1 300 atlete.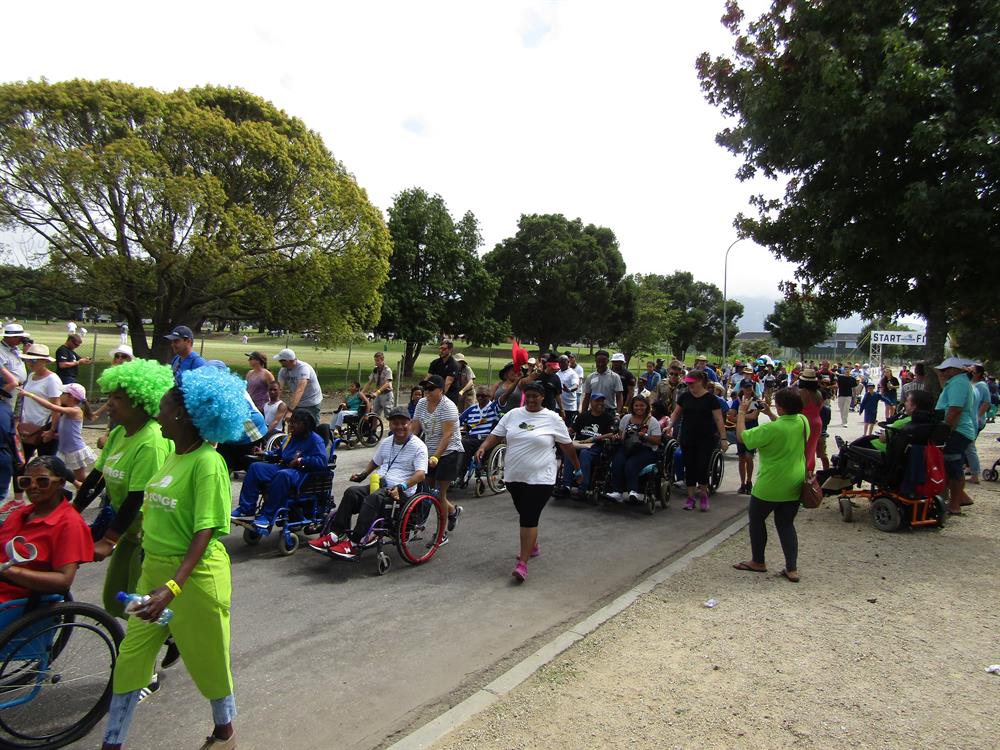 Deelenemers aan die pretloop tydens vanjaar se OCC wat by Carpe Diem-skool gehou is. Foto's: Eugene Gunning
Daar word ook onderhandel met die betrokke sportinstansies in Suid-Afrika om die OCC deel te maak van die Suid-Afrikaanse kampioenskappe vir paralimpiese spele. As dit die groen lig kry, sal die OCC as 'n kwalifiserende wedren vir soortgelyke internasionale wedrenne kan dien.
Inskrywings vir aanstaande jaar se geleentheid open reeds op 1 Augustus.
Vir die 10 km, 21 km en 42 km-wedrenne sluit dit einde November en vir die 5 km einde Desember.
Effort is being made to get more international athletes participating in next year's Outeniqua Chair Challenge (OCC). Events director Alewijn Dippenaar will visit the Netherlands, Belgium and Germany soon to talk to interested parties. Next year's event will take place on 20 February. Entries open on 1 August.
'Ons bring jou die nuutste George, Tuinroete nuus'