WESTERN CAPE NEWS - A new dominant variant of Covid-19 that binds easier with human cells is doing the rounds in the Western Cape.
"What it means is contact with smaller amounts can get you infected," said Head of the Western Cape Health Department Keith Cloete this afternoon during a digital conference held weekly by Premier Alan Winde.
"With this new variant we see more younger people with severe cases," said Cloete. He added it is uncertain if younger people are more vulnerable, or whether the number of infections is simply more.
"If you had Covid before it is also uncertain if you will be protected against this variant. It is also uncertain whether a vaccine will be of any help at this stage," he said.
Cloete said the Western Cape is seeing a very distinct second wave with more infections than the first wave, and it is expected to peak in the first week of January.
The number of hospitalisations and deaths have already exceeded the first peak. However, on the plus side, the first signs of stabilisation are seen in the Garden Route with a decline in active cases in Bitou, George and Knysna. The number of hospitalisations in the Garden Route is also declining.
The big challenge is the trauma load over the next two weeks with which the health facilities will have to cope.
"Coronavirus is in the air. Social gatherings substantially increase submissions," said Cloete. "Keep your bubbles safe. Don't introduce cross infection in your bubble. And remember, there is an eighteen times higher chance of contracting the virus indoors."
Western Cape minister of Health Nomafrench Mbombo said at the start of the pandemic we had the hit song, Jerusalema. "Things have changed - now we don't have a Jerusalema to cheer us up," she said. "This is not about economy versus health, it is about protecting the health system."
Premier Alan Winde stressed the tremendous pressure doctors and nurses in the frontline are experiencing. He too referred to the new strain of the coronavirus developing in South Africa: "We need far less of this virus to contract it. It is more aggressive."
Winde said the Health Department makes tough decisions on a daily basis and that everyone now have to play their part – more so than ever before. "We are again cutting visitations to hospitals."
He said trauma patients use a lot of resources in ICU, such as patients with knife and gun shot wounds, car accidents and alcohol related incidents.
"This season we have to make sure we don't move in numbers. Keep your bubble as protected as you can. Keep functions small and outdoors. The health system needs to be protected. We owe it to our frontline workers," said Winde. "Some of us are privileged to work from home – the health workers don't have that privilege. They have been in the battle field since March. Some won't even be spending Christmas with their families."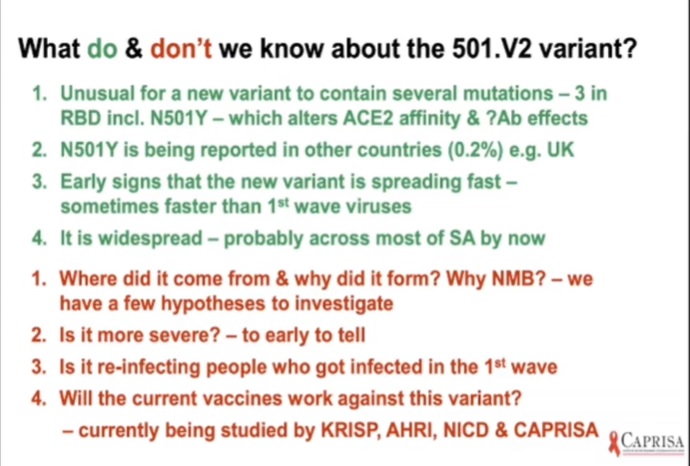 What do and don't we know about the new virus strain?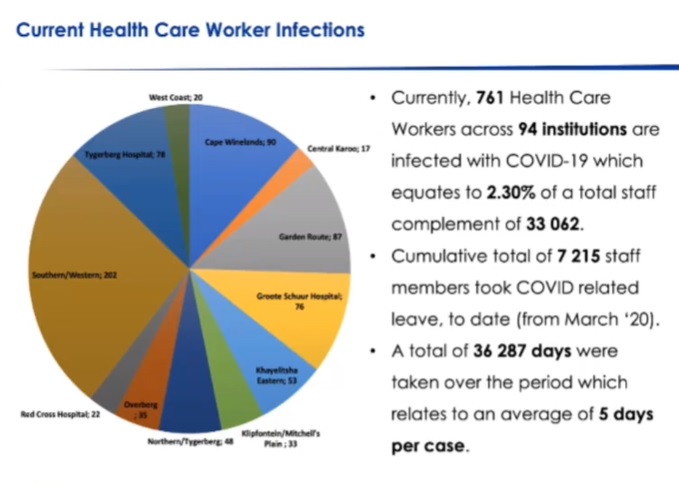 Current health care workers' infections.
'We bring you the latest Garden Route, Karoo, Hessequa news'