WESTERN CAPE NEWS - According to a statement by premier Alan Winde, National Health Minister Zweli Mkhize visited the province today.
According to the statement:
Today, National Health Minister Zweli Mkhize visited the province to see our preparations for the peak of the COVID-19 curve. During the visit, he was able to see the CTICC hospital which will provide over 850 beds for COVID-19 positive patients.
He was also able to see the now complete 60 bed Khayelitsha temporary hospital which has been built by Medicins Sans Frontiers at the City of Cape Town's Thusong Centre, and which will be operated in conjunction with the Department of Health in the province, giving care to COVID-19 positive patients in the area.
Minister Mkhize was also able to see the quarantine and isolation facility which has been sponsored by Old Mutual as well as the Brackengate site where work is currently underway on a 300 bed temporary hospital.
We were also able to brief Minister Mkhize on our hotspot plan and had the opportunity to discuss some of the risks in the system, such as the backlog in testing as a result of the NHLS backlogs and shortages of testing kits and reagents required for testing.
We are working closely with the National Department of Health ensuring that all of the nuts and bolts of our response are in place and that our approaches are aligned.
These sites are part of our ongoing preparations to ensure that at the peak, which is expected at the end of June, beginning of July in the Western Cape, we are able to offer care to those that require it.
Update on coronavirus
As of 1pm on 1 June, the Western Cape has 10 135 active cases of Covid-19, with a total of 22 087 confirmed cases and 11 431 recoveries.
Total confirmed COVID-19 cases - 22 087
Total recoveries - 11 431
Total deaths - 521
Total active cases (currently infected patients) - 10 135
Tests conducted - 160 448
Hospital admissions - 958 of which 181 are in ICU or high care
Garden Route District
Bitou - 17 cases, 11 recoveries
Knysna - 52 cases, 26 recoveries
George - 79 cases, 25 recoveries
Hessequa - 12 cases, 9 recoveries
Kannaland - 2 cases, 1 recovery
Mossel Bay - 32 cases, 24 recoveries
Oudtshoorn - 11 cases, 4 recoveries
Unallocated: 2028 (653 recovered)
Premier Winde meets with 200 nurses undergoing orientation at CTICC hospital
Today, I had the opportunity to briefly address 200 nurses who are undergoing orientation training to work at the CTICC hospital. I would like to take this opportunity to again thank all of the nurses, doctors, and healthcare workers who have stepped up to the frontline. We are grateful for your commitment, your care and your work ethic and we thank you for the role you have played in the province thus far, and for the role you will continue to play going forward.
Alcohol sales
From early this morning we have seen long queues forming around liquor stores across the country as alcohol sales have been re-opened. During the lockdown period, when alcohol sales were banned, we saw a significant dip in the number of people visiting emergency and trauma units. We will be keeping a close eye on the situation as alcohol is responsible for many harms in our communities, including violence, abuse, and road accidents. All of these have the potential to result in increased pressure on our hospital facilities. Western Cape residents must adhere to all of the rules of sale, and, if we find that alcohol is not used responsibly, and there is an associated increase in trauma cases at our hospitals, we will explore the options available to reduce this impact.
The alert level 3 restrictions rely on the people of this province to act with responsibility. This means being responsible when leaving the house and ensuring that we are practicing social distancing, wearing our masks and washing our hands regularly. This also means behaving responsibly by avoiding large gatherings, obeying the regulations which are in place and drinking responsibly so that we are all contributing meaningfully towards the fight against COVD-19 in the province.
Children's Commissioner:
We would like to warmly welcome Christina Nomdo who started work as the province's first ever Children's Commissioner today and wish her well in this new role. Her first day coincides with the start of Child Protection Week in the country which is aimed at highlighting the plight of children in South Africa and the risks that they face in their homes and in their communities. It also coincides with a return to school for some learners in the province following the nationwide lockdown and the lifting of the ban on alcohol sales. For many the return to school is a welcome return to learning, and the regular meals provided by the School Nutrition Programme but we understand that there is still a lot of fear and anxiety for both parents and learners at this time. Alcohol is a driver of violence and as alcohol sales re-open it is up to every single one of us to ensure that children do not become the victims of abuse. The Children's Commissioner post has been created to give a voice to the children of the Western Cape, and we look forward to working with the Children's Commissioner to ensure that the issues children are currently facing are researched, understood and advocated for.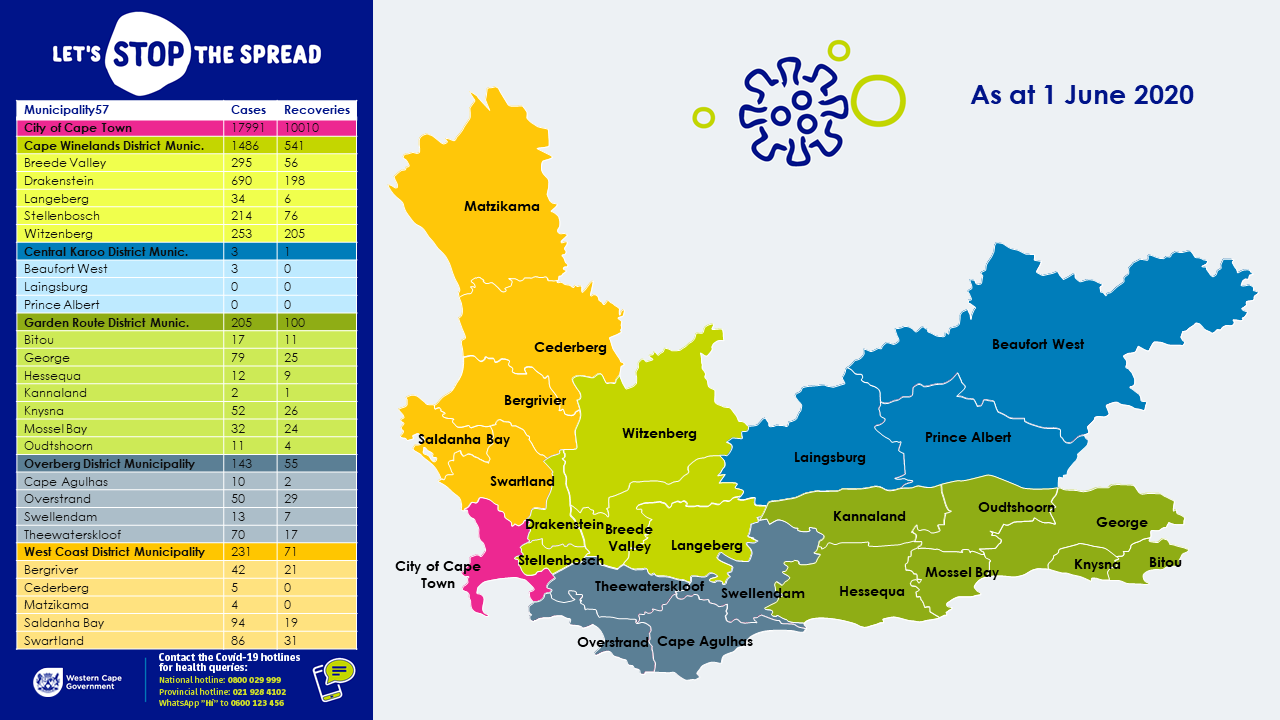 'We bring you the latest Garden Route, Hessequa, Karoo news'