Update
MOSSEL BAY NEWS - A Mossel Bay teenager, Colin Prins (16), drowned at Island Lake at Wilderness on Saturday, 13 October.
Colin was a member of the Mossel Bay Yacht and Boat Club (MBYBC) and a Grade 10 learner at Sao Bras High School. He lived in Asla Park.
National Sea Rescue Institute Wilderness deputy station commander Mike Vonk said in a press release that his duty crew, as well as police, Western Cape government Health EMS and Eden 911 ambulance services responded to a call to Island Lake on Saturday at 12:55.
"On our arrival on the scene we found bystander cardio pulmonary resuscitation was in progress on Colin Prins. NSRI medics and paramedics, assisted by George Lakes Yacht Club members and bystanders continued with CPR but sadly, after extensive efforts to resuscitate the teenager were exhausted, he was declared deceased," Vonk said.
Colin had been at Island Lake to take part in a yacht regatta that was postponed due to strong winds and he was among a number of young sailors who had gone for a swim in the lake, while waiting to see if the regatta would resume later, when he appeared to get into difficulty and he disappeared underwater.
Vonk said eye witnesses raised the alarm and two George Lakes Yacht Club (GLYC) safety boats were immediately deployed. Swimmers there at the time joined the search.
According to reports a swimmer, who assisted in the water search and believed to be a former navy diver, located and recovered the teenager from underwater. Prins was then rushed to shore aboard one of the GLYC safety boats where CPR was commenced.
"Our sincere condolences are conveyed to family, friends and the MBYBC teammates of Colin," Vonk said.
An autopsy was to be conducted on Monday, 15 October. Members of Colin's family went to the jetty at Island Lake on Sunday, 14 October. This was where Colin and friends had had great fun, jumping off and swimming before the tragedy.
Vonk, who is also a member of the GLYC, said: "The family wanted to try to make sense of the tragedy by returning to the scene."
Colin's uncle who lives in Albertinia, Charles Prins, speaking on behalf of the family, said: "We have a measure of peace after visiting the yacht club. The people at the yacht club were really good to us. I told them to continue with their good work. This was a freak accident. We don't blame anyone."
Colin's aunt Selma Prins, his cousin Jasmine Prins, Colin's mother Celia Prins, Selma's husband Charles Prins, Danvor Frans, Colin's sister (front) Delia Prins and Colin's niece, Jamie Prins at the jetty at Island Lake.
He said: "Colin was a joker and a bubbly person and enjoyed laughing. He loved playing pranks on people. He liked new challenges."
Principal of the Learn to Sail School at the MBYBC, Elfie Holden, said: "He was an amazing, quiet, bright young man with a great smile. He loved his sailing and was always keen to assist."
A service for family and friends will take place at 09:00 on Saturday, 20 October, at the family home in Asla Park. The funeral will take place after that at the New Apostolic Church in Marlin Street at 10:00 on Saturday.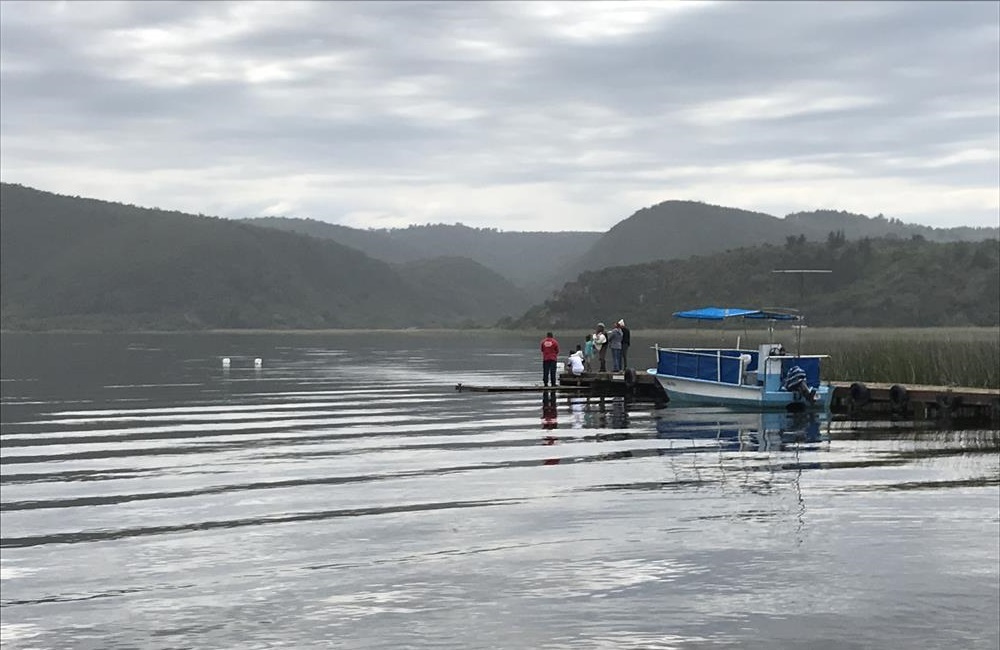 The family at the jetty at Island Lake.
Read a previous article: Mossel Bay teenager drowns
'We bring you the latest Garden Route news'