Video
GEORGE NEWS AND VIDEO - A "Lift her Up" campaign for Grade 7 girls was hosted at the Thembalethu Primary School last Friday, 6 September.
The event was organised by a Wellness Committee consisting of teachers who, under the direction of four phenomenal women, work really hard to make the transition from early teens into young adulthood easier.
Teacher Nomsa Charlie, the driving force behind the committee, says it has came to their attention that the schoolgirls are involved in gangsterism where they brag about their clothing labels. "We sat as the committee and came up with this idea, because we also felt that they lack self esteem and they suffer a lot of peer pressure."
Charlie explains they wanted to hear their challenges and educate them about peer pressure, gender-based violence, gangsterism, teenage pregnancy and all other challenges they are facing.
They also noticed that the teenage girls don't know their worth and don't have values and the group feel that it is their responsibility as female educators to teach them about these things. A number of role players were invited - the local police, a school psychologist, a clinic nurse, pastor and a parolee - to speak to the girls about their daily challenges.
"The girls were all dressed in jeans and white T-shirts with a doek, they were able to talk about their daily challenges and we had an open talk with them," says Charlie.
Their goal with this campaign is to have peer leaders who will sit with the girls as a group and talk about their challenges, and to whom girls would freely come for advice. They intend having an event of this nature annually and invite neighbouring schools to attend.
"The programme was concluded with a powerful prayer by one of the learners, Zikhona Kawe, which really gave us an indication that our learners are willing to take part in this journey towards changing their behaviour," says Charlie.
Watch a video below.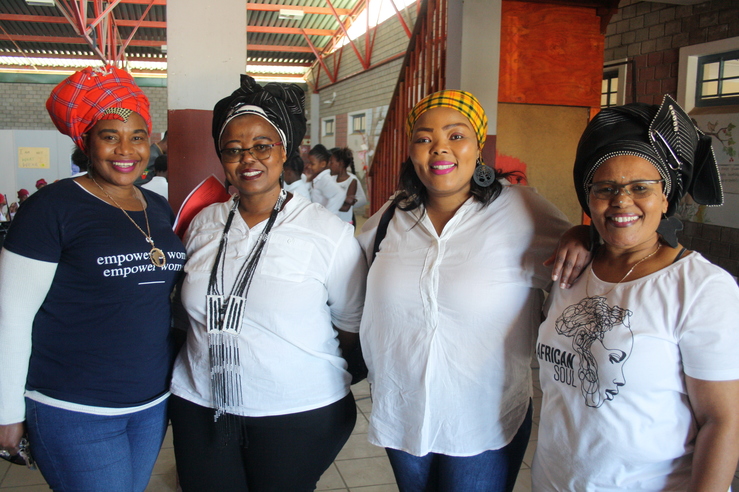 The ladies of the Wellness Committee at Thembalethu Primary, from left: Nhsiki Morgan, Nomthandazo Mfuku, Nomsa Charlie and Nomathamsanqa Dingiswayo.
'We bring you the latest George, Garden Route news'