GEORGE NEWS - Drunken beachgoers, crowd control and water safety were some of the issues young lifeguards and residents had to deal with since the beaches opened on 2 February.
Readers contacted George Herald to express their unhappiness saying the situation has worsened since lifeguards are now only on duty during weekends.
A reader specifically complained about the crowds at Victoria Bay at the past weekend. Lifeguards had to deal with crowd control. "The mandate of lifeguards is not to control crowds but to save lives. They are not trained for crowd control," said the resident.
Chantel Edwards-Klose, spokesperson for the George Municipality, said they and many other local authorities have for many years only deployed lifeguards to beaches daily during the festive season.
"Thereafter lifeguard duties are only performed on weekends until the end of April. The cost to have lifeguards on beaches every day and throughout the year is not affordable and it cannot be expected from the taxpayers in George to carry the costs," she said.
"The municipality's law enforcement officers regularly carry out patrols at all beaches and in the process removed several people from the beaches the past weekend who abused alcohol.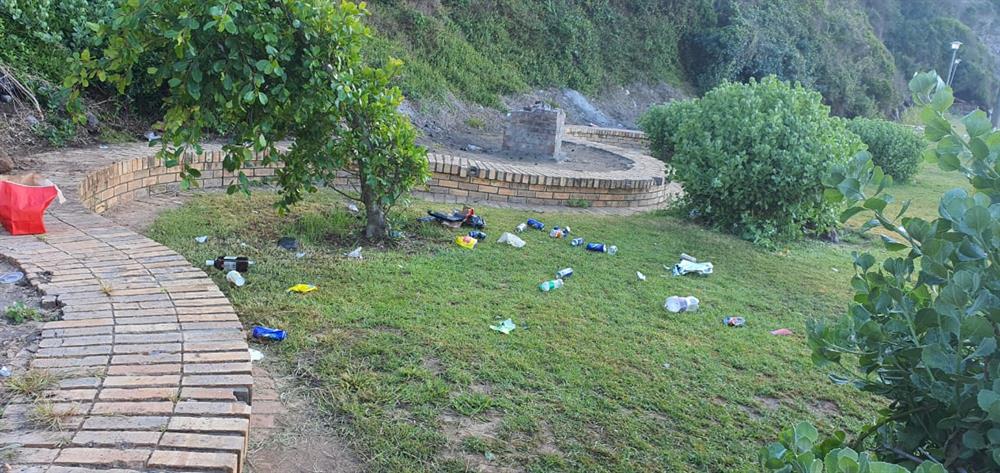 Victoria Bay after a weekend of partying.
"The municipality appeals to members of the public not to consume alcohol on our beaches. Our beach workers clean at the beaches daily during the week and on weekends are there from 08:00 to 12:00. It must be noted that there are sufficient dustbins and that littering by the public remains a constant problem."
Wilderness lagoon
According to a highly irate resident, visitors to the Wilderness lagoon were running wild last weekend until well after 18:00, the time the gates are normally locked. "No-one wearing masks, drunk driving, wheel spinning outside our house, screaming and shouting. Multiple fires going with no one watching them," wrote the complainant to George Herald.
She said despite several attempts to contact the authorities, no response was received.
Cans litter the area at Vic Bay.
George Municipality referred the complaint to SANParks, as the area in question falls under its management. SANParks spokesperson Nandi Mgwadlamba said the beaches in the Garden Route were inundated with people who were celebrating the easing of lockdown restrictions.
"Rangers and law enforcement counted thousands who flocked to the beaches over the weekend. There were reported incidents of people not abiding by lockdown rules which kept rangers busy the entire day yesterday [Sunday]. Instead of ending duty at 18:00, gates were locked at 20:30."
SANParks requests residents in and around the park to call the police or rangers on 044 877 0046, and the number will be redirected to a ranger on duty.
Filled to the brim.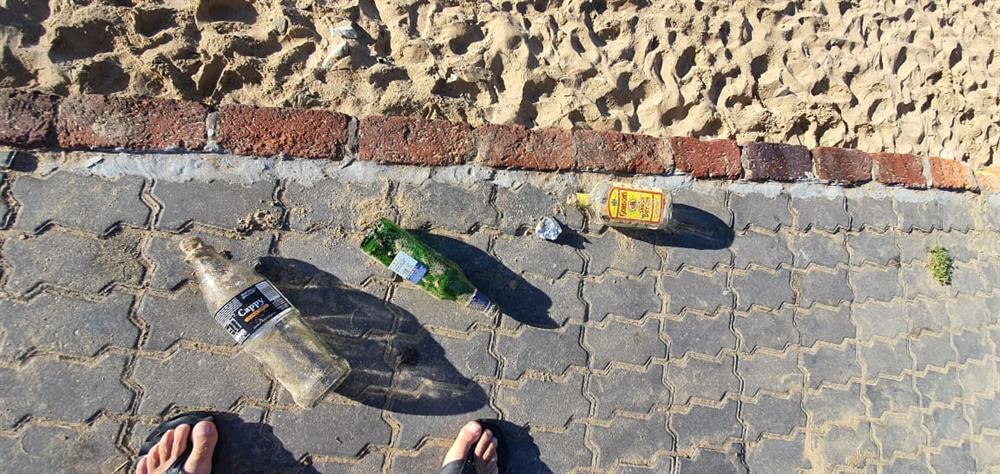 Remnants of alcohol-fuelled visits to Victoria Bay.
'We bring you the latest George, Garden Route news'