Update Video
GEORGE NEWS & VIDEOS - Disappointed but not discouraged. This was how Sean Snyman felt after strong wind forced him, Carl de Campos and other hikers to abandon their attempt to summit George Peak on Saturday 12 September.
The attempt was made in support of the Garden Route SPCA and the Outeniqua Wheelchair challenge (OCC), as well as to create awareness of the potential of people with disabilities.
Guided by hike manager Hester Stander, Snyman (56), who has a disability in his right arm, led De Campos (42), who is blind, up the mountain. Snyman's dog Flame also went along.
They started out just after 07:00, but were back at the starting point just before 15:00, having turned around after about six kilometres.
According to Snyman the wind became so strong that they had to sit down at one stage. Keeping safety foremost, they decided not to pit their strength against a wind of over 30km/h.
Carlos has climbed George Peak in the past and said he still had a lot of energy left. It was very muddy on Saturday and the descent was slow.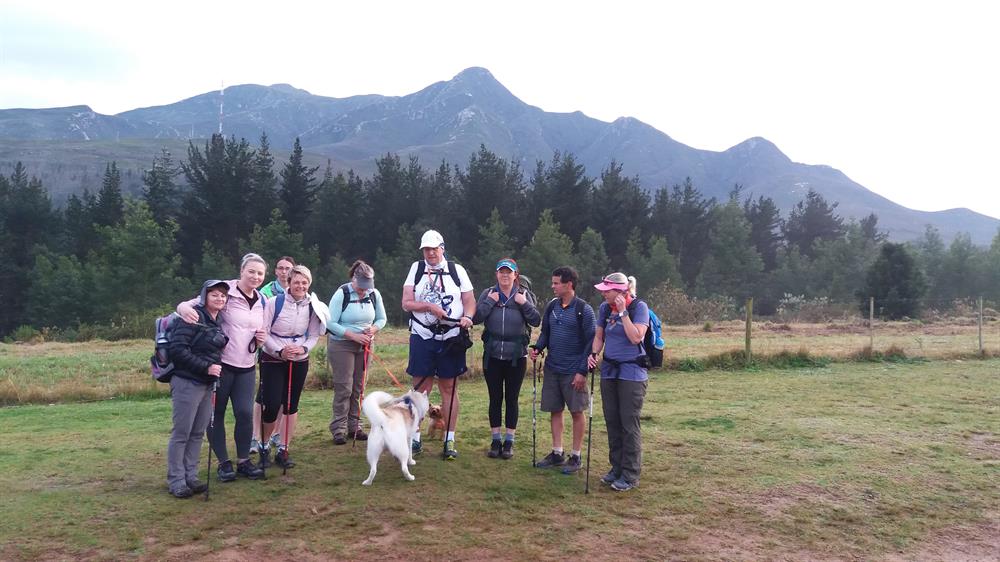 The group of hikers just before they started on Saturday morning. In the background is their goal, George Peak.. Photo: Eugene Gunning
Goal achieved
Snyman was satisfied that, despite not reaching the peak, they had achieved their goal of creating awareness of disability. "Disabled people deserve opportunities," he said. He believes everybody, not only those with disabilities, should tackle challenges. "On Saturday we climbed a mountain, but people must remember that life is a mountain. Every single thing we do is a challenge."
He stressed that they will try again at a later stage.
Snyman is a member of the SPCA management committee and also a member of the George Council.
Sean Snyman and his dog Flame leading De Campos down the mountain.
Carl de Campos (left) and Sean Snyman after the hike. Photos: Eugene Gunning
Previous articles:
'We bring you the latest George, Garden Route news'