TUINROETE NUUS - Met die oog op onlangse drama oor voorafbetaalde watermeters, wat gevolg het ná 'n politieke party (PBI) beweer het dat DA-beheerde munisipaliteite armes wil dwing om vooraf vir water te betaal, het 'n behoefte ontstaan om die deerniswaterbeleid van nader te bekyk.
Volgens die Wes-Kaapse minister van menslike nedersettings, Tertuis Simmers, verskaf al die munisipaliteite in die Tuinroete-distrik 6 kl (6 000 liter) water per maand aan deurnishuishoudings.
Volgens die Mero-opname (Municipal Economic Review and Overview) van 2020 is daar altesaam 51 491 deurnishuishoudings in die distrik. Die aantal huishoudings wat gratis toegang tot water ontvang staan tans op 66 720.
Ofskoon Knynsa-munisipaliteit wel waterbeheertoestelle in van hul wyke installeer, is daar nie sprake dat so 'n sisteem in George gebruik sal word nie.
George
Volgens die munisipale woordvoerder van George-munisipaliteit, Chantel Edwards-Klose, trek agterplaasbewoners op die volgende wyse voordeel uit die deernisbeleid: "As die hoofhuis vir deernis kwalifiseer kan 'n maksimum van twee agterplaasbewoners (op die perseel) deernis ontvang indien almal kwalifiseer in terme van die deernisbeleid.
Die hoofhuis ontvang dus 6 kl en 2 x 6 kl (dus 12 kl) vir die twee agterplaasbewoners.
"Die elektrisiteit werk op dieselfde wyse: Die hoofhuis kry 70 kwh en 2 x 70 kwh (140 kwh) vir die twee agterplaasbewoners. Dit gaan deur die hoofhuis se meter." Indien die hoofhuis nie kwalifiseer nie, kry die agterplaasbewoners ook nie deernis in terme van die beleid nie.
Die voorsiening van skoon drinkwater word bepaal in die Waterdienste Wet, Wet nr. 108 van 1997. Daar is nie 'n bepaling of voorskrif vir wat die gebruiker daarmee doen nie - dit word aanvaar dat dit vir normale huishoudelike doeleindes behoort te wees. Daar is ook nie 'n bepaling daaromtrent in die munisipaliteit se deernisbeleid vervat nie.
Tydens 'n opname in Desember 2014 is altesaam 6 661 agterplaasbewoners in alle gebiede in George geïdentifiseer. "Ons kan ongelukkig nie bevestig hoeveel agterplaasbewoners daar per erf/huishouding is nie," het Edward-Klose gesê.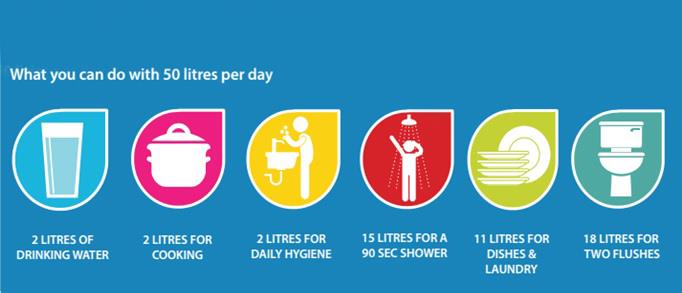 Met 6 000 liter water per maand kan deernishuishoudings reken op minstens 193 liter per dag (vir 'n 31-dae maand). Hierdie tabel wys wat 'n mens met slegs 50 liter per dag kan doen.
Knysna
Volgens die munisipale woordvoerder van Knysna, Christopher Bezuidenhoudt, word waterbeheertoestelle in van hul wyke (1, 3, 4, 6, 7, 8 en 11) geïnstalleer waar daar voorheen geen konvensionele meters was nie, asook in gebiede waar die betaling van dienste hoog was.
Hierdie toestelle word nie deur die munisipaliteit beheer vir 'n daaglikse kwota water nie. "Hulle kan aanvul sodra hul maandelikse kwota water op is," het Bezuidenhoudt gesê. "Ons hef ook nie 'n maandelikse basiese diensfooi (R200,22 p/m) vir hierdie huishoudings nie. Verbruikers is in werklikheid in beheer van hul eie waterrekening en kan self die hoeveelheid water wat elke maand gebruik word bestuur.
"Deur voorafbetaalde eenhede water te koop, kan inwoners volgens hul behoeftes begroot," het Bezuidenhoudt gesê.
Aanvanklik was daar 'n paar kleiner kwessies met die installering van hierdie waterbeheertoestelle, maar geen groot probleme nie, het Bezuidenhoudt gesê. Knysna-munisipaliteit beoog om hierdie toestelle in meer wyke te installeer, onderworpe aan 'n goedgekeurde tenderproses.
Knysna se behuisingswaglys staan tans op 9 000, insluitend ongeveer 1 900 agterplaasbewoners in Hornlee.
'Ons bring jou die nuutste George, Tuinroete nuus'