Gallery Video
GEORGE NEWS - With schools and day care centres closed, parents at home, and taking kids out not an option, George parents have had to get creative to keep their kids entertained.
It's one week since lockdown has been in place in South Africa and while many parents enjoy spending time with their children, it can be a challenge to not let boredom get the better of the youngsters when they're confined to their homes for such a long time.
This week George Herald asked moms for their creative recipes to keep the little ones busy. From play dough and corona cupcakes to lockdown calendars, moms across George surely have their creative buttons switched on!
Colouring in. If you don't have pencils or colouring-in books at home, there are apps and websites you can use. Or if you have a printer you can print out pages from online.
Painting. If you don't have paint at home, you can make your own by mixing half a cup each of flour, water and salt, dividing it up and then adding food colouring.
Origami. It's easier than it looks.
If you have paper lying around, why not get the kids to do some origami? There are lots of videos online to refer to.
Watch how to make an origami dog below:
Stephen (4) and Ethan (2) Broderick on a treasure hunt in their garden.
Photo gallery: Fun for the children during lockdown
Keep a journal. This allows children and teenagers to write down how they're feeling and what they've been doing.
Go on a scavenger or treasure hunt in your house or backyard.
Play board games.
Make your own sudoku.
Rearrange bedrooms.
Cooking and baking.
Grow things.
Look for shapes in the clouds.
Read stories. If you don't have any new books, there are plenty of audio books online.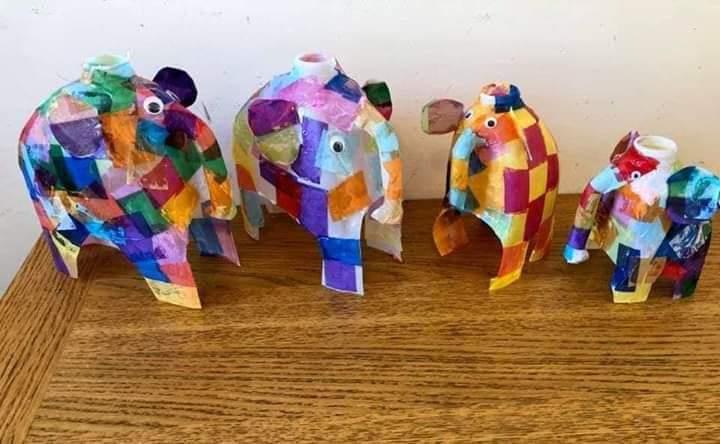 Colourful elephants made from paper snips and old milk bottles.
With recipes for puff paint, slime, play dough and a lot more, the Facebook page "Mother Could" has some very creative ways to keep your children entertained.
Emily Joubert proudly shows us her lockdown calendar. Photo: Beverly Joubert
Mom Marga Coetsee found some old tiles in the garage that her daughters, Harvin and Nexis, could paint. The paint is water based, so the tiles can be washed and reused afterwards.
'We bring you the latest George, Garden Route news'