WESTERN CAPE NEWS - "We move from the Christmas bubble to the New Year's bubble. Keep your bubble intact." So said Head of the Western Cape Health Department Dr Keith Cloete during the last digital conference of the year held by Premier Alan Winde this afternoon.
Alan Winde too urged people to refrain from having large gatherings in celebration of New Year.
Winde confirmed his earlier statement this morning in which he said the Western Cape welcomes the regulations on alcohol restriction, but does not support the closure of beaches and open spaces. He said many meetings were held over the past week in regard to the current state of the pandemic in South Africa.
Cloete said the previous alcohol restrictions did not protect the health services as a surge of trauma cases hospitals received on 26 December – Boxing Day. "The 26 December saw the highest number of single day increase in trauma presentations (312 across the hospitals sampled) compared to the entire year in the midst of a significant Covid-19 second wave."
More affected, more intense
Cloete said the province is peaking at levels more than twice as high than the first time round, during the first surge of the pandemic. "We are approximating at a daily rate of 100 deaths a day, where our estimation was 50 deaths a day before. More people are affected in all the age groups, as well as those under twenty. The virus is behaving very similar to the previous round, but it is much more intense," he said.
"We expect a backlog in testing over the Christmas period to come through in the next few days. The facilities are under pressure, the maintenance of oxygen is becoming under pressure and more deaths are experienced throughout the province. Afrox is currently running on 100% capacity per day, and we are using up 70% of that capacity."
Cloete again urged people to avoid big gatherings indoors: "Coronavirus is in the air. The airspace is where you contract corona from. That is why you need to keep distance, wear a mask and avoid big gatherings indoors. You are 18 times more likely to contract Covid indoors, than outdoors."
Mental health
In her address Western Cape minister of Health Nomafrench Mbombo focussed on the mental health of health care workers, which she said is under severe strain. "If the mental state of your health workers are under pressure we will not make progress," said Western Cape minister of Health Mbombo. "When health workers have to start choosing between who to give a bed and who not, it impacts on their mental state. The two weeks is to protect our health care and health care workers. "We have two weeks – let's see how it goes."
The following slides formed part of a presentation by Dr Keith Cloete: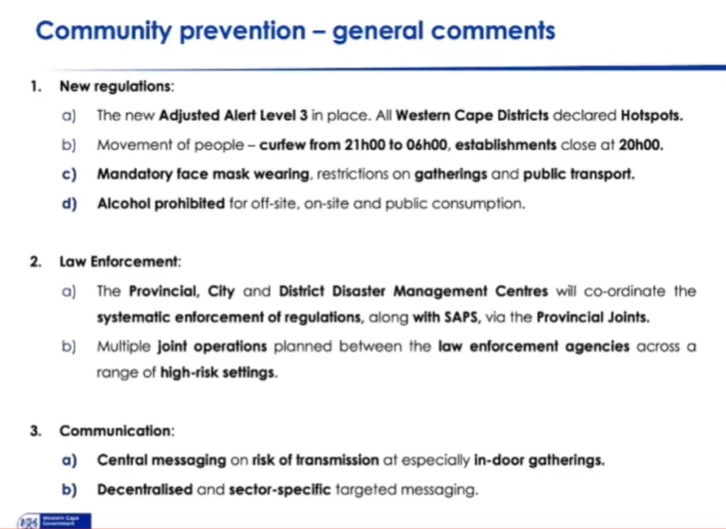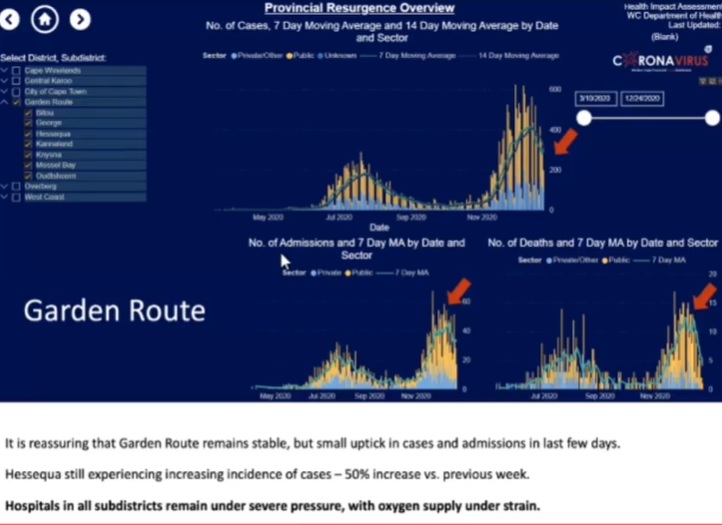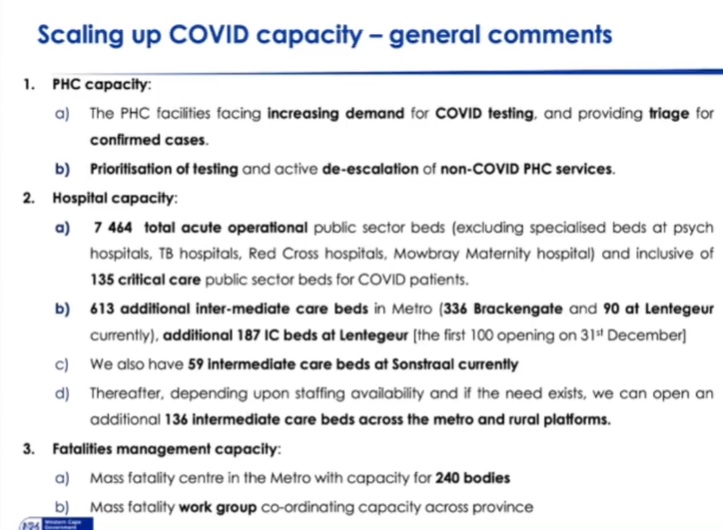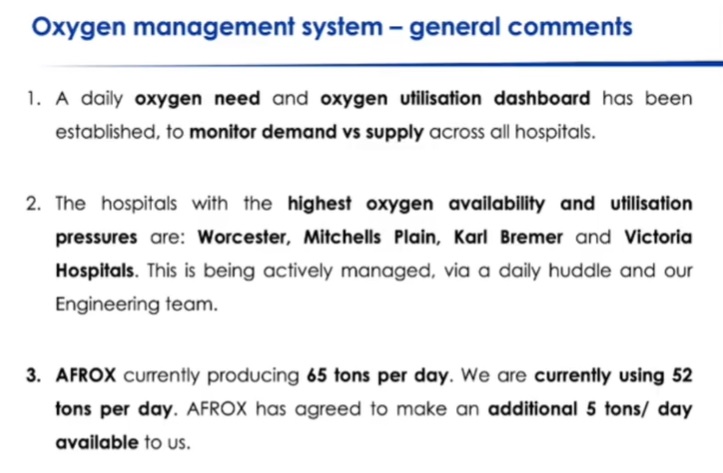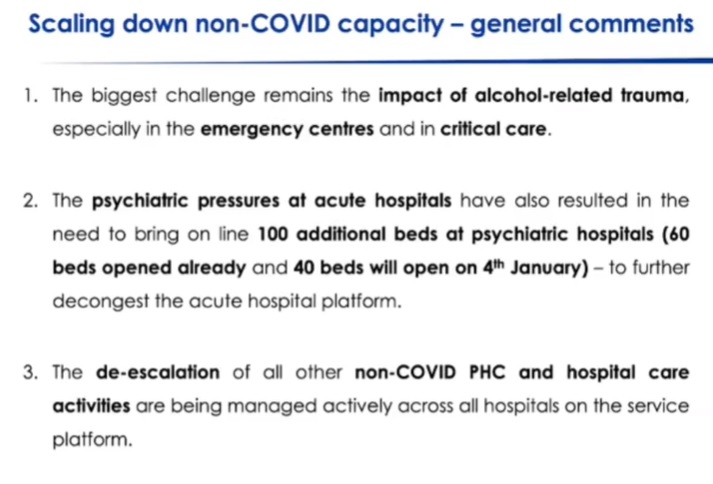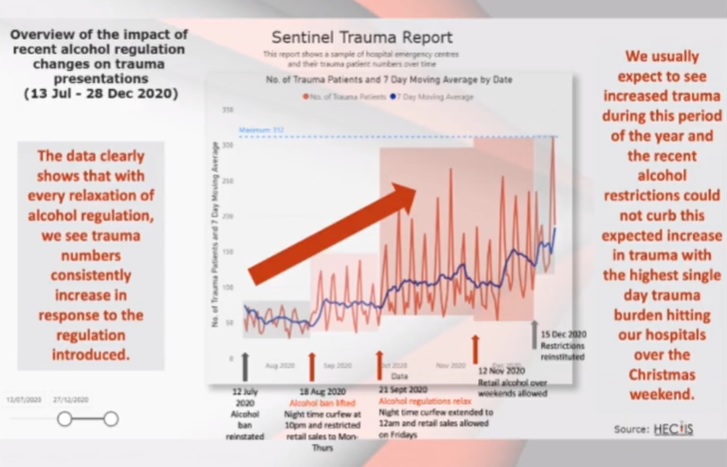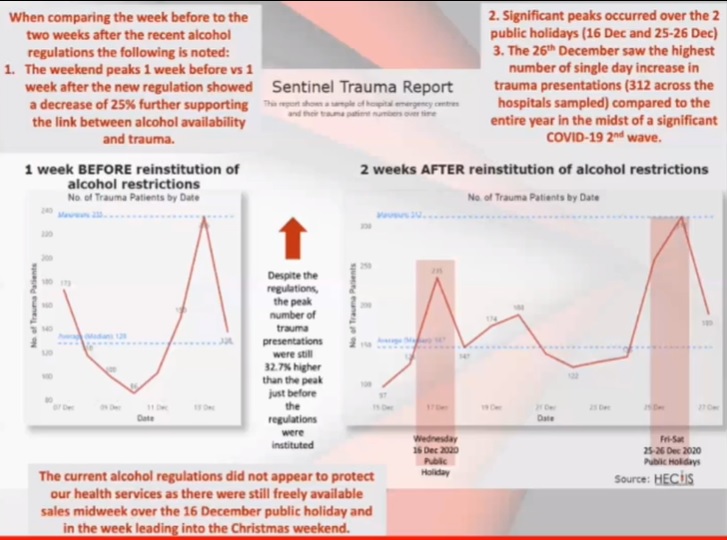 'We bring you the latest Garden Route, Hessequa, Karoo news'