GARDEN ROUTE NEWS - Thembeka Marema (44) from Kwanonqaba Mossel Bay, is a COVID-19 survivor who spent 19 days in the COVID-19 ward at Mossel Bay Hospital. She was discharged on 28 July 2020.
What started as a fever and a cough soon became serious two days later.
Fortunately Thembeka sought timeous medical care and she was admitted to Mossel Bay Hospital. "I was surprised to learn that I had COVID-19 and also very scared as I really struggled to breathe," says Thembeka.
Thembeka says she is happy to be back home after 19 days in hospital. She speaks in high regard of the staff at Mossel Bay Hospital. "I want to thank everyone who played a part in my recovery. Nurses, doctors, cleaners and all the other support staff," she says.
"It was a relief and privilege to be able to walk with her to the car when her family came to fetch her. This made the staff truly happy," says Gaynor Phillips, the Operational Manager of the COVID-19 Ward at Mossel Bay Hospital.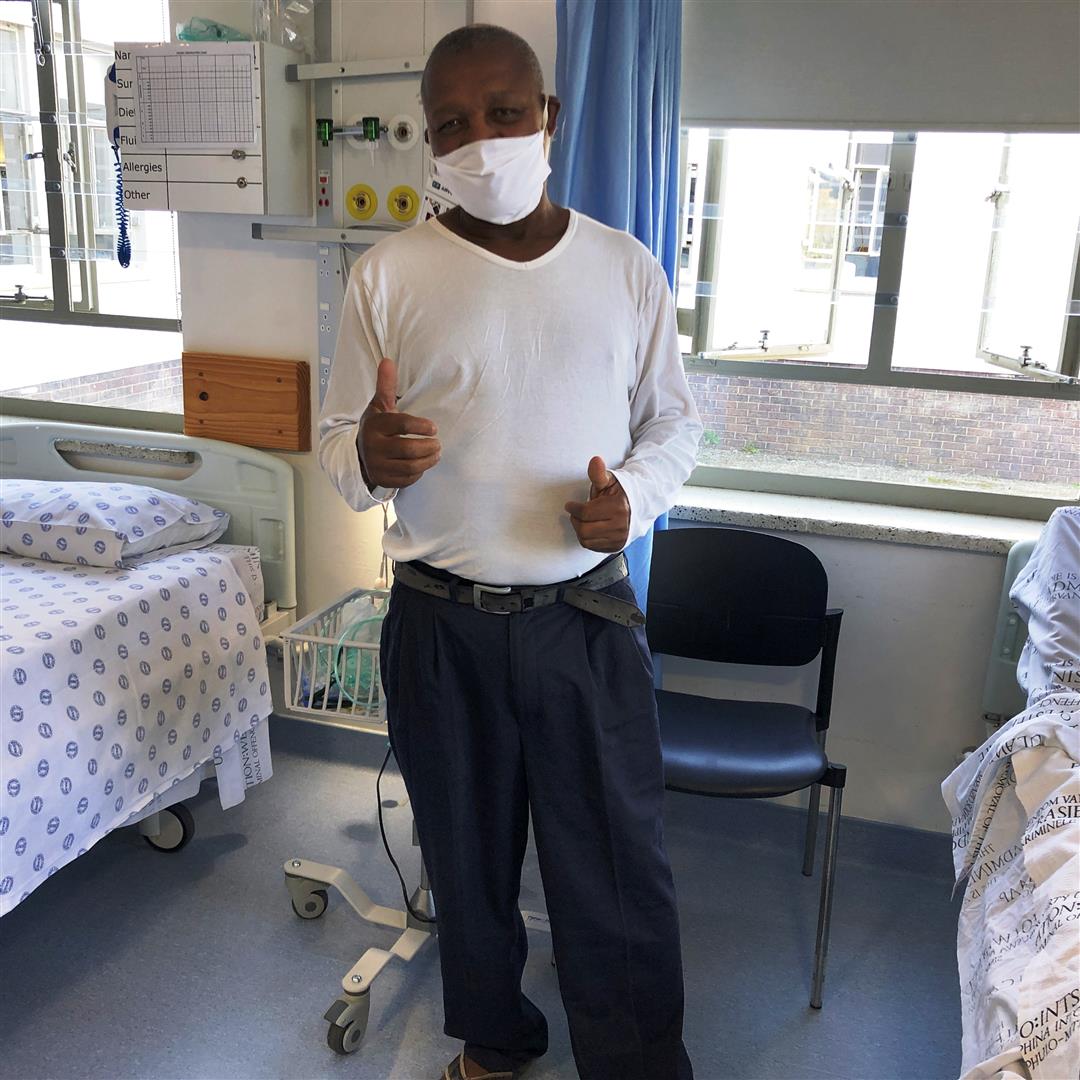 Thembelani Tapu is relieved to be breathing comfortably again.
Thembelani Tapu (63) from Plettenberg Bay also survived COVID-19. He was discharged on 4 August after 12 days at Knysna Hospital on high-flow oxygen.
Thembelani woke experienced a fever and shortness of breath. The father of three knew he had to get tested for COVID-19 and went to his local clinic in Plettenberg Bay. The next day, he got a call from the clinic to inform him that his test was positive. As his condition has worsened, he was transported to Knysna Hospital by ambulance.
"I was scared and worried about what would happen to my family if I died. I have diabetes and high blood pressure and knew I was at high risk of being very sick and possibly dying," explains Thembelani.
However, he felt safer once he arrived at Knysna Hospital. "The doctors and nurses all did their best for me. I was well looked after and they kept a close eye on me," says Thembelani.
His shortness of breath became so severe that Knysna Hospital staff had to treat him with high-flow nasal oxygen — just one step away from being admitted to ICU.
"When they put me on the oxygen, I felt relaxed, comfortable and calm. But each time they tried to stop it, the shortness of breath came back and they had to start it again," recalls Thembelani.
He had to remain on high-flow nasal oxygen for nine days of his 12-day admission. Thembelani says he was relieved when he could breathe comfortably again without any support.
Thembelani says he wants to remind others to do everything they can to keep safe, including washing their hands often, wearing a mask at all times when they leave the house, as well as keeping a distance of 1,5 m from everyone.
"If you follow the protocols, you will be safe."
We wish Thembeka and Thembelani all the best for the future. Please follow their example and seek immediate medical care if you struggle to breathe or feel a pressure on your chest.
'We bring you the latest Garden Route, Hessequa, Karoo news'