GARDEN ROUTE | KAROO | HESSEQUA NEWS - Classifieds are the only type of advertising in the world that is actually sought.
And by advertising in Classifieds, you get total market coverage - in print and online!
If you book a Classified advertisement with us, it will appear online on all Group Editors' websites for 7 days and in the print publications of the newspaper/s selected by you for 1 issue.
Our publications:
Searching for Classifieds online

The fact that Classifieds ads are categorised, makes it easy for users and advertisers to navigate and use.

The infographic below explains the steps you need to take to search for Classifieds on our websites: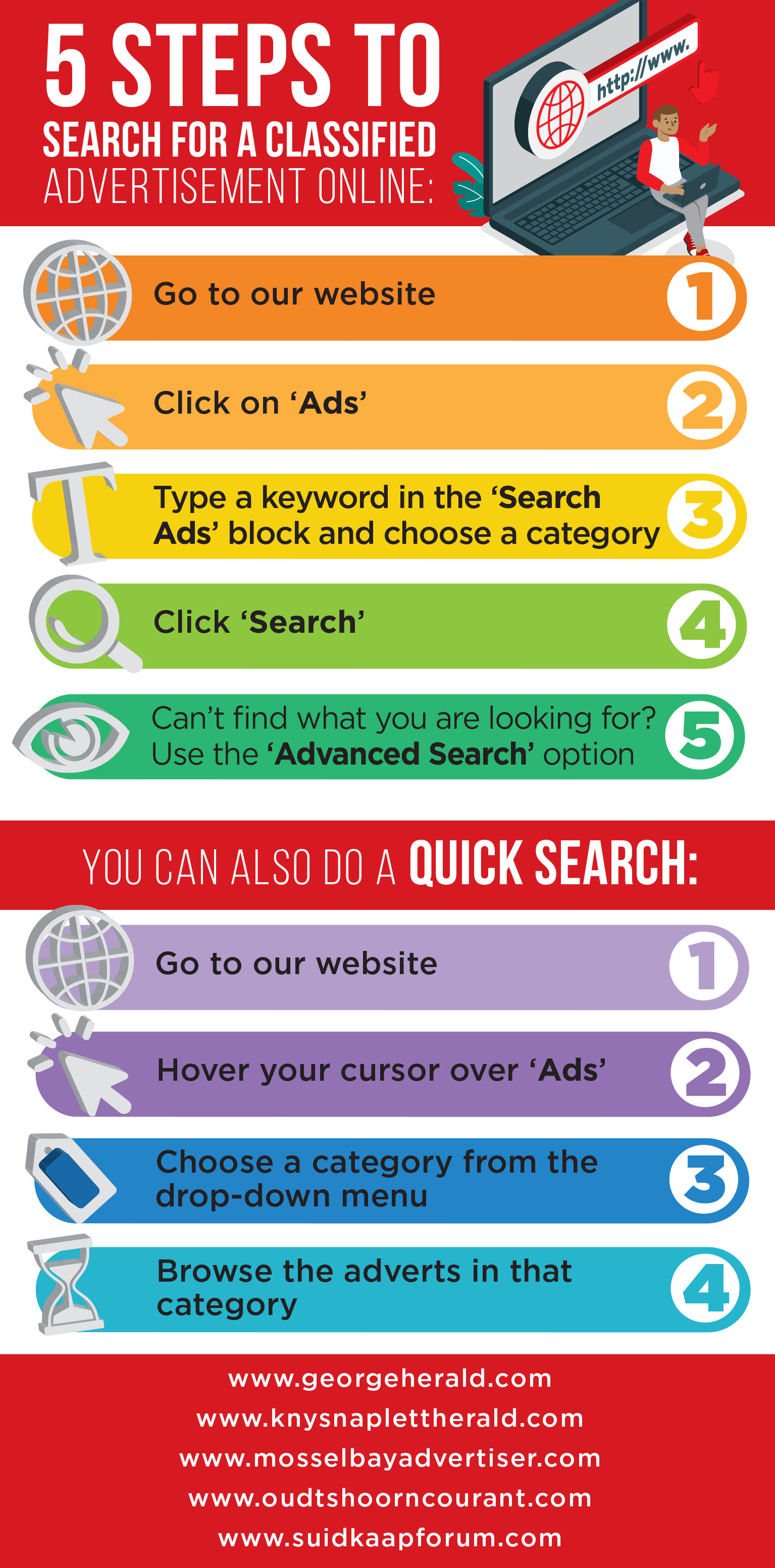 Categories

To make it as easy and convenient as possible for the user, there are 11 Main Classifieds Categories to choose from. These are:
Vacancies; Business Holiday Accommodation; Business & Financial; For Sale; Home Improvement; Motoring; Notices; Property For Sale; Property to Let; Services; Employment Wanted; Adult.
Each Main Category has subsections to refine your search.
Placing an ad? Here's what works
If you are placing a Classified advert, it's important to know what works.

Here are some tips:
Have a specific headline explaining exactly what you are offering. Indicate if it's something for sale, a service for hire etc.
If you are advertising property, begin your ad with the area where the property is situated, e.g. George CBD or Knysna Industria.
Make sure you select the appropriate category.
Every good advertisement should be written in such a way as to attract the attention of the target audience. So you have to start content with a catchy phrase.
Keep it short! Grab attention quickly and you will get results!
All contact numbers must be correct.
Make sure spelling and grammar is correct.
Get someone else' opinion about the ad before you place it.
Need more information?
Get in touch with us today: contact@groupeditors.co.za
'We bring you the latest Garden Route news'