GEORGE NEWS - Go George will be rerouting Route 56 Denneoord – CBD to accommodate road upgrades in Wellington Street, starting on Monday 29 June and hopefully completed by the end of August 2020.
Route 56 will operate in the forward direction (Route 56F) only during this period.
Travelling along Cradock Street from the CBD towards Denneoord, buses will turn left into Courtenay Street (instead of crossing it), right into Kerk Street, right into Stockenström Street and left into Wellington Street to continue as normal.
Any changes to the planned rerouting will be communicated to the public.
Please follow the Go George Facebook page for the latest updates, or call the Go George Call Centre on 0800 044 044.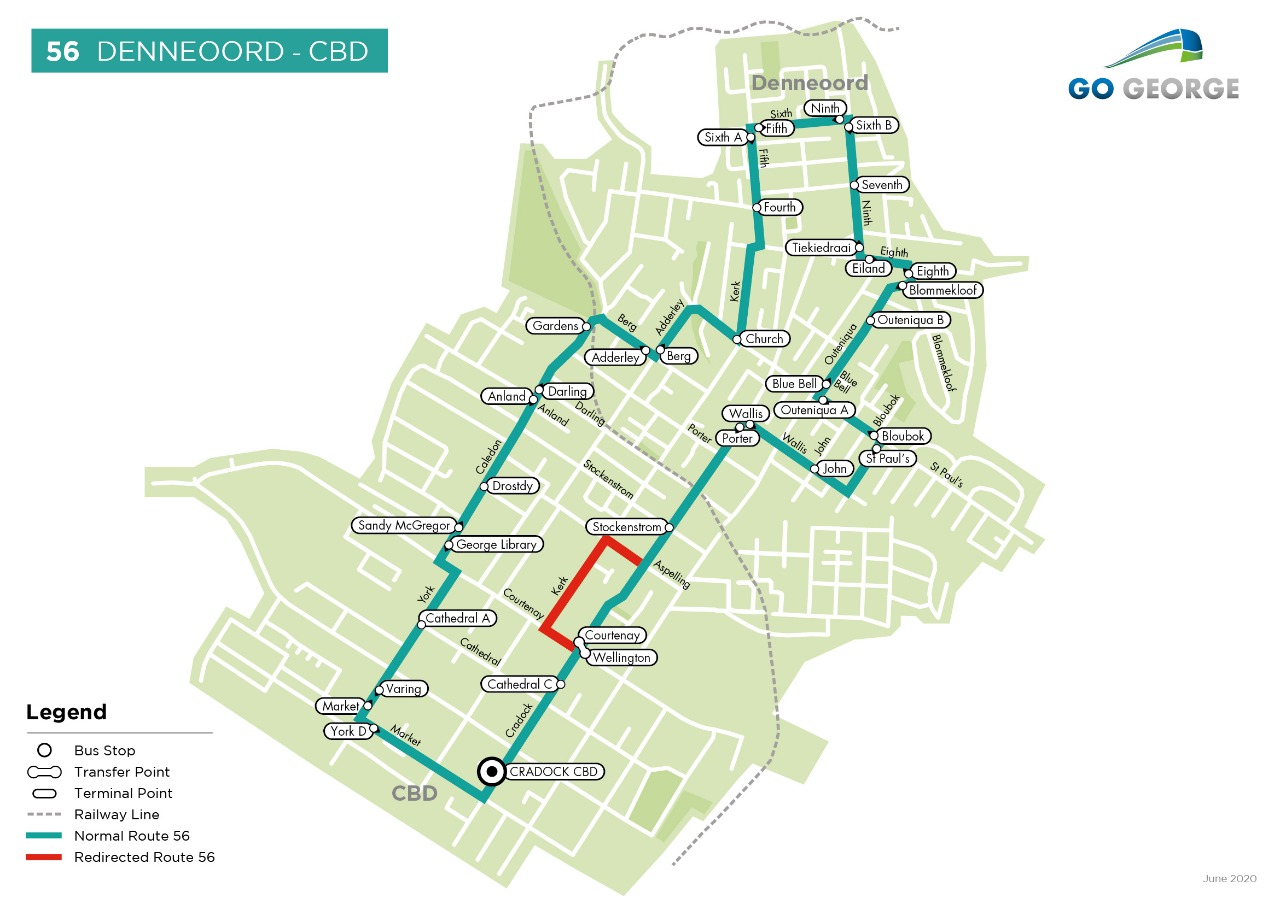 Go George sal roete 56 Denneoord – CBD herlei om die padopgradering in Wellingtonstraat te akkommodeer, vanaf Maandag 29 Junie tot die einde van Augustus 2020, as alles volgens plan verloop.
Roete 56 sal vir hierdie tydperk slegs in die voorwaartse rigting (roete 56F) ry.
Op pad na Denneoord vanuit die middedorp, sal die roete links draai uit Cradockstraat in Courtenaystraat (pleks van oor die kruising te ry), regs in Kerkstraat, regs in Stockenströmstraat en links in Wellingtonstraat om voort te gaan soos normaal.
Enige veranderinge aan die beplande herleiding van die roete sal aan die publiek gekommunikeer word.
Volg asseblief die Go George Facebook-bladsy vir die jongste bywerkings, of skakel die Go George-Oproepsentrum op 0800 044 044.
'We bring you the latest George, Garden Route news'