Video
GEORGE NUUS EN VIDEO - Twee van George se munisipale strande, Victoriabaai en Heroldsbaai kan in die toekoms blouvlagstatus kry. Dit het Maandag aan die lig gekom tydens 'n geleentheid waar sogenaamde 'loodsstatus' (pilot-status) amptelik aan die strand by Wilderness toegeken is.
Wilderness sal nou vir 'n jaar aan streng vereistes moet voldoen. Daarna sal besluit word of blouvlagstatus aan die strand toegeken word of nie. Die strand is onder die gesamentlike beheer van die Garden Route-distriksmunisipaliteit en die George-munisipaliteit.
Aanduidings is dat George aanstaande jaar aansoek sal doen vir blouvlagstatus vir Victoriabaai en Heroldsbaai. Om dit te kan vermag, sal "loodsstatus" waarskynlik eers toegeken word. Vrae het die afgelope tyd ontstaan oor waarom strande wat onder die alleenbeheer van die George-munisipaliteit is, nie blouvlagstatus het nie.
Kyk 'n video hieronder:
In die Suid-Kaap is blouvlagstatus vanjaar toegeken aan strande in die Hessequa-munisipale gebied: Mosselbaai, Knysna en Bitou. George het nie vanjaar aansoek gedoen nie.
Van die aanwesiges by die bekendstelling van loodsstatus vir Wilderness-strand. Foto: Eugene Gunning
Melvin Naik, George se burgemeester, het by die bekendstelling in Wilderness aan die George Herald gesê hy wil sien dat die dienste by Wilderness-strand, uitgebrei word na strande soos Victoriabaai en Heroldsbaai.
Hy is opgewonde oor wat by Wilderness-strand gebeur en meen dit het voordele vir George en die streek. "Dit wat in Wilderness gebeur, is 'n stap in die regte rigting. Dit wys dat die dienste beskikbaar is." Sou 'n noodsituasie ontstaan, sal opgetree kan word.
Oor die rede waarom George nie aansoek gedoen het vir blouvlagstatus vir strande onder sy alleenbeheer nie, het Naik gesê daar is baie streng vereistes - veral wat die watergehalte betref wat gereeld getoets moet word. Soms is dit selfs drie keer per dag.
Hy glo dit is moontlik dat Victoriabaai en Heroldsbaai sal kan kwalifiseer vir blouvlagstatus.
Wilderness-strand het nou loodsstatus. Die volgende stap is blouvlagstatus. Hier hys Melvin Naik, George se burgemeester, die vlag om te wys dat Wilderness-strand het nou loodsstatus. Foto: Eugene Gunning
Khayalethu Lose, burgemeesterskomiteelid vir gemeenskapsdienste van die distriksmunisipaliteit, het gesê elke jaar besoek verskeie toeriste George en omliggende strande.
Die loodsstatus verseker dat strandbestuur onder die vergrootglas is. Dit sluit watergehalte en openbare veiligheid in.
Clive Africa, uitvoerende bestuurder, gemeenskapsdienste van die distriksmunisipaliteit, het gesê hy is 100% seker dat blouvlagstatus aan Wilderness-strand toegeken sal word. Vir alle praktiese doeleindes het Wilderness-strand reeds blouvlagstatus.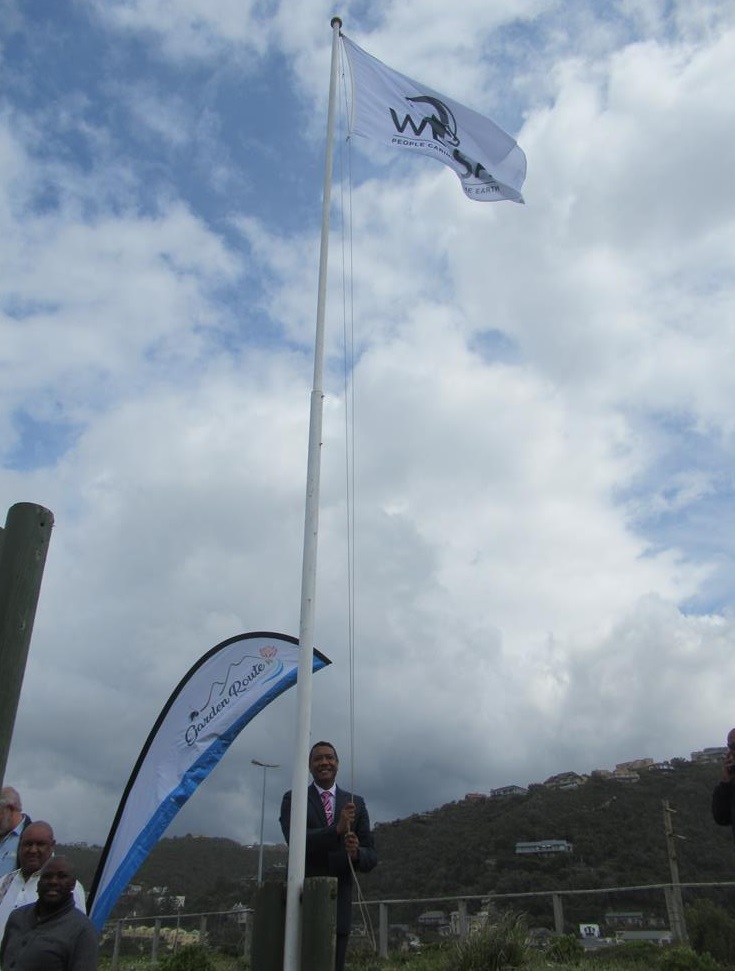 Melvin Naik, George se burgemeester, hys die vlag wat aandui dat loodsstatus aan Wilderness-strand toegeken is. Foto: Eugene Gunning
Blouvlagstatus hou bepaalde voordele in. Dit skep onder meer werk. Meer toeriste kan die ekonomie stimuleer.
Dit gaan ook nie net oor toeriste nie. As die toeriste weg is moet die inwoners nog steeds veilig voel as hulle die strand besoek en gebruik.
Massimo Mariotti van die nabygeleë Salina's Beach Restaurant het gesê buitelandse besoekers, veral uit Europa, wil weet of 'n strand blouvlagstatus het. Blouvlagstatus is 'n hupstoot vir die plaaslike ekonomie.
'Ons bring jou die nuutste George, Tuinroete nuus'