Video
GEORGE NUUS EN VIDEO - Proteapark het bewys daar is nog hartsmense wat gee omdat dit 'n goeie ding is, nie om te kry nie. In hierdie klein gemeenskap woon Sarie Stuurman en haar familie. Sy het reeds vroeg in grendeltyd besluit om vir kinders in haar area kos te maak.
"My hart was seer toe ek sien hoe die kindertjies met trane in hul oë by sopkombuise moes omdraai omdat daar nie genoeg kos was nie."
Dis toe dat Sarie besluit het om te begin kosmaak, sommer uit haar eie koskaste. Sy gee reeds die afgelope maand kos vir meestal kinders, maar gee ook vir volwassenes daar in Proteavallei. "Ek maak wat ek het omdat my huismense ook daarvan eet."
Sy kook op gas of sommer buite op die vuur as die gas opraak. Die gesondheidsinspekteur het ook reeds besoek afgelê om te kyk of Sarie se kombuis aan al die standaarde voldoen. En intussen verkoop sy handgemaakte goedere om ekstra geld te maak.
Sy is egter bekommerd oor die inkomste wat hulle sover gedra het. "Wanneer haar man teruggaan werk toe klink dit of hulle net betaal gaan word vir een dag op 'n slag."
Sarie sê sy soek nie donasies nie, maar mense is altyd welkom om 'n bydrae te maak sodat meer mense kos kan kry.
Kyk 'n video hieronder: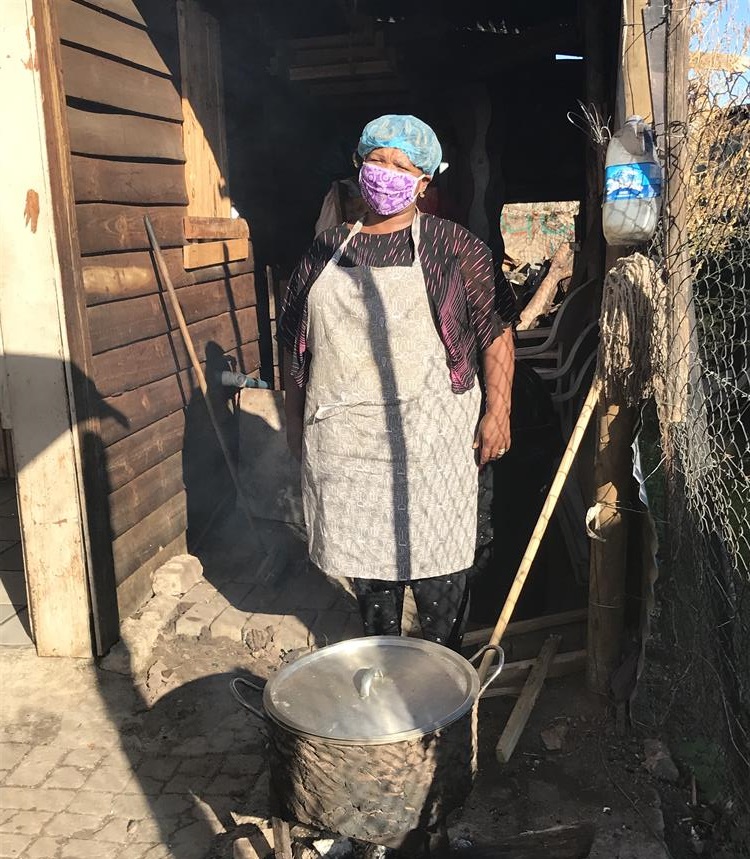 Sarie Stuurman staan Maandagaand buite by die vuur en kook.
Dear reader, As your local news provider, we have the duty of keeping you factually informed on Covid-19 developments. As you may have noticed, mis- and disinformation (also known as "fake news") is circulating online. Group Editors (publications and online platforms) is determined to filter through the masses of information doing the rounds and to separate truth from untruth in order to keep you adequately informed. Local newsrooms follow a strict pre-publication fact-checking protocol. A national task team has been established to assist in bringing you credible news reports on Covid-19.
'Ons bring jou die nuutste George, Tuinroete nuus'