Gallery
GEORGE NUUS - "Ek skilder want ek wil alles net mooi maak." Fourie Ackermann se ligteblou oë skitter in sy ondeunde seunsgesig terwyl hy oor sy passie vir skilder praat. "Maar ek kan ongelukkig nie vir charity werk nie, want dan kan ek nie die huur betaal nie."
Gelukkig het sy jongste opdrag - hy werk meestal op bestelling - hom genoeg in die sak gebring sodat hy vir eers saam met sy vrou Mindy op sy plaas in Friemersheim, sowat 30 km van Groot Brakrivier, kan uitspan.
Ackermann het sopas twee reuse muurskilderye en agt lewensgroot skilderye vir die magtigste man in die land, President Cyril Ramaphosa, voltooi.
Een van Ackermann se muurskilderye van Afrikawild pryk by vriende se huis in Nylstroom, en het in 2017 Ramaphosa se plaasbestuurder, Hendrik von Wielligh, se oog gevang.
In Venda beteken Ramaphosa "die olifant se slurp" en toe ons president die ongelooflike uitbeeldings van Afrika se diere sien, het hy die kunstenaar onmiddellik na sy plaas in Limpopo laat kom. Daar het hy Ackermann gevra om spesifieke wildstonele op die mure van die konferensiesentrum op sy plaas te skilder. Olifante, buffels, renosters, bokke... tydens konferensies kyk hierdie Afrikadiere hovaardig neer op tot 400 hooggeplaasdes van dwarsoor die wêreld. Ons kan maar net hoop dié aangrypende tonele bring die boodskap by die magshebbers tuis dat die mens se voortbestaan afhang van die natuur...
Ackermann geniet wat hy doen met sy hele wese - soveel so dat wanneer hy na 'n lang dag van mure inkleur by sy huis of hotelkamer kom, hy onmiddellik weer die kwas opneem om te ontspan. Mindy noem haar man 'n "undercover artist". "Hy is so beskeie, en noem homself nie graag 'n kunstenaar nie. Hy sien homself net as iemand wat tonele verf, maar almal kan sien hy is 'n ongelooflike kunstenaar."
Ackermann is in 1960 in Hoedspruit, Mpumalanga, gebore en het van kleins af geteken. In die 80's het hy weermagskou-uitstellings "mooigemaak" en daarna by die staatsteater in Pretoria dekor en stelle gebou. Dit was goeie dae en sommer gou het hy die big time geslaan met kontrakte op filmstelle van internasionale produksies soos Anna and the King in Maleisië, Blood Diamond in Mosambiek, The Order in Bulgarye en Chappie in Johannesburg. In 2001 het hy begin om muurskilderye van wildlewe te doen en sy werke by die Tannery Industriëlepark in Silverton is 'n groot toeristetrekpleister. Ackermann noem dit sy "buiteluggalery".
Fourie en sy vrou, Mindi, in hulle plaashuis naby Friemersheim. Foto: Ilse Schoonraad
Hy kry min tyd om sommer net vir homself te werk, maar is op die oomblik besig met 'n portret van ene Freek, 'n plaaslike lewende legende in die Friemersheim-omgewing. "Ek gaan dit op een van die verlate, bouvallige wit huisies se buitemuur hang sodat almal dit kan sien en geniet."
Terwyl hy op Ramaphosa se plaas besig was, het Ackermann sommer vir die lekker 'n houtskoolskets van Edwin, Ramaphosa se hooftuinier gemaak. Edwin moes dit aan sy baas gewys het, want die volgende oomblik pryk die portret op die president se foon en kom 'n versoek van die prez vir 'n soortgelyke skets van sy ma en skoonma!
Ramaphosa spog met 'n groot stoet Ankolebeeste uit Uganda en het selfs 'n boek uitgegee oor dié besondere beesras met hulle kenmerkende massiewe horings. Een van sy Ankolebulle het verlede jaar 'n allemintige R640 000 op 'n veiling behaal. Ackermann het ook dié beeste met sy skilderkwas vir Ramaphosa verewig - 'n aansienlike makliker opdrag as die portret van die twee moeders. "Vrouens wil mos altyd mooi lyk! En dit is after all die president se ma en skoonma!"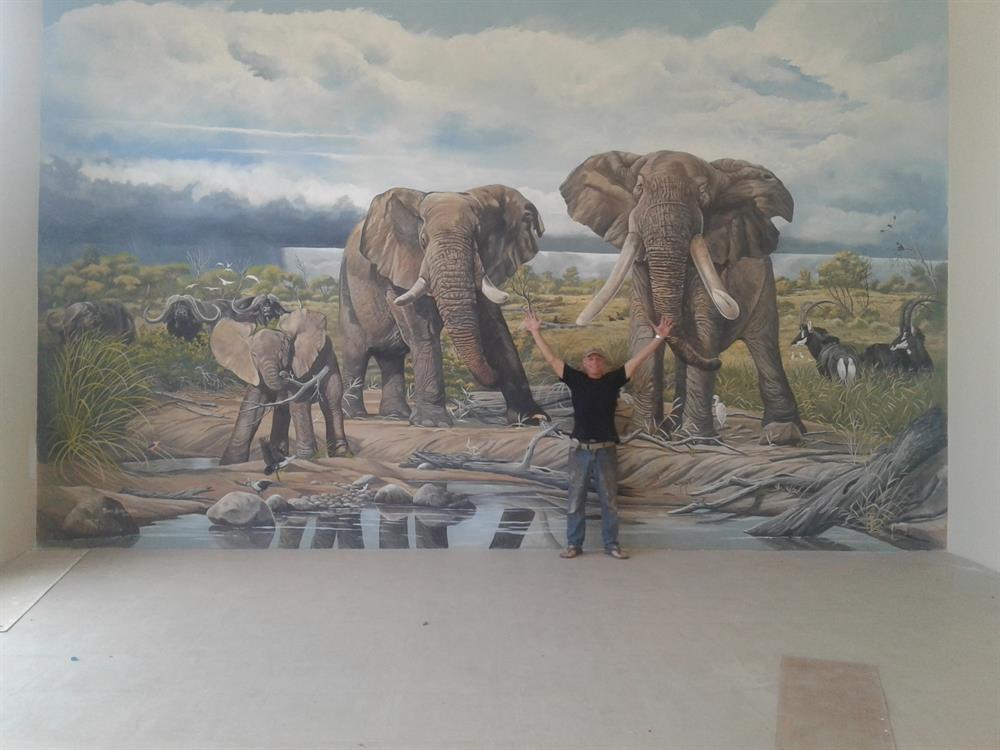 Ackermann pryk voor een van die reuse-muurskilderye op Ramaphosa se plaas.Maar as Suid-Afrika se 'Laaste Groot Hoop' mooi vra, dan kan 'n man maar 'n bietjie sweet vir volk en vaderland. Jy hou mos van mooi maak, Fourie, so laat daai kwas van jou dié keer maar 'n bietjie heuning ook smeer...
Ramaphosa en Ackermann skud blad op 'n gemeenskaplik voordelige ooreenkoms.
Ackermann se dogter Lia van Zyl het vir haar pa 'n Facebook-profiel begin en op aandrang van Mindy sal dié "undercover artist" hopelik binne die volgende jaar 'n uitstalling in die Suid-Kaap hou.
'Ons bring jou die nuutste George, Tuinroete nuus'