Video
GEORGE NEWS & VIDEO - Dreams do come true. This is something Carl van Blerk, the executive director of the Garden Route Food Pantry (GRFP), can attest to.
The Food Pantry, the first of its kind in the province, saw the Garden Route District Municipality (GRDM) and other local municipalities work together with the support of businesses to achieve this goal.
Van Blerk said his idea to help eradicate hunger and work towards ensuring food security has finally become a reality.
At the official opening on Friday 19 February, he said that the past year has shown that people in the Garden Route have tremendous community spirit. "This project cannot be successful done in isolation. Individuals and businesses are open to play their part, but we have to learn to be proactive instead of reactive."
The Food Pantry is a privately run facility, and not run by government, Van Blerk said. He said it must be seen as a facility that belongs to all of us and we should take ownership and work together.
GRDM Mayor Memory Booysen said the GRFP is a very exciting initiative. "This could set the tone for the rest of South Africa." He suggested that all limited resources from municipalities are pulled together to make it bigger. They want the initiative to grow, so that other municipalities and government departments can see that it can work.
"We will eventually work towards adding satellite branches at other municipalities so that people can have quicker and better access to food."
According to Booysen the idea started with faith-based organisations during lockdown. They wanted people who have lost their jobs, those affected by Covid, those that only have the bare minimum to put on the table, to be helped by this project. "We are working on a data basis so we will know who has had and must still get the much-needed help."
Watch a video below:
Western Cape Minister of Human Settlements Tertuis Simmers started his address with a quote by Henry Ford which eloquently summarised the occasion: "Coming together is the beginning, keeping together is progress; working together is success".
Simmers said sometimes in Western Cape government they talk about 'Better Together', but he believes that sometimes communities forget what that means. He said once again, communities had to realise that government cannot do everything for them.
"Communities have to learn to work together, and ask themselves what they as a community, as an individual can do to help others."
Van Blerk said with the Food Pantry they wanted to progress from food aid and food relief to food security. In the past year they realised that food packets sometimes did not have all the nutritional value that people need. They now have agreements in place to fortify their food.
This means that nutrients are added to the food that don't naturally occur in the food. The Food Pantry is also looking at long-term sustainability in the form of community gardens, and they will assist community members to grow their own gardens at home.
From left are Western Cape Minister of Human Settlements Tertius Simmers,GRDM Mayor Memory Booysen and Pieter Nel at the opening of the Food Pantry on Friday.
Help
Businesses, individuals and the general public can help the Food Pantry in various ways, including donating funds and volunteering to pack and prepare meals (there is a volunteer structure in place where people can schedule their availability).
If they become a Friend of the Pantry and donate R100 a month, their name will be placed on a brick inside the Garden Route Food Pantry behind the reception desk.
A monthly contribution will ensure the financial stability of the pantry. It will see to it that more meals are provided to more people, especially while the Covid-19 pandemic has caused a lot of hardship.
Large businesses are also encouraged to consider partnering with the Food Pantry as a name partner in the fortified products - such as the protein biscuits or the newer range of fortified flavoured milk, porridges, and stew mix meals.
Drive-by food donation items can also be dropped off whenever or when possible. Any organisation, soup kitchen or even individuals who need help can register on the website.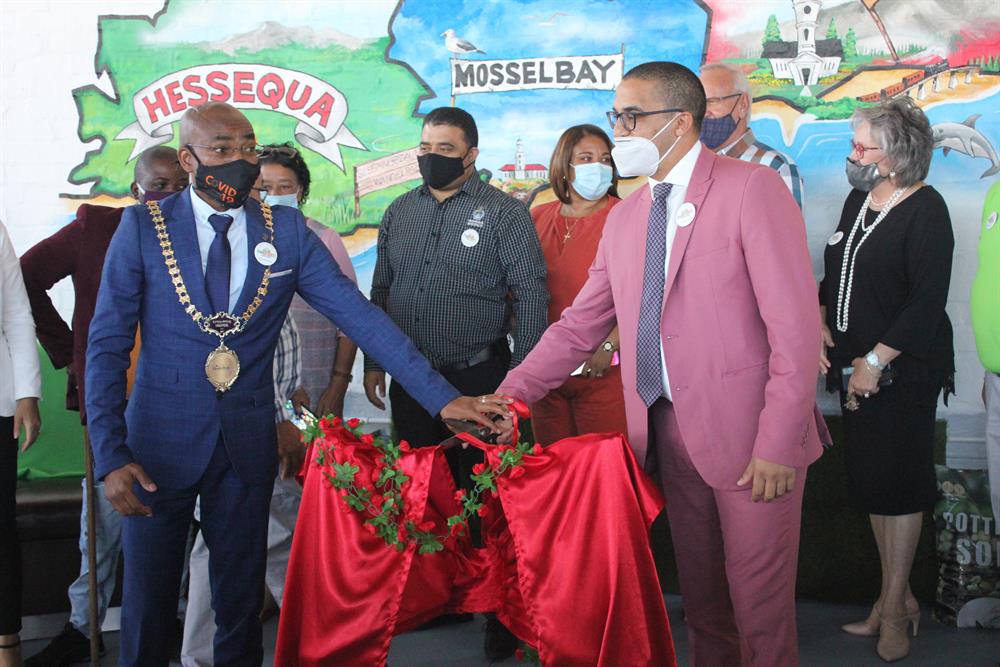 GRDM Mayor Memory Booysen and Western Cape Minister of Human Settlements Tertuis Simmers cut the ribbon at the official launch of the Garden Route Food Pantry.
GRDM Mayor Memory Booysen speaking to the press at the opening of the Food Pantry.
'We bring you the latest George, Garden Route news'