Gallery
GEORGE NEWS - Investing time, labour and expertise in the small business sector seems like the only hope to secure a future for our youth. This was the message delivered to Council last week by George Mayor Melvin Naik.
He requested a workshop with all relevant stakeholders, such as financial institutions, to see how small businesses can be assisted within the legal framework.
Naik said it was scary to listen to David Gracey from Investec, a guest speaker at last week's monthly Business Chamber meeting. "Gracey said it is only a matter of time before our country will be dumped into junk status," said Naik.
"This is the reality. We are hovering on the brink of that status and then the distant possibility of the IMF (International Monetary Fund) waiting for a visit from our country's leadership. Personally, I hope we do not have to go down this route."
Click here for a photo gallery.
Naik said our economy is not growing, it is not producing jobs and our major capital owners are refusing to invest in our economy. "The idea of foreign investment begins to sound like a pipe dream, there is so much negativity around us, the only people where I can see where we can invest time, labour, expertise, entrepreneurship abilities and can dare to succeed is the small business sector."
He said listening to a group of small business owners who have started a forum made him realise that more must be done. "Yes, I know we must work within the legislative frameworks to procure goods and services, but we as council must consider on how we can incorporate the small business sector to become part of the main stream of the economy."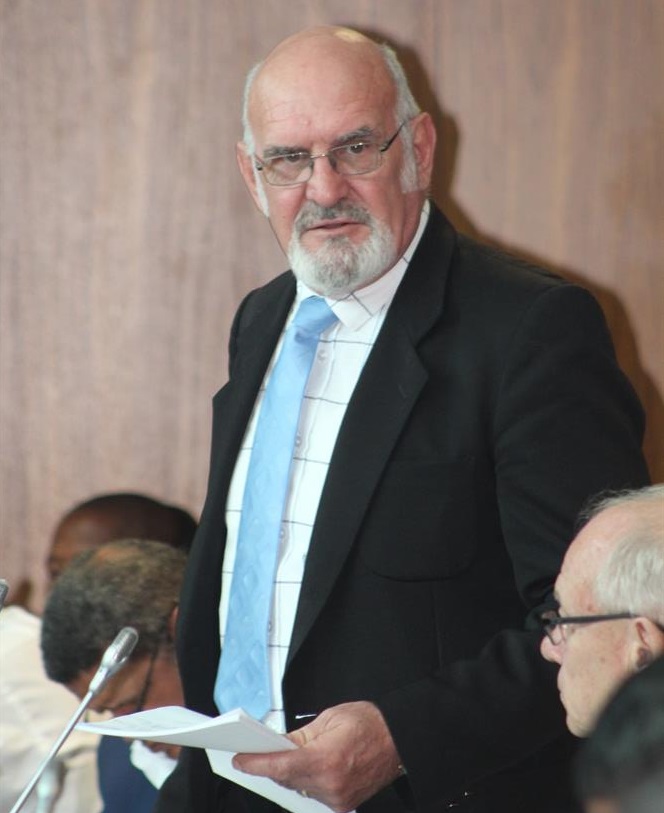 Adv. Gert van Niekerk of the Freedom Front Plus.Responding to an enquiry on how the municipality will embark on this initiative, Naik said they will have to review the way goods and services are procured. "Although this is not one of our core functions, we will engage with other stakeholders such as the George Business Chamber and training institutions on how we can assist small businesses. We will continue with our small contractor development initiative, together with our partners such as the banks, CIDB (Construction Industry Development Board), NHBRC (National Home Builders Registration Council) and Wesgro. Realistically speaking I believe that it is only the small business sector that can create much needed jobs. We need forged relationships if we want to succeed."
Naik said the one sector of society that is suffering the most is the youth.
He listed the current main economic sectors in George as: Finance, insurance, real estate and business services (26.4%), wholesale and retail trade, catering and accommodation (18,5%), manufacturing (14,7%), transport, storage and communication (11.9%), general government (8,9%), community, social and personal services (6,3%), construction (6%), and agriculture, forestry and fishing (3,7%).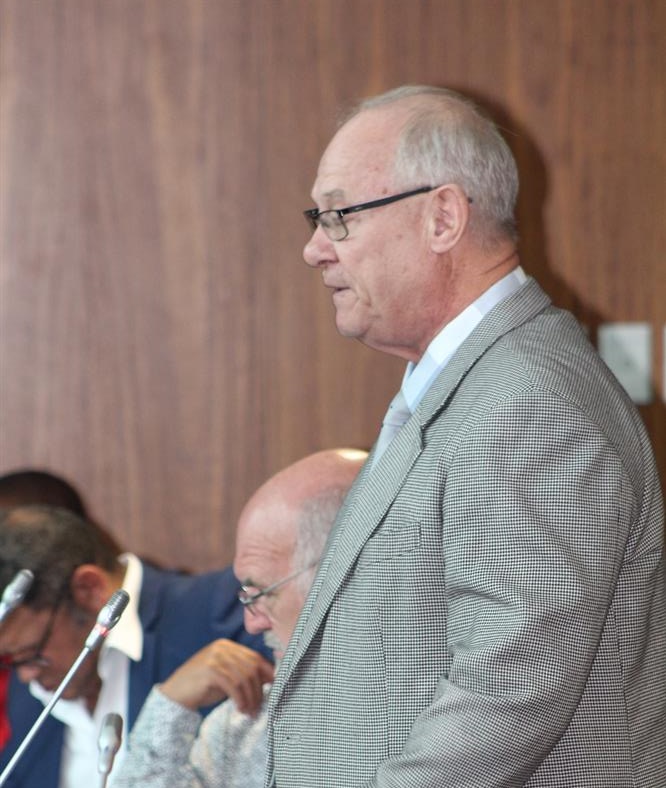 ACDP Councillor Johan du Toit.
Sorry state of infrastructure
In their reply, opposition parties such as the FF Plus, Icosa, ACDP and PBI expressed their delight with Naik's desire to explore the small business sector. However, ACDP Councillor Johan du Toit said his concern lies with the sorry state of the town's infrastructure.
Gert van Niekerk of the Freedom Front Plus said a potential R100 million development in the vicinity of the Groenkloof Estate, has been halted on various occasions because of red tape.
"We are not making it easier for development in the region with our capital contributions, which is currently the highest in the Western Cape," said Van Niekerk.
Click here for the full council address.
'We bring you the latest George, Garden Route news'