GARDEN ROUTE NEWS - Covid-19 cases and hospitalisations in the Garden Route are continuing to decline to such an extent that hospitals have been able to return to more normal schedules. As of 2 February, there are 851 active cases in the district.
Mediclinic George resumed elective surgeries on Monday 1 February and public health services are being re-evaluated to determine which routine services can be resumed.
"This includes routine surgeries at district hospitals," said Nadia Ferreira, district spokesperson for the Western Cape Health Department.
At George Hospital, some routine surgeries have already been carried out since the middle of January. The load on the critical care unit has eased and it is 66% full.
There are now 167 confirmed Covid-19 cases per 100 000 of the population compared with 293 a week ago.
Wouter Jacobs, acting disaster management chief for the Garden Route, said there was a 42% decrease in the number of new cases reported over the past week compared with the previous week.
"All the district hospitals show a decrease in admissions and are manageable. Some sub-districts are looking to start escalating select services again."
Mediclinic George manager Kassie Karstens said, "We are fortunately seeing a reduction in cases and admissions and are happy that we can also reintroduce visiting hours, but only one visitor at a time.
"Covid patients are not allowed to receive any visitors. Visiting hours are from 15:00 to 20:00."
Deaths
A total of 49 Covid-19 deaths were recorded in the district during the seven days from 26 January to 2 February. In the previous week, 55 deaths were reported.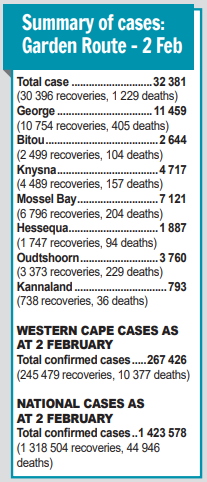 'We bring you the latest Garden Route, Hessequa, Karoo news'