WESTERN CAPE NEWS - Western Cape Premier Alan Winde shared some good news during his weekly digicon earlier this morning: the curve of the Covid peak is starting to flatten in the Western Cape.
"We must, however, stay mindful of the risks of Covid-19," he warned.
Meanwhile, the hospital submissions are still climbing, and the number of deaths is still increasing, standing currently at about 80 deaths in the province per day.
According to provincial Head of Health Dr Keith Cloete, it is to be expected and in line with the trend of previous waves.
Hospitalisations continue to increase with an average of 330 new admissions per day, but the increase percentage is smaller. Critical care wards are very near to full bed capacity; with about 900 beds still available in general care. The province is currently seeing about 2 300 new Covid cases per day.
"The private sector hospitalisation is starting to plateau, while the public sector hospitalisation is still increasing, but it is slower than before," said Cloete.
The Covid reproduction number is at 1,1 (every 10 people infect 11 others), which is why the curve is flattening, said Cloete. In Gauteng there is a sharp decline of cases, and in other provinces the number of cases is reaching a plateau.
At present there are 32 730 active infectious cases (1 358 more active cases than the previous week). Cloete said in areas such as De Doorns, Rawsonville and Worcester, they are already seeing less Covid particles per millilitre in the waste water compared to last week.
See screenshots from the digicon below: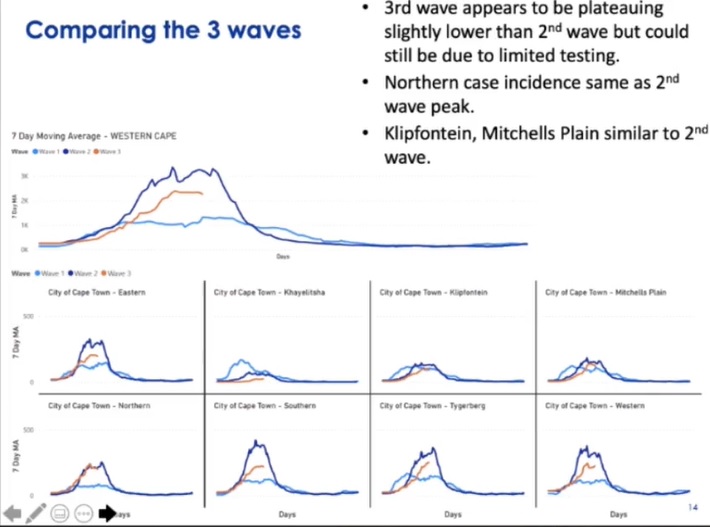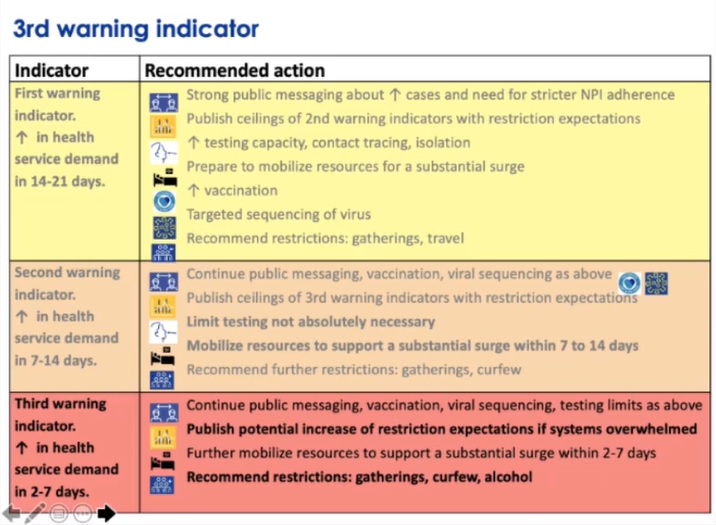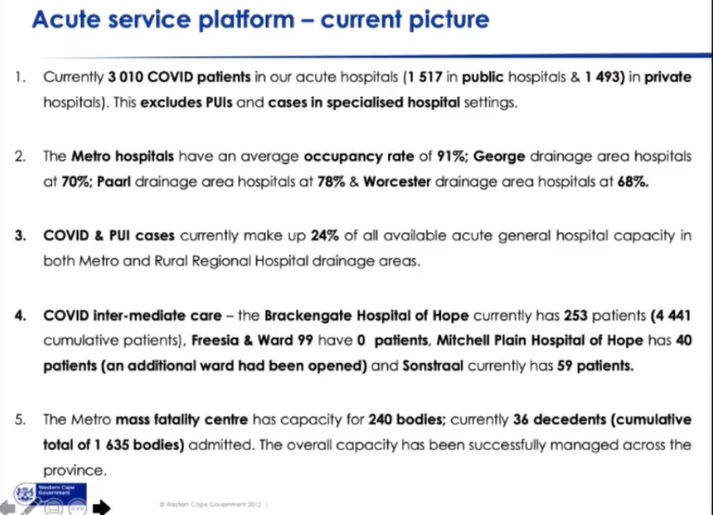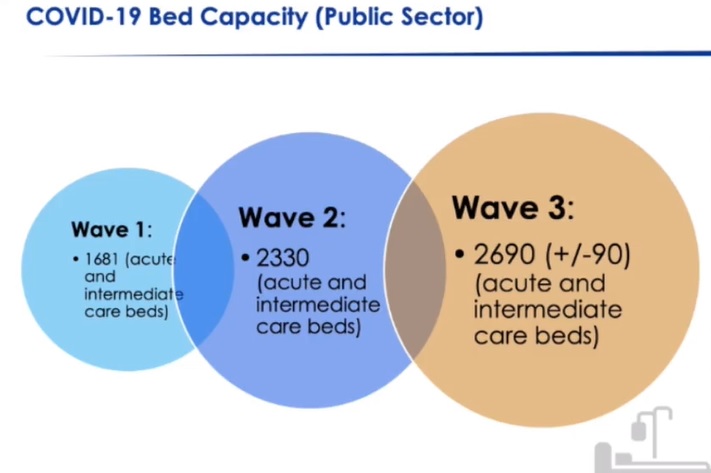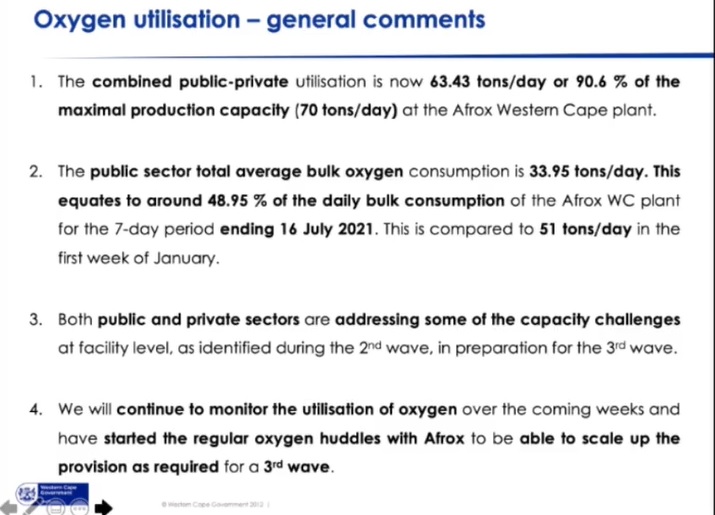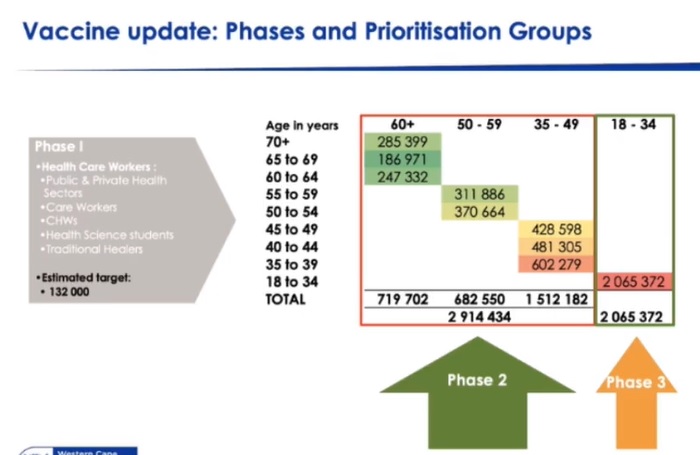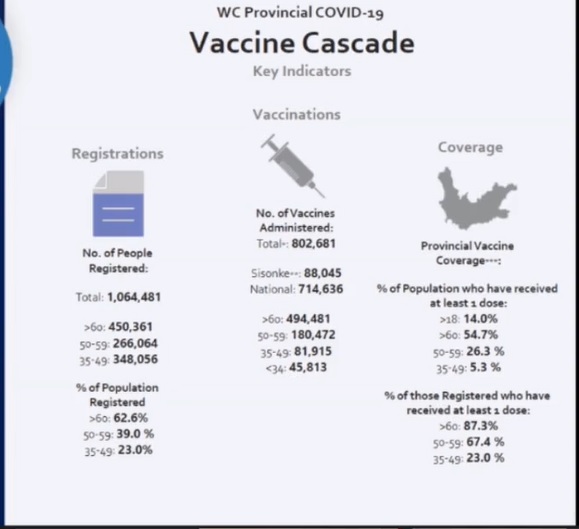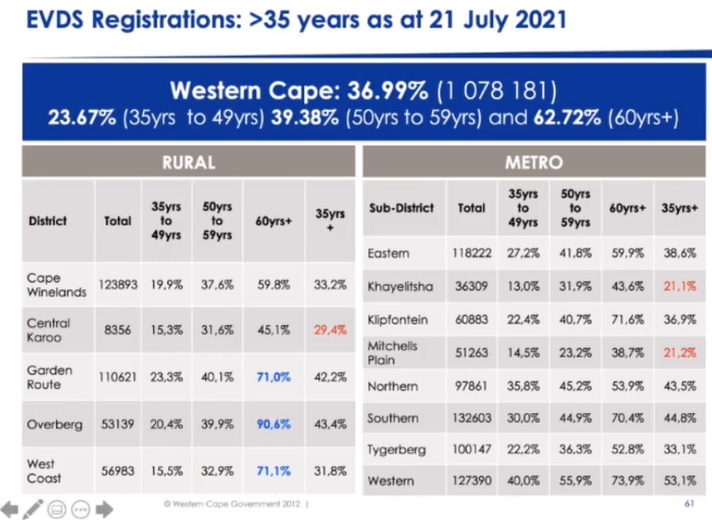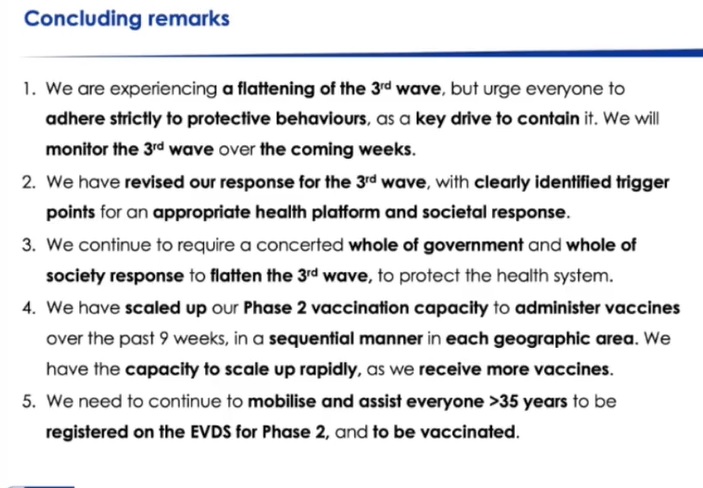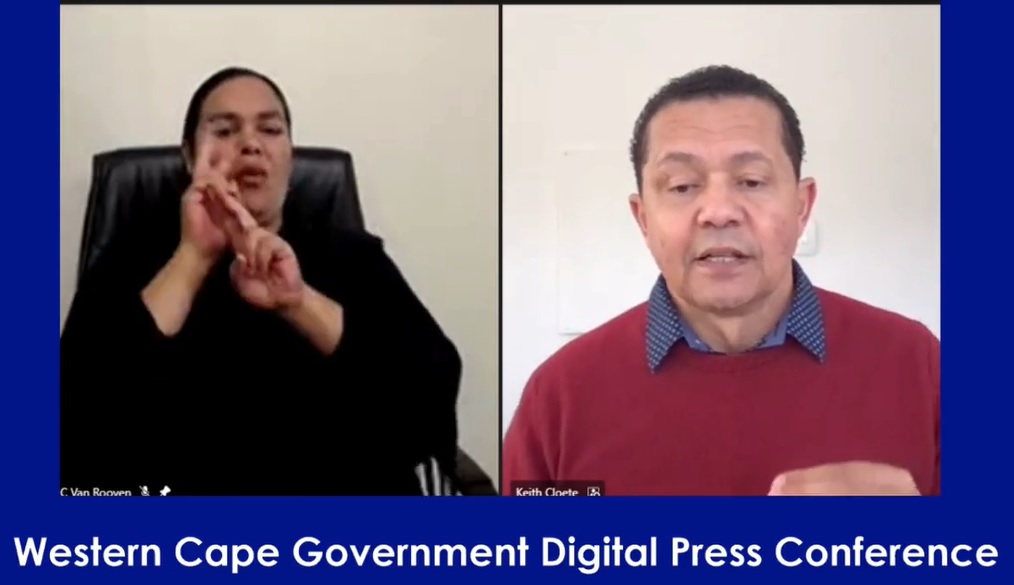 Taxi violence
Last weekend saw a 9% increase in trauma cases at public hospitals, due to recent taxi violence. He said the impact on the healthcare workers, who depend on public transport, is immense. An additional 777 staff members had been appointed to help care for Covid patients.
On the plus side, there is a big drop in infections among healthcare workers compared to last year this time, and it is all due to the vaccination programme, said Cloete. A total of 272 289 people in the Western Cape have been fully vaccinated.
By yesterday, 21 July, over one million people have registered for vaccination in the Western Cape. The age group 35- to 49-year-olds has overtaken the age group 50- to 59-year-olds with about 90 000 more registrations. In the age group for 35- to 49-year-olds, a total of 23% have already registered.
Despite the cold weather and other pressures, the number of vaccinations is climbing, said Winde. "I am impressed with the registration of the 35- to 49-year-olds; they are sending a good message to the rest. Vaccination is making a big difference in countries that are ahead of us," he said.
Statement by Western Cape Premier Alan Winde – 22 July:
During my weekly digital press conference on the health platform and vaccine rollout today, it was highlighted that the Western Cape is starting to see a flattening of the third wave and that this is happening below the second wave peak.
We are closely monitoring this data to see if the trend continues, but it is the first, very early sign that we are starting to peak in the Western Cape.
I do, however, continue to urge residents to adhere strictly to the lifesaving behaviours that we have learnt since the start of the pandemic, as hospitalisations and deaths – which track behind new cases – continue to increase. We still have to save lives, by keeping the curve as flat as possible.
Tomorrow, I will host my weekly strategy meeting that includes our health and economic departments, as well as public health experts, to agree on a common position for the Western Cape Government to table in consultations with the President, which we expect this weekend.
Our guiding principle remains to get the balance right in saving both lives and livelihoods, based on sound evidence and expert advice.
The provincial health platform presentation shows us that:
The Reproduction or 'R' number is nearing 1 and is currently 1.1. This means that for every 10 cases, an additional 11 people are infected. This points to a slowing down in new infections.
The proportion of persons testing positive for COVID-19 has continued to increase, reaching 39% last week.
We are currently seeing an average of 2345 new diagnoses each day, which is starting to plateau.
Admissions to hospitals are increasing with an average of 330 new admissions per day. While they are increasing, this is happening at a slower rate.
Deaths have also increased to approximately 82 deaths per day. Deaths continue to increase steeply.
Planning for third wave "paying off"
The flattening of the curve at this point means that the Western Cape is unlikely to peak at the same level as the second wave. It also means that our advanced planning for the third wave is paying off and that we continue to have enough beds, oxygen and staff to care for residents during this time of great pressure.
We have:
De-escalated non-COVID services in both primary health care and hospitals, to maintain only essential care.
Progressively demarcated persons under investigation, COVID-19 ward, and COVID-19 in acute hospitals. This will ensure that we can reach a full planned capacity of 2 300 public sector COVID beds, where necessary.
Co-ordinated the movement of patients from Emergency Centres to acute and critical care beds to field hospital beds and streamlined discharges.
Employed additional staff and retained staff from the second wave.
Conducted daily huddles to coordinate uninterrupted oxygen supply and distribution, in line with oxygen utilisation needs.
Enough beds
We have reached a total of 3010 admissions in both private and public hospitals. This high number does demonstrate the extreme pressure the pandemic continues to place on our health platform and emphasizes why it remains so important to stay safe and to keep on flattening the curve.
While this number is concerning to me, I welcome the confirmation from our health department that they have prepared enough beds for those being admitted.
In the Western Cape, the total general bed use rate is at 85%, the total COVID-19 bed use rate is at 57%. Insofar as our drainage areas are concerned:
The Metro has 5065 beds, of which the general bed use rate is 91%, the COVID-19 bed use rate is 57%;
The George drainage area has 918 beds, of which the general bed use rate is 70%, the COVID-19 bed use rate is 63%;
The Paarl drainage area has 988 beds, of which the general bed use rate is 78%; the COVID-19 bed use rate is 74%; and
The Worcester drainage area has 769 beds, of which the general bed use rate is 68%, the COVID-19 bed use rate is 33%.
According to our acute service platform:
COVID-19 positive cases and persons under investigation cases contribute to 24% of all available acute general hospital capacity in both Metro and Rural Regional Hospital drainage areas.
COVID-19 inter-mediate care: the Brackengate Hospital of Hope currently has 253 patients, Freesia and Ward 99 have 0 patients, Mitchells Plain Hospital of Hope has 40 patients and Sonstraal currently has 59 patients.
The Metro mass fatality centre has capacity for 240 bodies. Currently, 36 decedents have been admitted. The overall capacity has been successfully managed across the province.
Ample oxygen supply in the province
The Western Cape's healthcare system continues to have enough oxygen supply, given the demand faced by our hospitals amid the third wave.
Our health platform shows us that:
The combined public-private use is now 63.43 tons a day or 90.6% of the maximum production capacity at the Afrox Western Cape plant.
The public sector total average bulk oxygen consumption is 33.95 tons a day or 48.95% of the daily bulk consumption of the Afrox plant.

Over the coming weeks, we will continue to monitor the use of oxygen and ensure that our healthcare system can respond to related demands.
Western Cape has scaled up its vaccine rollout programme
Over the past weeks, we have continued to scale up our mass vaccination programme. This has ensured that during week 9 of the vaccine rollout programme in the province, we administered a total of 151 772 vaccines against a weekly target of 150 000.
I am pleased to announce that for the first 3 days of this week alone, we have averaged a total 30 000 vaccines per day.
To date, a total of 884 917 vaccines (including Sisonke trials) have been administered in the province, of which 272 289 people have been fully vaccinated. This includes healthcare workers and those enrolled in the province's mass vaccination programme.
At the height of our vaccine rollout programme, we will be able to bring 290 cumulative public vaccination sites online in the Metro and rural areas.
The private sector has also brought online 118 sites, of which 85 are in the Metro and 33 are in rural settings, in a further effort to ensure vaccine equity to both insured and uninsured members of the communities.
To further drive registrations and vaccinations in rural settings, roving teams are visiting satellite clinics to assist.
I commend the healthcare workers who have played their part in rolling out the vaccine programme in the Western Cape, and I want to thank all our residents who are getting vaccinated to protect themselves, their loved ones and their communities.
35+ are eager to receive vaccines
The Western Cape Government's vaccine cascade, which helps to monitor the rollout of the mass vaccination programme in the Western Cape, shows us that the 35 – 49 age cohort are rapidly registering for their vaccines since the opening of the EVDS on 15 July.
I want to commend this age group for their eagerness to be vaccinated and for playing their part in ensuring that we achieve herd immunity. We also encourage the 50+ and 60+ age groups who have not registered to make use of the various assisted registration initiatives across the province so we can vaccinate them.
Yesterday, we reached the milestone of having registered a cumulative total of 1 064 481 in the province, ensuring that:
450 361 or 62.6% of those in the 60+ age group were registered, of which 494 481 vaccinations have been administered (381 287 people are partially vaccinated and 113 194 fully vaccinated);
266 064 or 39% of those in the 50+ age group were registered, of which 180 472 vaccinations have been administered (146 604 people are partially vaccinated and 33 868 fully vaccinated); and
348 056 or 23% of those in the 35+ age group were registered, of which 81 915 vaccinations have been administered (29 589 people are partially vaccinated and 52 326 fully vaccinated).
Our current priority for walk-ins remains the same:
Priority 1: people over 60 years old requiring their first dose of the Pfizer vaccine;
Priority 2: people over 60 years requiring their second dose of the Pfizer vaccine;
Priority 3: people aged 50 to 59 years requiring their first dose of the Pfizer vaccine; and
Priority 4: people aged 35-49 years required their first dose of the Pfizer vaccine.
Continue to be vigilant
While we are seeing a flattening of the curve, I call on residents to continue being vigilant. Our healthcare platform shows us that there are still increases in hospital admissions and deaths.
We must play our part in breaking the chain of transmission to ensure that we limit the pressure placed on our healthcare system. We can do this by:
Avoiding gatherings and large crowds;
Wearing your mask correctly by covering both your nose and mouth;
If you must go out, ensure that it is short, small and outside;
Ensuring that your airspace is well ventilated, whether indoors or on public transport. You can do this by opening windows and doors, where possible;
Washing and sanitising your hands regularly.
Let's play our part and protect our healthcare system so that we save lives and jobs in the Western Cape.
'We bring you the latest Garden Route, Karoo news'